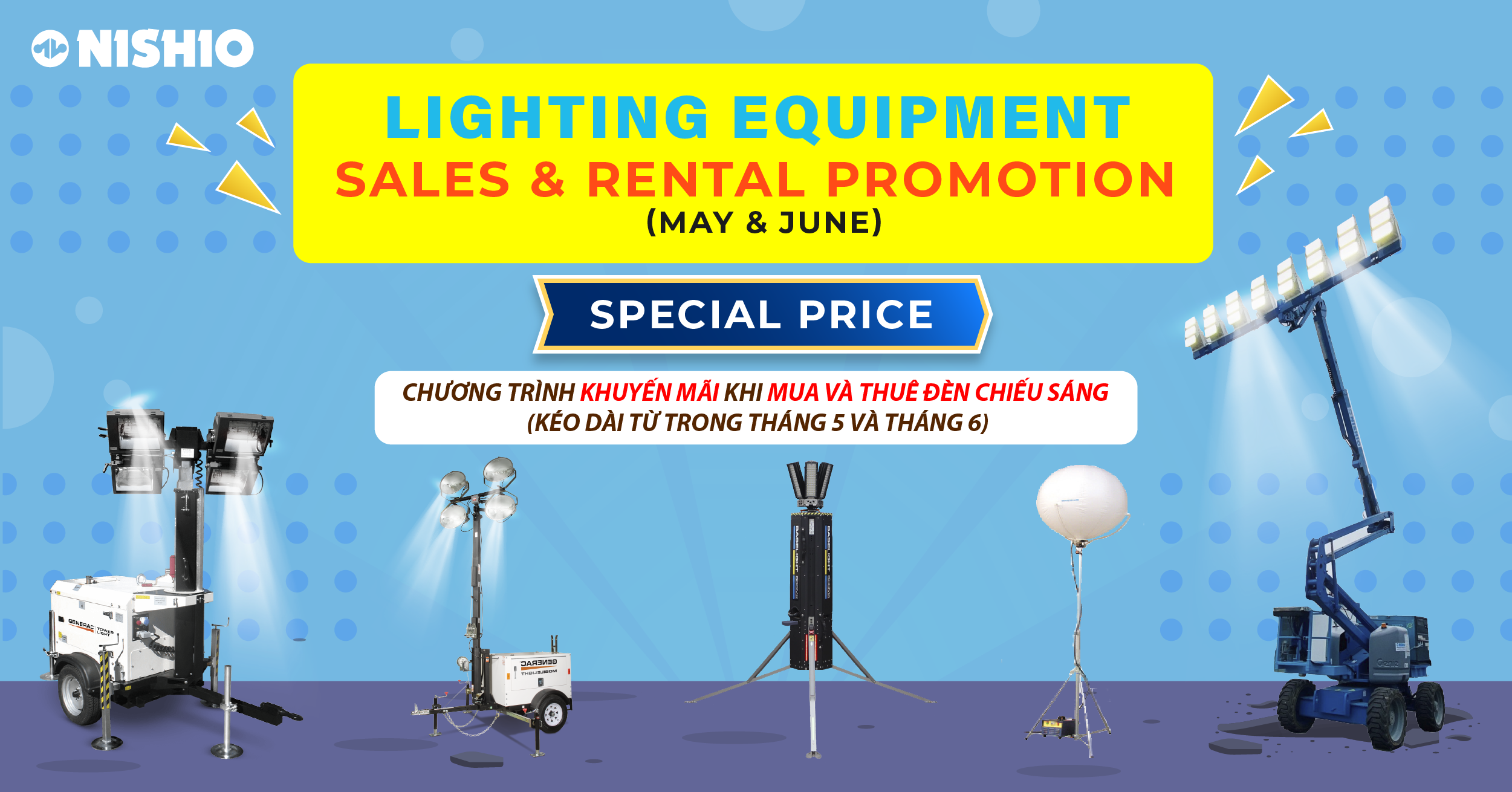 In order to support our valued customer's night job, we are pleased to inform you about the promotion of Lighting Equipment from Nishio Rent All as below: Rental: May and June order > 30% discount from standard price for all lighting equipment lineup Sales (New Equipment): LED Light Tower 350×4 "VTevo" Sales (Used Equipment): Mini Tellastar 400Wx4 "NTC46W" Cube Tellastar 1000Wx4 "HTYW-7M5" Light Tower 1000Wx4 "RL4" Light Tower 1000Wx4 "VT8" LED Light Tower 350Wx4 VTevo You can reference our Lighting equipment here Please contact us via our website contact form to get more information!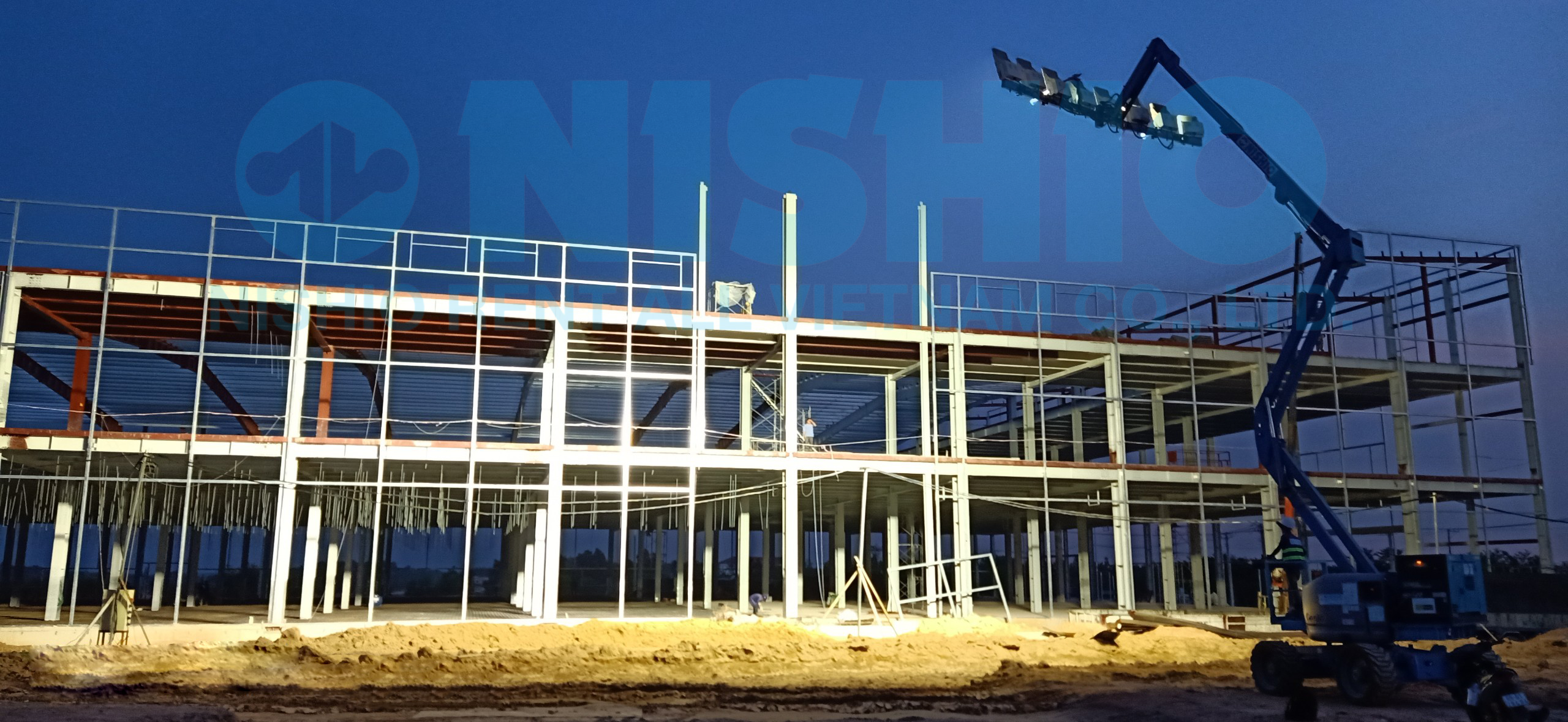 2023/04/14

Product Information

Lighting equipment is essential for ensuring the safety and productivity of construction workers. Construction sites often operate in low-light or dark conditions, such as during night shifts, in tunnels, or in enclosed spaces. Without adequate lighting, workers may face increased risks of accidents, injuries, or errors. Moreover, poor lighting can affect the quality of work and the efficiency of operations. Therefore, it is important to choose the right type of lighting equipment for different construction scenarios and tasks. Some of the factors to consider when selecting lighting equipment are: The level of illumination required for the specific activity and location The power source and availability of electricity The durability and reliability of the equipment The ease of installation and maintenance The environmental impact and sustainability of the equipment Some of the common types of lighting equipment used in construction sites are: Floodlights: These are powerful lights that can illuminate large areas with bright and uniform light. They are often mounted on poles, towers, or vehicles and can be adjusted to different angles and heights. Floodlights are suitable for general site lighting, security lighting, or emergency lighting. Task lights: These are portable lights that can be attached to helmets, tools, or machines and provide focused light for specific tasks or areas. Task lights are ideal for working in dark or confined spaces, such as wiring, plumbing, or welding. String lights: These are strings of bulbs or LEDs that can be hung along walls, ceilings, or scaffolds and provide ambient light for corridors, walkways, or staircases. String lights are easy to install and remove and can be connected to extension cords or generators. Solar lights: These are lights that use solar panels to convert sunlight into electricity and store it in batteries. Solar lights are eco-friendly and cost-effective as they do not require external power sources or fuel. Solar lights are suitable for outdoor lighting, such as parking lots, fences, or signs. If you are looking for a reliable and cost-effective solution for your lighting needs, you should consider renting a lighting tower from Nishio Rent All Vietnam Co., Ltd. (NRAV). Here are some of the benefits of choosing our service: We have a wide range of lighting tower models to suit your specific requirements, from compact and portable units to large and powerful ones. You can choose the best option for your project size, location, and duration. We offer flexible and competitive rental rates, with no hidden fees or charges. We provide fast and convenient delivery and installation of the lighting tower at your site, as well as regular maintenance and repair services. You don't have to worry about transporting, setting up, or maintaining the equipment yourself. We also have a friendly customer support team to assist you with any issues or inquiries. We are a trusted and reputable company with over 50 years of experience in the rental industry. We have a proven track record of providing high-quality products and services to our customers across various sectors and regions. We adhere to the highest standards of safety and environmental compliance. NRAV is a pioneer in the comprehensive rental business of construction and industrial equipment in Vietnam. We provide a wide range of rental services for various needs and projects. In this blog, we will introduce some of the lighting equipment lines that NRAV has and their specifications. NISHIO supplies Lighting Equipment for Wind Power Projects in Vietnam Lighting equipment is essential for working at night or in dark places. It can improve the safety and efficiency of the workers and the quality of the work. NRAV offers different types of lighting equipment for different purposes and situations. One of the most popular lighting equipment is the Mini Tellastar (Engine), which is a mobile lighting tower with four metal halide lamps 400W (model NTC-46W) or 220W (model NTC-46W-M). NTC-46W has the Lumens is 20,500 x 4 and NTC-46-M has 20,000 x 4 with a maximum height of 3,4m. It has a built-in generator that can run for 8 hours with a full tank of fuel. Mini Tellastar is easy to transport and operate, and suitable for various outdoor projects. Mini Tellastar (Electric) includes two models NH373T(400W x 2 Mercury bulbs) and NL105W(105W x 2 LED bulbs). NH373T has the max. height is 2466mm, weight 29.6kg and the bulb output (Lumens) is 20500×2 bulbs. NL105W max. height is 2250mm, weight 10kg and its lumens is 13200×2 bulbs. Both two models use AC220V. Another type of lighting equipment is the Balloon Light (Engine), which is a mobile lighting tower with a 575W(model NLS060A) or 1200W(model NLS120A) or LED152(model NTL152) balloon-shaped lamp. It is ideal for road construction, events, or emergency situations. Nishio Vietnam has many available Electric Balloon Light units in stock. Below are the specifications of each model: Next are two models LED Baselight BL420MX and BL600MX. They are high-performance LED lights. The Baselight MX series of LED light towers is tailored toward professionals who require a higher degree of automation and smart functions. The MX series incorporates many smart features as a result of the onboard automation. The main difference between Baselight 420MX and Baselight 600MX is lumen output and power consumption. SMART FEATURES -Wi-Fi smart phone remote -Selectable light patterns -Anti theft lock -On/Off timers -OTA (Over-the-air) updates -Programmable light output -Power out mast retraction This is one limitation of this lighting tower is not equipped with wheels. Though, it is still a good product in the market. LED Mini Tellastar (Engine) is one of the best lighting equipment ideal. Many contractors of Wind Power projects are renting MT2 and MT6 from NISHIO. MT6 MT2 Mobile Lighting Tower is a product that is designed with 4 wheels, which is very easy to move in the construction site area. Make GENIE GENERAC Model RL4 VT8 Bulb Capacity (W&Bulbs) 1,000 x 4  1,000 x 4 Bulb Configuration Metal Halide Metal Halide Tower Height (mm) 7,130 8000 Width Stowed (mm) 1,500 1,300 Generator 50Hz, 7.0kW 50/60Hz, 6.4kW Engine Kubota Kubota Tank ...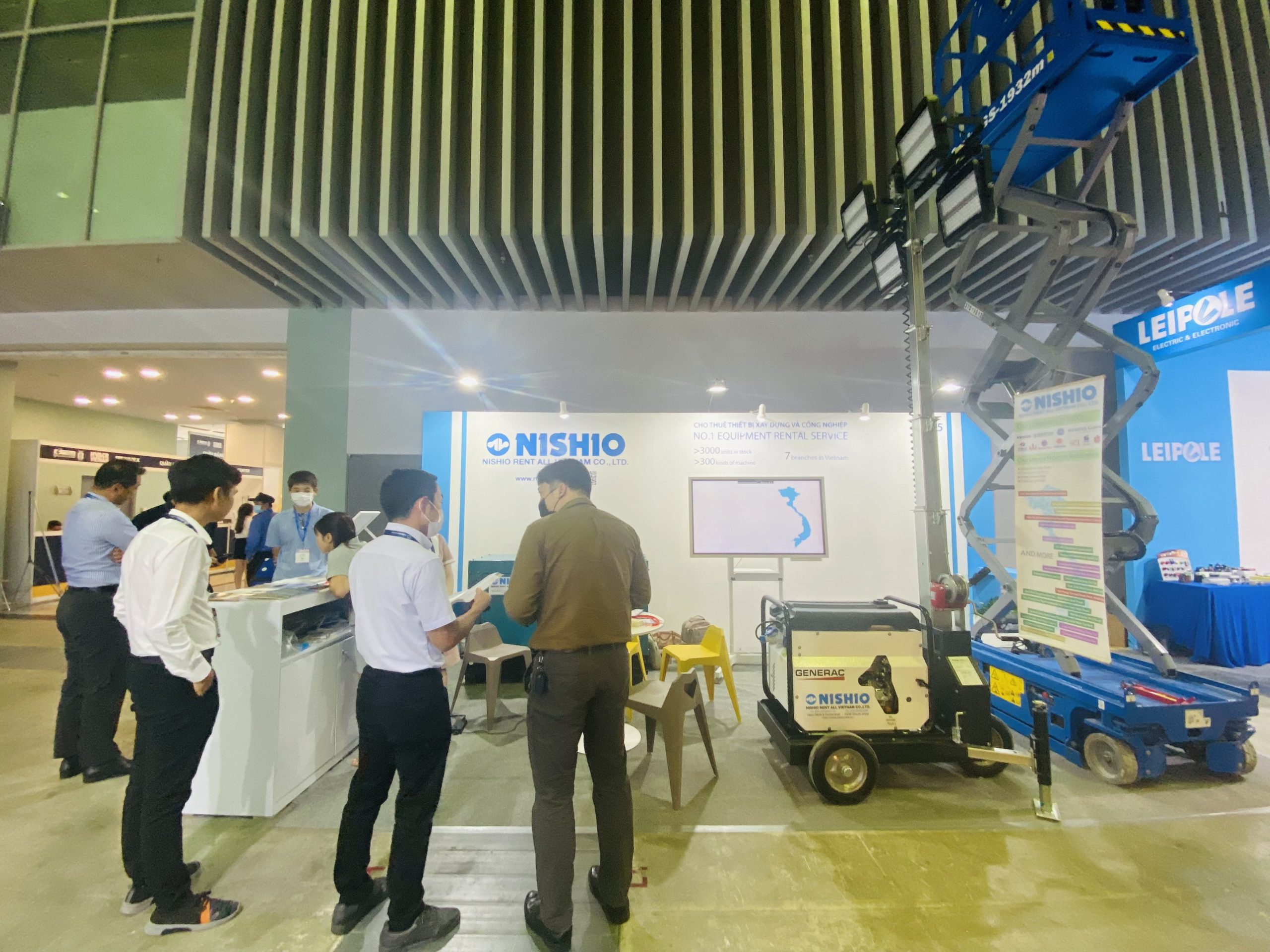 2022/09/13

NISHIO News

NISHIO participated at Electric and Power Vietnam International Exhibition 2022 with Denyo and Generac
Electric & Power Vietnam 2022 – The international exhibition and conference on technology, equipment, coordination solutions, electricity transmission and renewable energy in Vietnam is a 2-in-1 comprehensive event on electricity and energy. The exhibition gathers more than 200 exhibitors from 14 countries/regions, operating in diverse fields such as Electricity / Power Generation companies, Transmission companies, Electrical Distribution, Electromechanical Contractors, Contractors / Owners / and many other business categories. This time, NISHIO displayed three kinds of equipment: Scissor Lift (GS1932m-Genie), Lighting Mobile Tower (MT2-Generac Mobilde) and Generator (DCA25-Denyo): We are very glad to welcome visitors, customers, partners, businesses, domestic and foreign trade associations, etc. to the NISHIO VIETNAM exhibition booth. Special thanks for the direct support from representatives of DENYO and GENERAC MOBILE during the exhibition. This event helps us to develop and expand the market in Vietnam with advanced equipment and the best service quality. Hope to see you again at the upcoming exhibitions.