2023/03/01 Product Information
(NEW) Airmove Fan (Big Industrial Fan) for rent
General introduction about Airmove fan (Big Portable Industrial fan)
Are you looking for a strong fan that can be used in industrial and commercial environments such as factories, warehouse…?
With a capacity equivalent to 20 small fans, we believe this is the perfect choice for you.
Technical specifications of Airmove fan
| | |
| --- | --- |
| Model | KL-SHVLS-Y6BAA20 (2.0m) |
| Dimension (WxHxD) | 2181mm x 2051mm x 722mm |
| Max speed | 320r/min |
| Range of wind speeds | 0-36m(wind speeds 7 m/s-1.5m/s) |
| Full-load air volume | 1208  m³/min |
| Motor | PMSM Motor |
| Motor power | 0.55 KW |
| Inner power | 220V – 1 phrase |
| Full-load current | 2.7A |
| Sound level | <43 dBA |
| Protection levels | IP55 |
| Weight | 176 Kg |
Airmove fan series is an energy-saving big portable fan with a PMSM motor, a diameter 2m, which can provide ultra-long air blowing, an effective distance is more than 18m.
By designing with 4 wheels, the fan can move everywhere easily. Airmove fan takes only 0.4KW power, very low energy consumption. It works with low noise only 43dB. You can use VFD step-less speed control to easily operate it.
Airmove is IP55, and waterproof overall. The fan can be used on rainy & humid days. It is easy to clean with water. Besides, it adopts plug-play, easy to carry and install.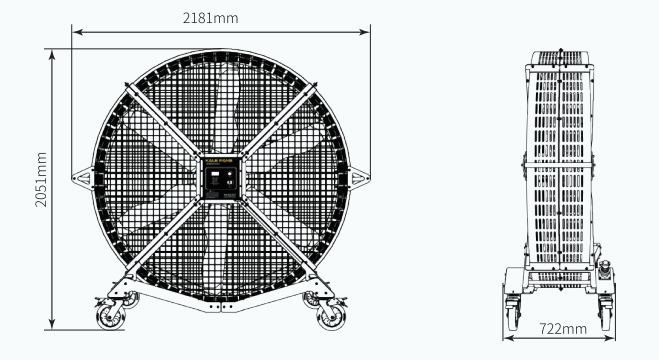 Application of Airmove fan
This big fan is mainly used in both industrial & commercial spaces. It is widely used indoors and outdoors such as in gymnasiums, large exhibitions, warehouses and narrow spaces.
Feature of Airmove fan
| | |
| --- | --- |
| Solid | Use high-strength material, such as forged steel, aircraft grade aluminum, solid & safe. |
| Brilliant | Use fluorocarbon paint technology, high gloss in appearance, brilliant under the light. |
| High Capacity of heat transmission | Featured turbine air suction effect, improving heat dissipation. |
| Long-life | Use the most qualified components, ensuring more than 15 years of service life. |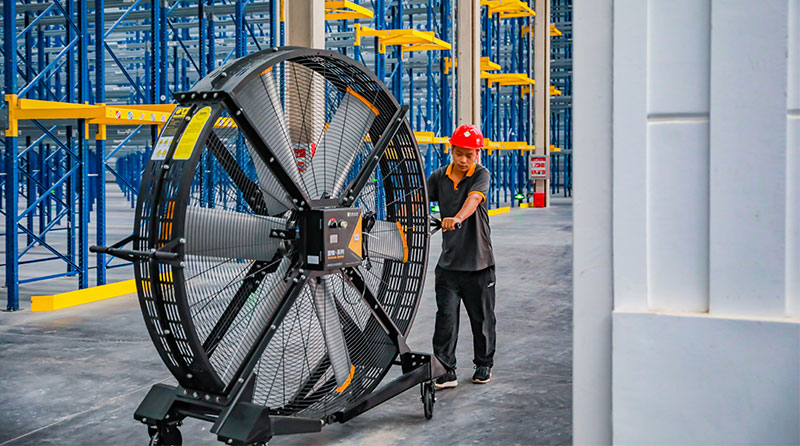 NISHIO rental Airmove fan (Big size industrial fan) service in Vietnam
Our rental service can help you to reduce the investment machine budget, especially when you only need to use the machine in a short term as daily, monthly…
Please contact us if you are interested in our new product AIRMOVE FAN.
HOTLINE 02513683224
HOTLINE:

025 1368 3224