2022/05/25 Product Information
NEW ITEM for rent: Water Purifier in Vietnam
Are you finding a solution for clean drinking water in your office?
Are you using the water purifier?
What is a water purifier?
A lot of minerals are found naturally in water and are important for the human body but consuming an excessive amount of them can cause many diseases. A good water purifier removes the excess salts, suspended particles, and microbes; retains its essential vitamins and minerals.
What is the special thing about our Water Purifier?
NISHIO rental Water Purifier comes from CHUNGHO – one famous Korean brand in this field. Chungho is the 1st company in the world which produces the water purifier combine ice machine.
While other water purifier brands only have three filters, Chungho brand water purifier machines have four filters. The difference is in the third filter name "Membrane" which can removes Bacteria and Florua.

Chungho now is using the most advanced technology for their water purifier, that is why they are leading in the market.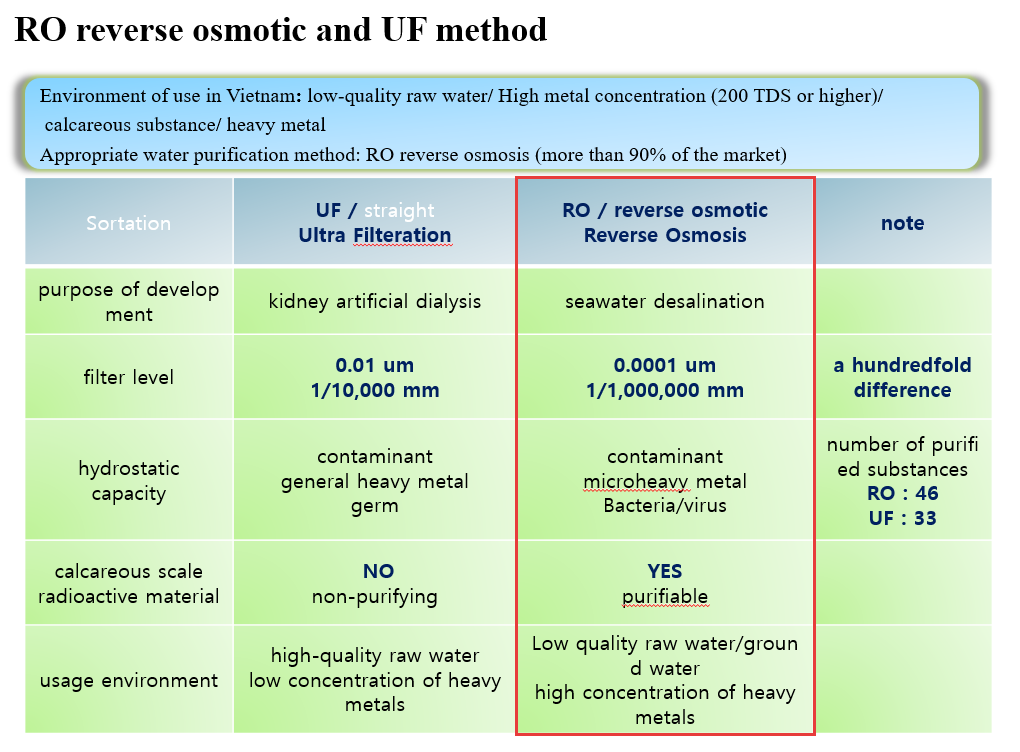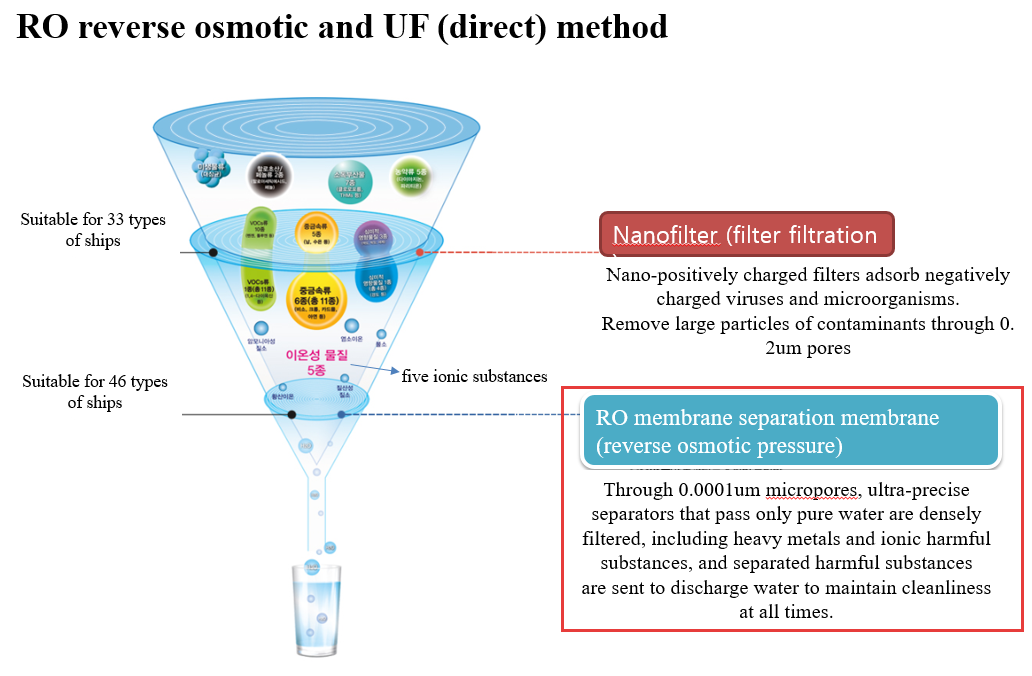 Why is renting the Water Purifier?
Using a water purifier helps you to save the space for keeping the water bottle. So what are the reasons to say that renting is better than buying a new one?
At first, buying a new Water Purifier (especially is the model with three functions all in one), usually it costs more than 55mil VNĐ for a high quality one. If your company/factory is quite big then you need to prepare so many units of water purifier, that means spending a lot of money.
With our rental service, you just need to spend a smaller budget but still can receive our monthly maintenance service for free. (It may change depending on the area to be rented and the number of renting units.)
Second, if you buy a water purifier you need to pay the cost for filters and maintenance fee for each machine while renting fee already includes both.
NISHIO rental Water Purifier service
We rental water purifier brand Chungho in Vietnam market with three below models: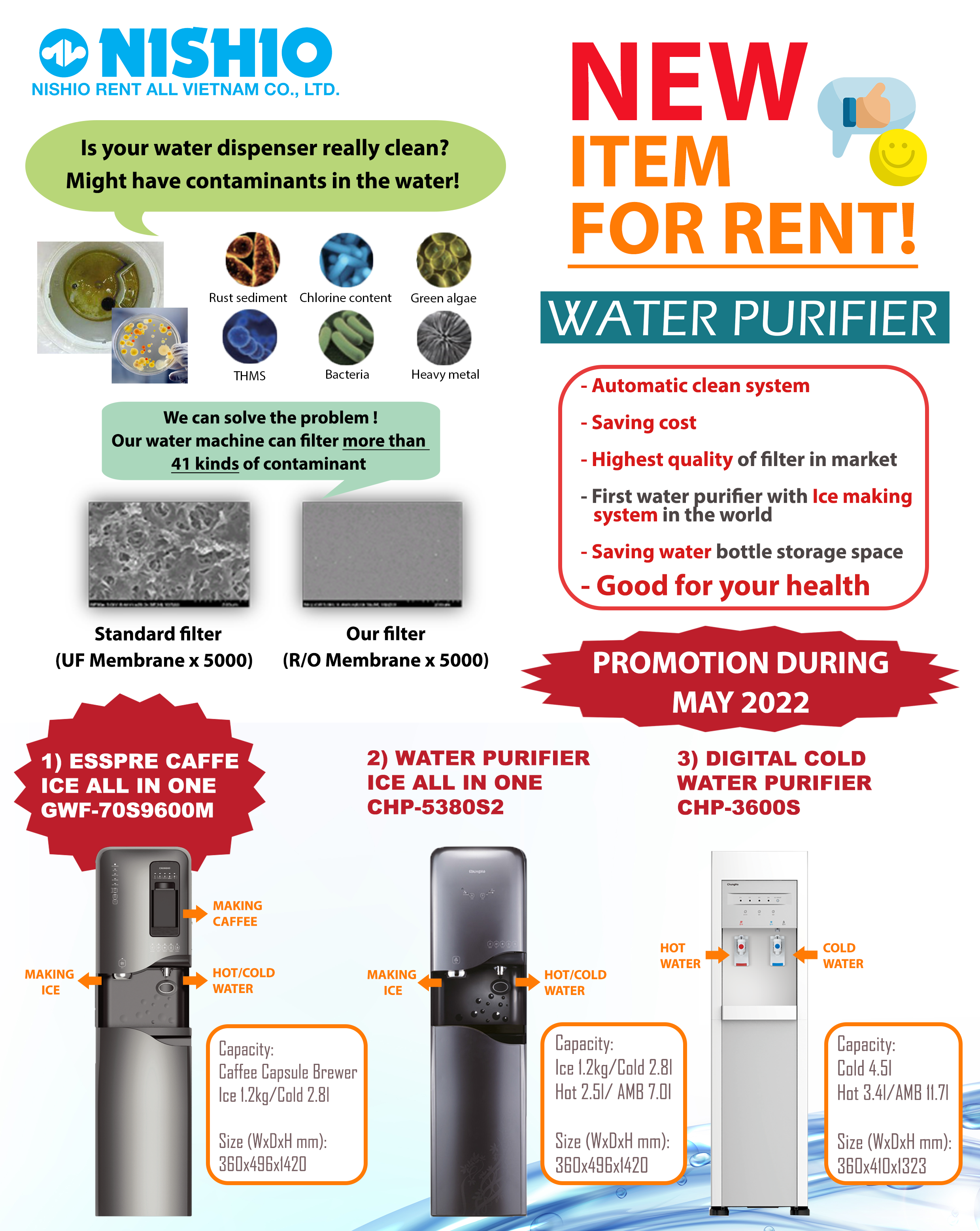 If you need to get the ice immediately in the ho­­­t weather of summer → ESSPRE CAFFE ICE ALL IN ONE and WATER PURIFIER ICE ALL IN ONE are for your reference!
Specially, ESSPRE CAFFE ICE ALL IN ONE is more expected with three funtions Hot/cold water – Ice – Coffee!
PROMOTION FOR RENTING WATER PUFER IN THIS MONTH!
We are glad to announce our 10th Year Anniversary Promotion – DISCOUNT 10% for ALL RENTING ORDERS IN MAY 2022 – included renting Water Purifier as bellow: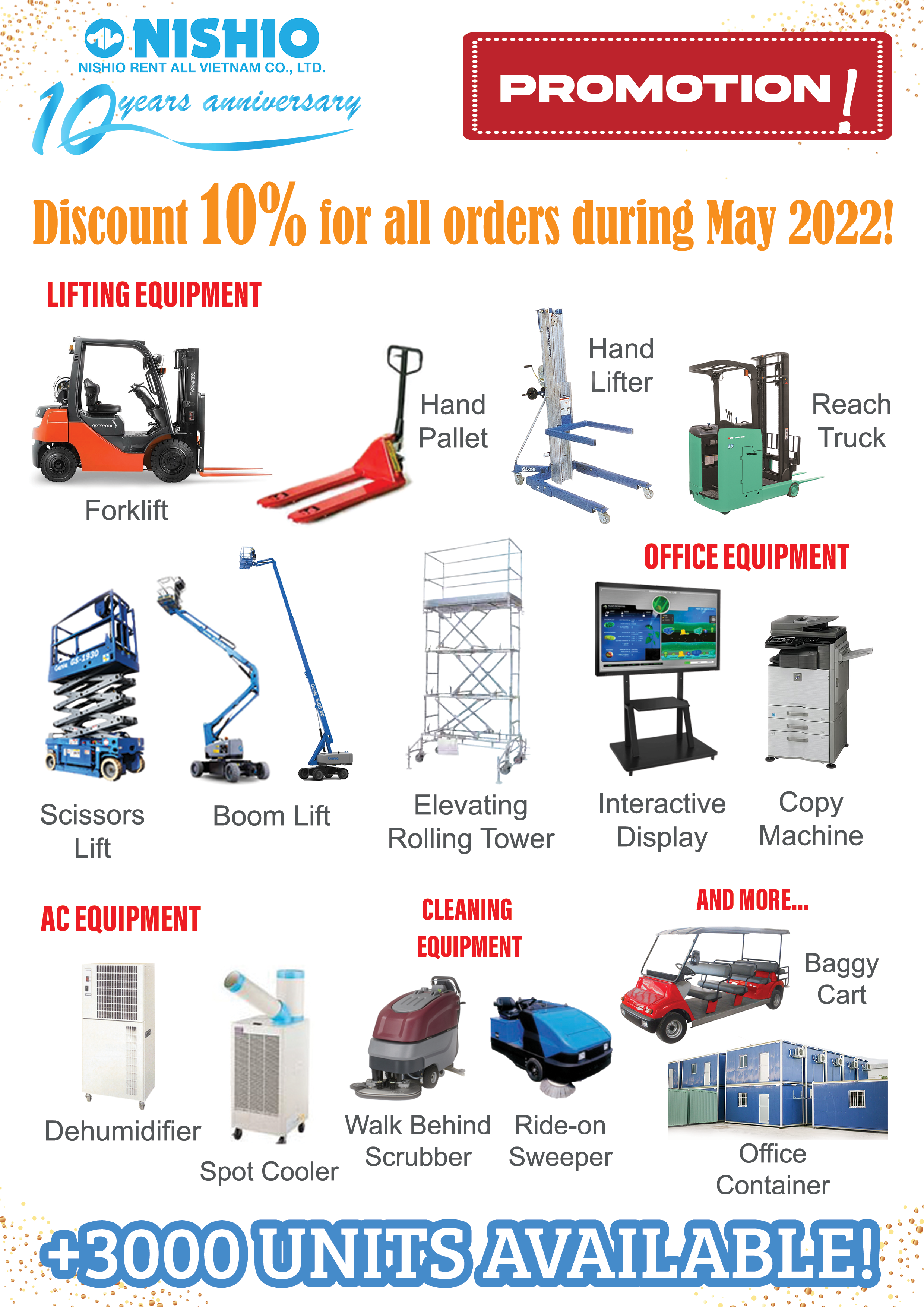 Please don't hesitate to contact us to catch this special chance or for more information!
HOTLINE:

025 1368 3224