2022/01/24 Product Information
Elevating Rolling Tower rental service in Vietnam
Do you need a lifting equipment which is light, sturdy, can be moved and compact for construction and maintenance in the civil, factory, hotel…? Your construction area is very narrow? The floor is not strong? The working high is low so no need to use the boom lift or scissor lift? Do not worry about that problems, we have a great solution for you by using our Nishio Elevating Rolling Tower!
What is Elevating Rolling Tower (Mobile scaffolding)?
Scaffold is a very familiar equipment that helps people to work at height. Elevating Rolling Tower (mobile scaffolding) is an improved equipment by the high quality steel, galvanization, powder coated with anti-rust and anti-corrosion. Due to its light weight, the ladder can be folded and moved easily by the bottom wheel to narrow areas without causing noise or emissions.
Application of Elevating Rolling Tower (Mobile scaffolding)
+ E&C works, fire prevention…
+ Construction of elevators
+ Cleaning and maintaining factories, warehouse
+ Civil, construction site
The advantage of Elevating Rolling Tower (Mobile scaffolding)
-Compact, lightweight, can work in tight spaces or weak foundations
-5 levels of height adjustment
-Movable wheels, easy to move
-Design and quality come from Japan
-Anti-rust and corrosion
NISHIO Elevating Rolling Tower
Currently, NISHIO has launched two Models of Elevating Rolling Tower: SHO36 and US36(US42) with compact size but extremely tight and durable/ With 5 levels of flexible working height adjustment, easy disassembly and folding… this is truly a unique product, worth the experience.
Specially:
*Model SHO36
-Working height: 3.4m-5.6m (Platform height: 1.4m-3.6m)
-Safe working load: 120kg
-Weight: 210kg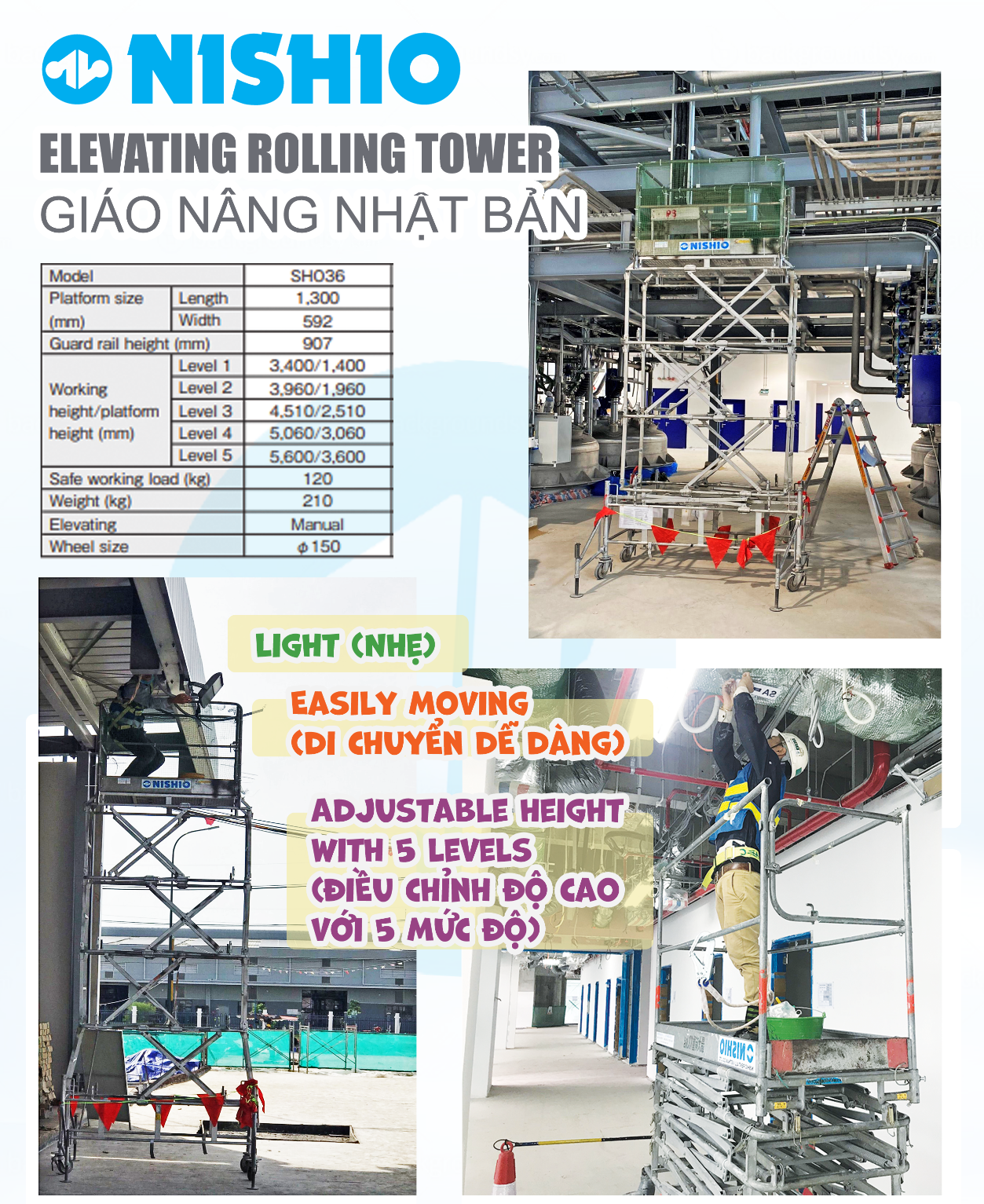 *Model US36 (US42)
-Working height: 3.9m – 6.1m (Platform height: 1.4m-3.6m)
-Safe working load: 120kg
-Weight: 210kg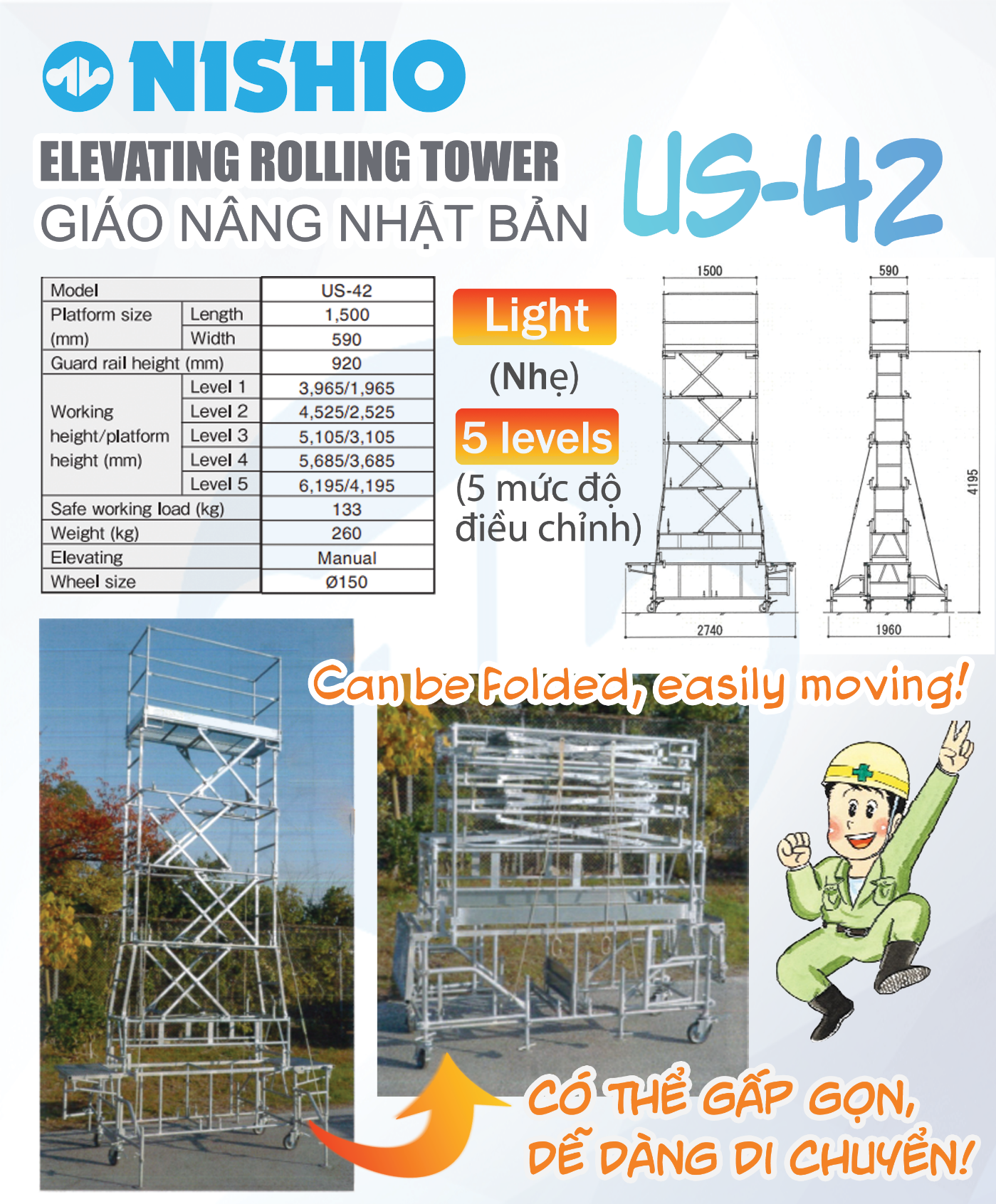 NISHIO Elevating Rolling Tower rental service
With more than 60 years of service in the Japan and global market, 10 years of service in Vietnam, we affirm that NISHIO is one of the best elevating rolling tower rental companies. Customers can rest assured that all of our scaffolding equipment is imported directly from Japan. In addition, we also have extremely fast professional periodic maintenance services.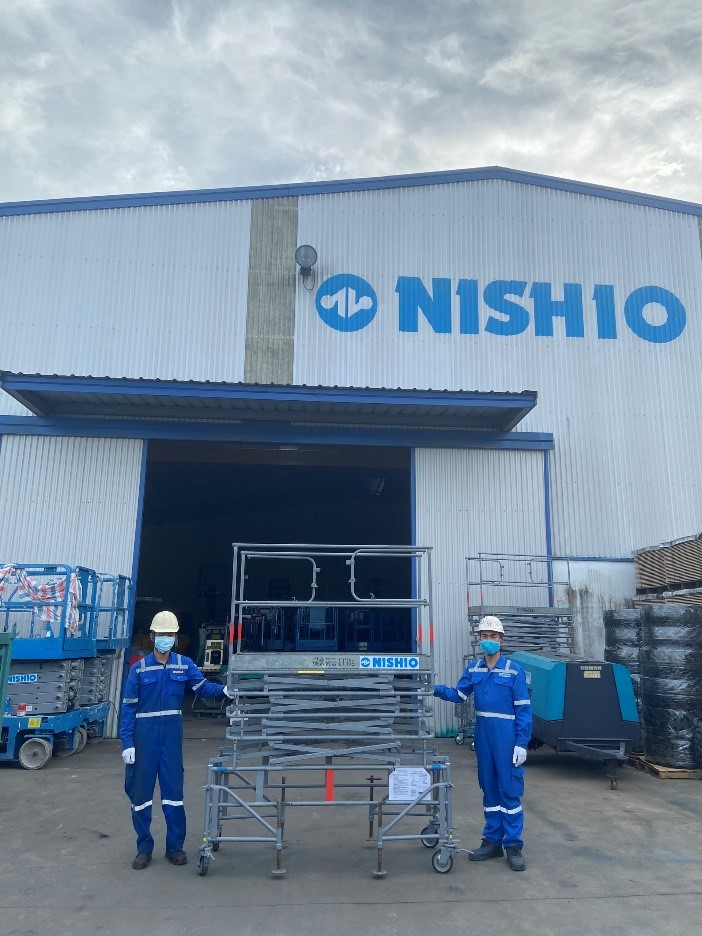 Renting elevating rolling tower will help the company to reduce the beginning investment while still can solve the requirement of working at height in a tight and hard-working situation.
Tutorial Elevating Rolling Tower using
Youtube: https://www.youtube.com/watch?v=FFnYIJYLQF0
With the all information that we demand above, we hope customers pleasure to use our Elevating rolling tower rental service for your projects.
Please do not hesitate to contact us if you have any questions about elevating rolling tower by filling the information box or call our Hotline 024 3212 3556.
Download catalogue here