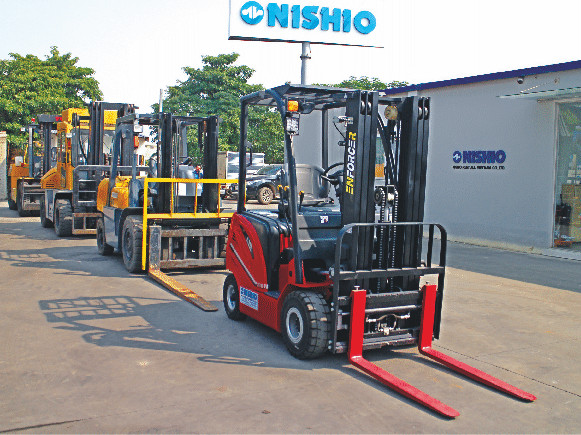 2022/07/09

Product Information

Daily, monthly, yearly Reach truck and Forklift (Engine & Electric) rental service in Ha Noi, Ho Chi Minh, Thu Duc, Binh Duong, Quang Nam and other areas in Vietnam
The information that you need to know about renting Forklift and Reach Truck (Engine & Electric) in Ha Noi, Ho Chi Minh, Thu Duc, Binh Duong, Quang Nam and other areas in Vietnam Currently, forklift and reach truck rental services are being increasingly interested and developed in Vietnam, but along with it are concerns from customers about the quality of machine as well as the reputation of the rental business. So how to find reputable forklift&reach truck rental businesses? Are you new to the forklift rental market and have more questions to ask? Want to rent a good quality forklift? Let's raise your knowledge about forklift and reach truck rental service through the article below. Save your budget Free monthly maintenance service Professional mechanics can solve the issues of machine Free changing machine if it has any problems from rental company Why should you renting forklift & reach truck from NISHIO? NISHIO has 7 branches in Vietnam ( Ha Noi, Hai Phong, Da Nang, Quang Nam, Thu Duc-HCM, Bien Hoa-Dong Nai, Vung Tau). Our warehouse and office all are near the Industrial Zone and Construction projects which is very convenient for transportation and maintenance services. NISHIO Forklift and Reach Truck are always in a good condition with regular maintenance and replaced after a few years. Our Mechanic team is trained by the global standard, very kind and willing to support customers. Specially, we have the mechanics who can stay in the big project for more convenience when customers need us. NISHIO is one of the few companies which can supply the rental service for only one day or one month while most of the other rental companies require customers to sign the contract for two or three months (besides, you need to pay a deposit for them). With NISHIO rental service, you do not need to worry when your forklift or reach truck has a heavy problem and needs to be replaced in a few days. As we mention in the article "Compare between the long-term rental and new purchase Forklift", it is better to rent a Forklift or Reach Truck if you are an Industrial customer. Factories must use these machines in big quantities so making a long-term contract is a great choice. Not the same as a construction site, the factory needs to use the forklift and reach truck with a high frequency for moving goods. It is related to the factory line product. Therefore, when the forklift meets an issue, they need to be repaired or replaced soon. When you use NISHIO rental service, our mechanic will be present at your site as soon as possible. Renting a Forklift or Reach Truck is a bright decision, so why don't you choose our long-term rental service to get a more attractive promotion? Step 1: Customer sends inquiry and information Step 2: NISHIO salesman advices and sends quotation to customer (Customer can visit our yard and check the machine) Step 3: Customer confirms the quotation and sends the PO to NISHIO Step 4: NISHIO sends the contract, two sides discuss, sign in and stamped Step 5: For new customers – Applied 1 month and transportation fee advance payment           For existing customers – Applied end-month payment Step 6: NISHIO delivers machines to the customer site and then operates instruction. Customers check the machine and sign in the receipt sheet. Recently, it appears many rental and selling equipment companies with a very low price. But do not hurry and choose that service just because of the price. You can not make sure that these machines have enough standard quality or not, because they usually are very old machines which come from oversea. In your using machine time, you can meet the problems that can not be solved and repaired. You will feel regret by the damages that machine brings to your business, it will waste your time and money more than you thought. If you want to purchase a forklift or reach truck (even other equipment), please contact NISHIO. Our equipment is always in a good condition, we replace them not because of the mechanical damage, it just because of our time keeping machine rule. However, we still encourage customers for choosing our rental service because of the benefits that it brings back. For rental equipment quotation, please fill your information here and give us a call to our hotline North and Central area: 024-3394-0471 South are: 028-6265-1226 Our Sales department will contact you soon!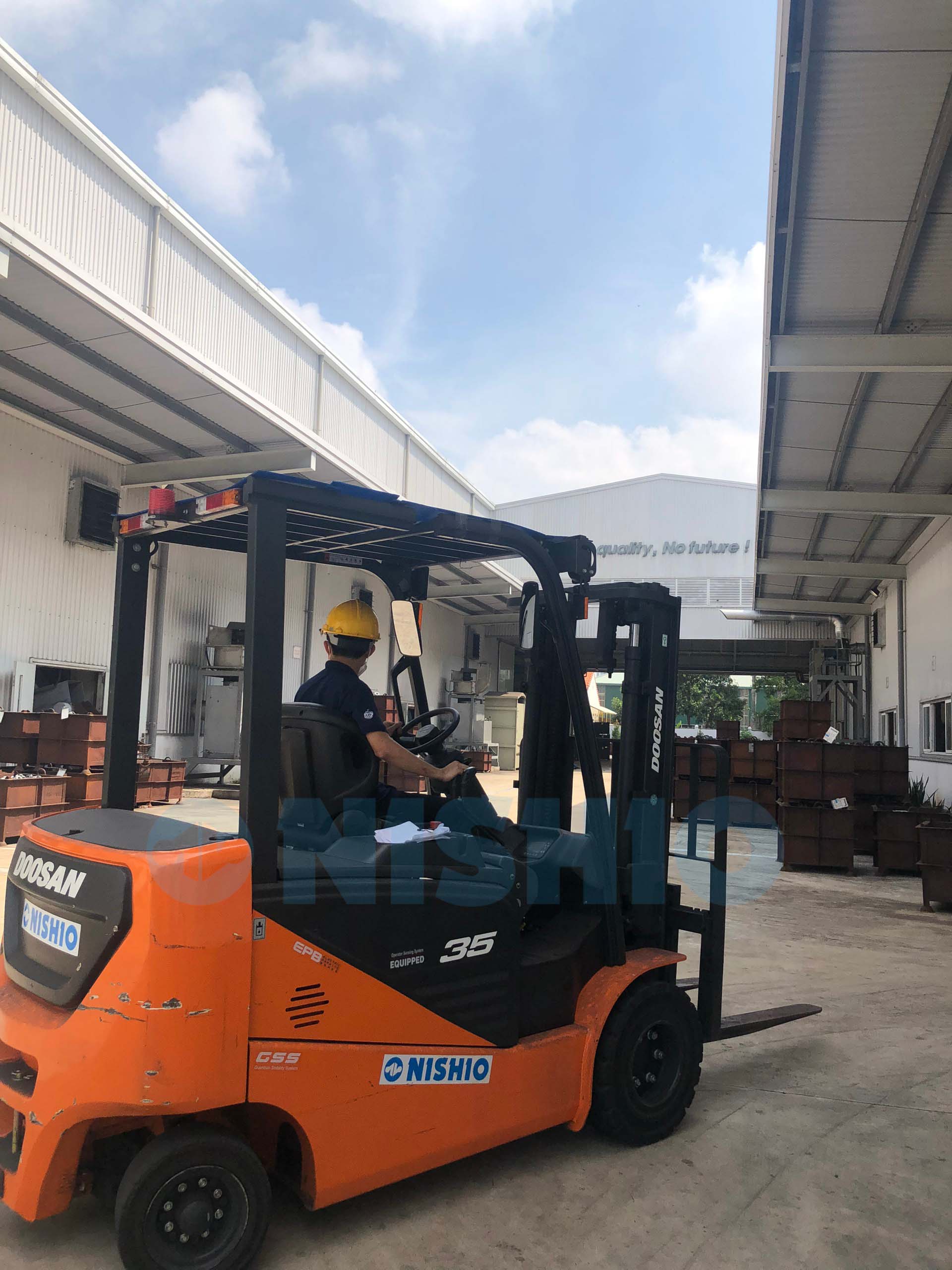 2022/03/01

Product Information

Forklifts are the key factors of the equipment using indoor/outdoor operation such as construction site, logistics, and warehousing industries. They have a big role in cutting out extra time, reducing costs, and offering a safer work platform for your workers. In fact, proper Forklift Maintenance can help avoid the extra financial burden and increase productivity. However, in order to keep your forklifts in good condition, you need to know when you need to have maintenance/ repair… Regular inspection can obviously help eliminate most of the issues at its root. However, what about those problems that have already surfaced? Are your operators can find those problem. Below is a Checklist to find the signs of your forklift when it requires repair. Inspection every month is a good way to understand the condition of your machines. But even if your forklift seems in good condition, it could be damaged inside. To that end, operators should know what they need to pay attention to in order to avoid further damage to forklifts. Our forklift checklist will help sort that out. Check out these signs so that you don't miss out on subtle cues indicating a need for forklift repairs. Damage in forklift chains can become the cause of machine failure. In fact, the forklift may halt in the middle of a job resulting in increased downtime and project costs. Forklift chains usually don't require replacing as long as they are well lubricated with oil. However, any sign of corrosion, rust, kinking, or overly extended chain indicates the need for repairs or replacements. Missing out on these signs can end up costing you heavily as chains are an important component of the internal functioning of a forklift. It should also be noted that not getting the chain replaced on time can also damage the load you're carrying. This is one of the most important aspects to include in your forklift checklist. Look out for leaks within or beneath the forklift. If the oil is leaking, there's a good chance it will be visible around the job site. Oil leaking is a sign that less oil is available to lubricate the different moving parts of the machinery. Thus, leading to increased friction and grinding of gears, which interrupts the smooth functioning of the forklift.  Most of the operators make the mistake of adding in more oil or just wiping it, which is, obviously, not an exact solution. Repairing the root cause of the oil leak is important. Otherwise, it may lead to hydraulic system failure. Since the battery forklift has no exhausted gas it's environmentally friendly and suitable to use for indoor operations. The battery is easy to take care and no need to refill the fuel but it's time to check carefully the battery condition if you find that it's not charged as usual. To assess the condition, we can compare the current charging time with previous records. Generally speaking, it's recommended to charge the battery when 20 – 30% remaining. Using the right charger and filling the battery fluid at the right level can also help keep the battery in good condition for a long period of time. Forks are clearly essential to forklift operation. It seems quite tough and seems not broken easily but if you are not taking care of their condition it can be an economic as well as safety hazard. On the financial front, damaged forks are may not be able to hold the weight and damage the goods in transit. Moreover, errors in loading and unloading goods can affect the safety of on-site workers. It's natural for forks to get damaged with time depending on the load and the amount of operation. Because of these reasons, you should take immediate action when you notice surface cracks, bents, or misalignment of the forks. Additionally, wear and tear because of long-term use also reduce the fork capacity. Visually check the condition of the fork on a regular basis, and if there is a problem take immediate actions. Keep these basic tips in your mind and don't forget regular checks to avoid financial damage and to ensure your safety. It takes some time but small steps prevent major accidents. Except for the above-mentioned common issues, kindly check the below list. It helps you to maintain the forklift in good condition and for longer life. ・High emission of white or black smoke from the exhaust system, carrying a strong odor. ➡Time to check the filter/exhausting air system. ・Check driving technic of the operator. ➡Rough forklift operation cause to damage the tire. ・Seat get high temperature. ➡Might have engine/battery trouble. ・Slow mechanical response while lifting or using attachments. ➡Might have trouble with electric system/ hydraulic system. ・Wear and damage in mast sticks. ➡Hindering the lifting functions and leads to a major accident. As long as you keep checking these points regularly, the life of the forklift becomes longer and you can use it in good conditions. Also no need to worry about having sudden expenses for the repair costs. If you have any worries or troubles about the forklift feel free to contact us anytime from here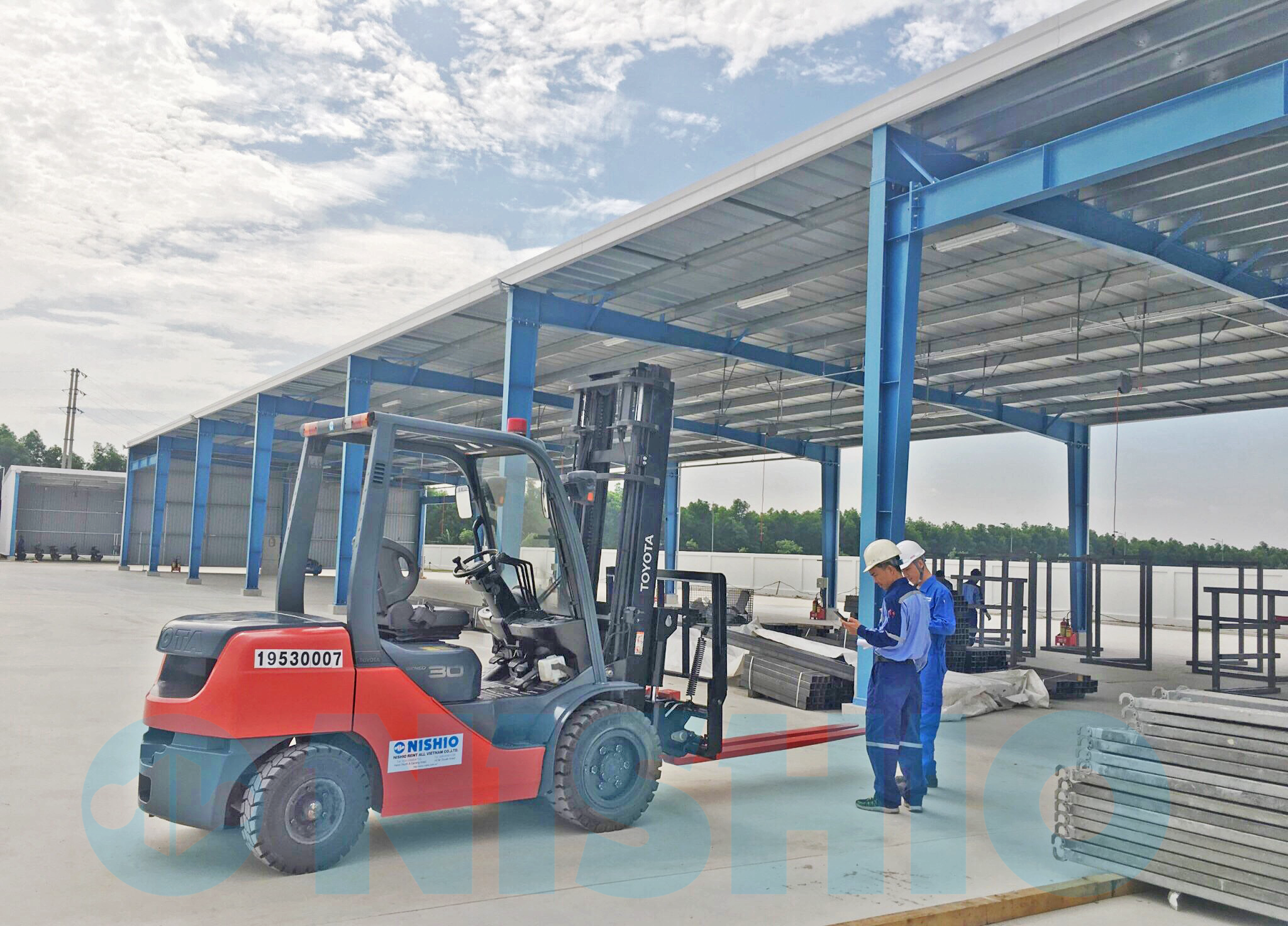 2021/12/30

Product Information

The Forklift is one of the extremely important and indispensable pieces of equipment for factories and construction sites. However, spending a big amount of money to buy many units of the forklift at the same time is quite difficult for some companies especially in this Covid-19 situation. This is the reason why renting a forklift is one of the effective measures that you can consider. Not only consuming initial investment costs if buying a series of new vehicles but also customers need to care about maintenance, repair, accessories fee in the process of using forklifts. If it has any problems with the quality of that forklift, it will affect the line production and safety of workers. Therefore, a forklift needs to always be in a stable state and well operating. In order to save costs, avoid problems with damaged accessories of forklift and unexpected accidents during operation time, we offer the optimal solution for businesses with our forklift rental service: Customers can rent a forklift in 1 day, monthly or yearly. Our service includes operator training, maintenance support whenever renting a forklift has a problem. At the earliest, we can deliver the forklift within that day you call us. Buying a new Forklift will cost a big capital investment. Specifically: -First-year: New forklift purchase fee, inspection cost. -After the second year: Maintenance costs; the cost of replacing batteries, tires, and other spare parts and supplies Meanwhile, a long-term forklift rental will save your time and money, without the cost of basic investment. -First-year: Monthly fixed rental fee, no additional fee for maintenance/ repair fee including replace battery, tire, and other parts fee -After the second year: Reduced rental price or replace with a brand new forklift if the contract is renewed. We have 7 branches from the North to South, and we serve the European, England, American, Vietnamese, Korean, Japanese big companies and factories in Vietnam. With a professional mechanic team and the quality from Japan, we always make customers satisfied and trust on our service. Download Forklift Catalog Find more information If you have any requirements, please feel free to contact us!