2021/12/30 Product Information
Compare between the long-term rental and new purchase Forklift
Why is renting a Forklift?
The Forklift is one of the extremely important and indispensable pieces of equipment for factories and construction sites. However, spending a big amount of money to buy many units of the forklift at the same time is quite difficult for some companies especially in this Covid-19 situation. This is the reason why renting a forklift is one of the effective measures that you can consider.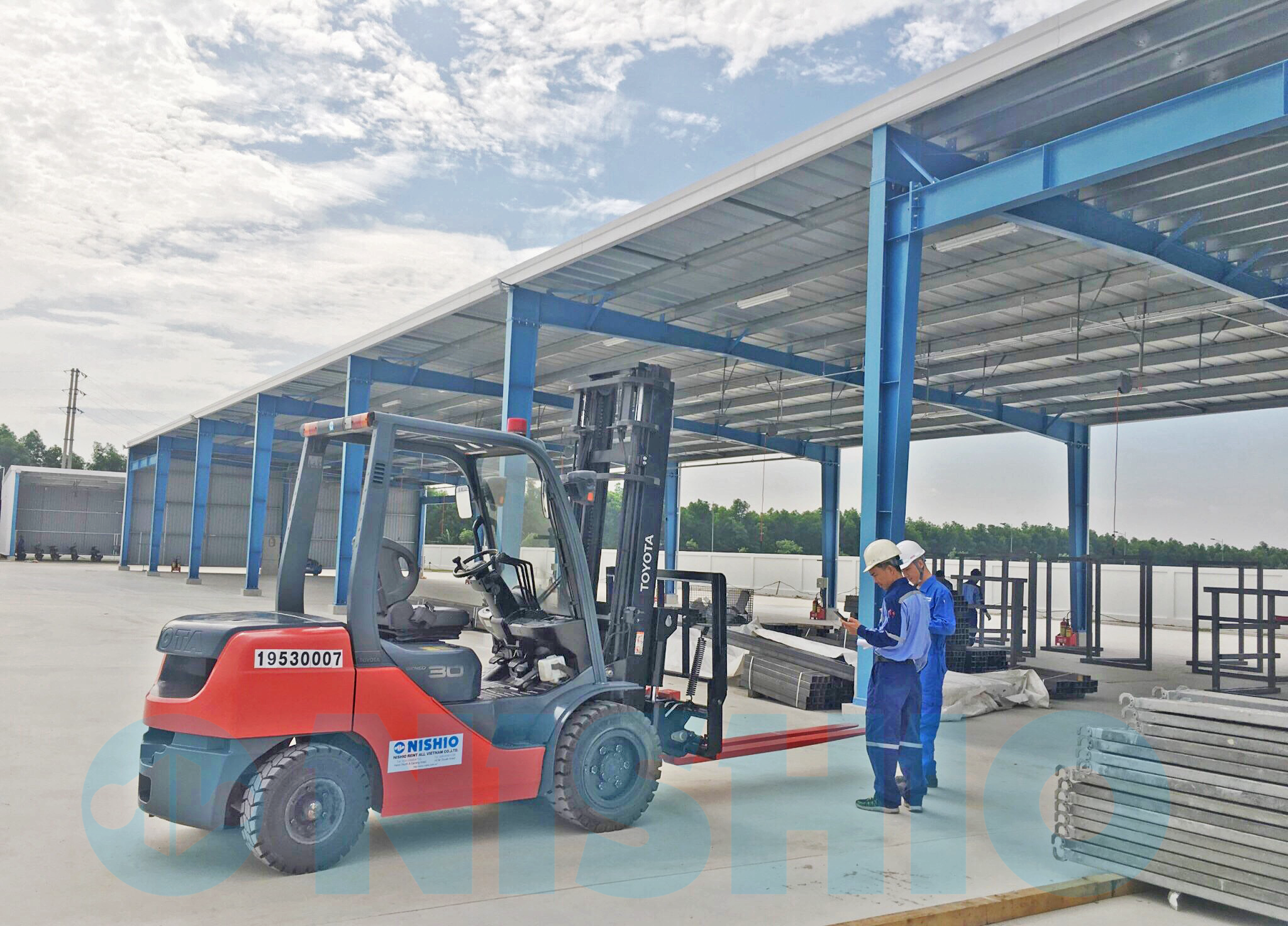 Not only consuming initial investment costs if buying a series of new vehicles but also customers need to care about maintenance, repair, accessories fee in the process of using forklifts. If it has any problems with the quality of that forklift, it will affect the line production and safety of workers. Therefore, a forklift needs to always be in a stable state and well operating.
In order to save costs, avoid problems with damaged accessories of forklift and unexpected accidents during operation time, we offer the optimal solution for businesses with our forklift rental service: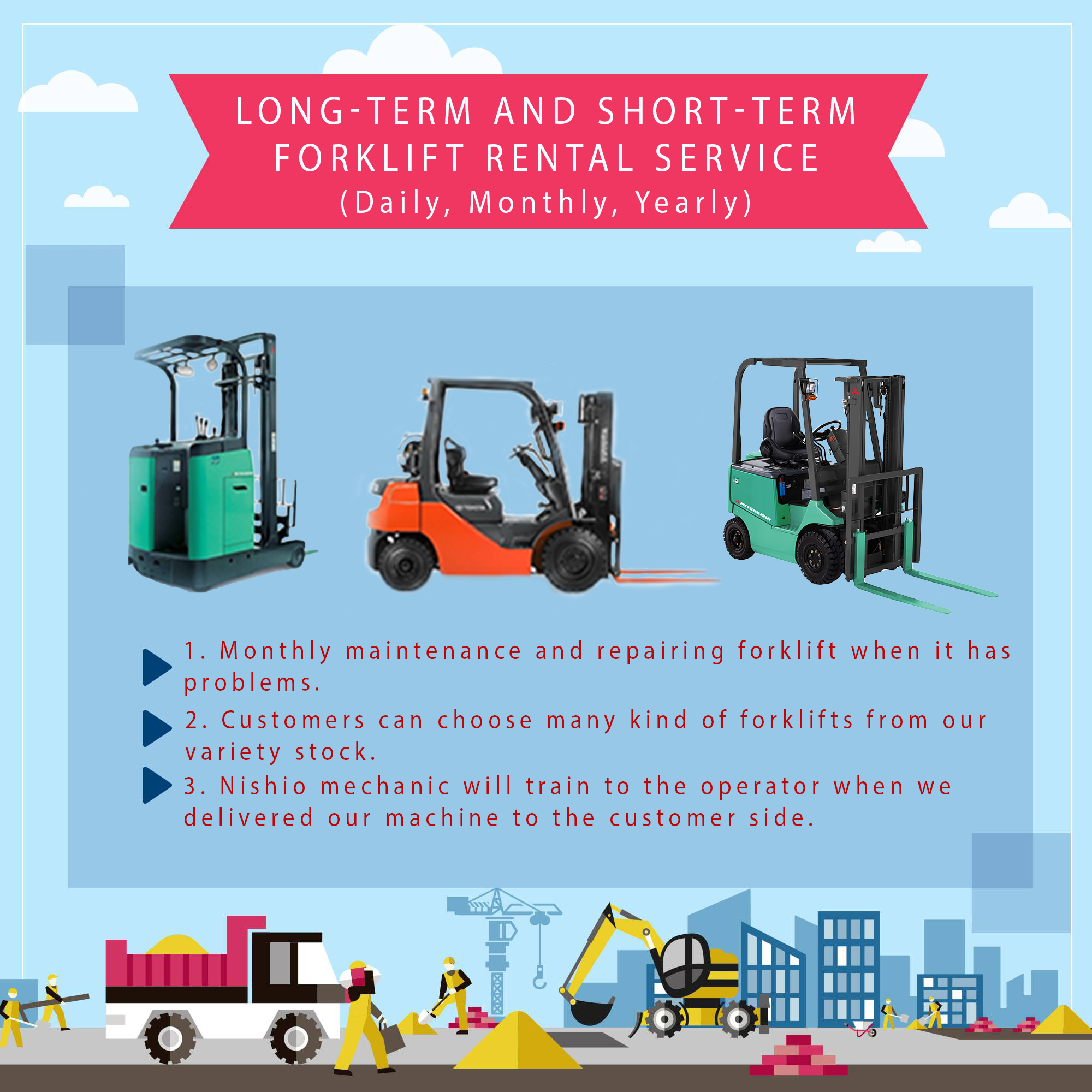 Customers can rent a forklift in 1 day, monthly or yearly. Our service includes operator training, maintenance support whenever renting a forklift has a problem. At the earliest, we can deliver the forklift within that day you call us.

Compare between the long-term rental and new purchase Forklift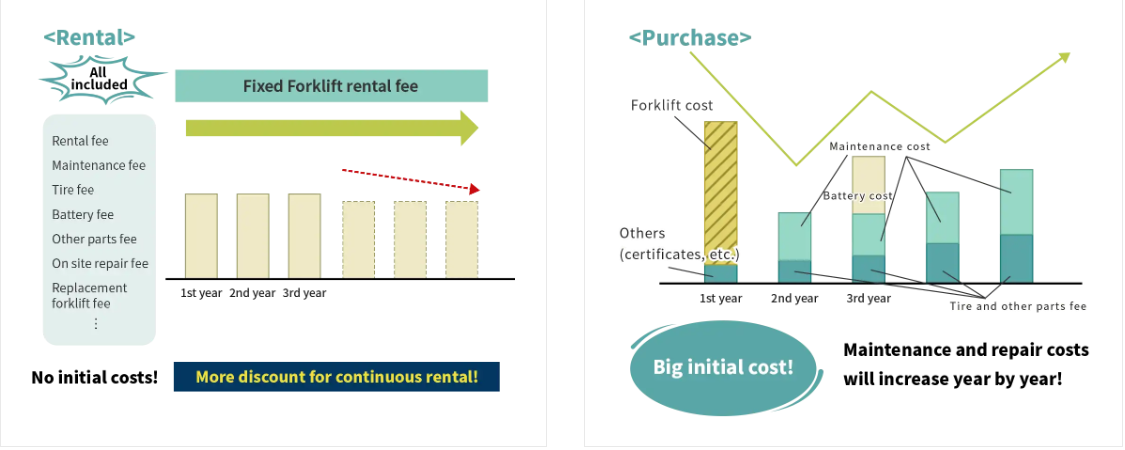 Buying a new Forklift will cost a big capital investment. Specifically:
-First-year: New forklift purchase fee, inspection cost.
-After the second year: Maintenance costs; the cost of replacing batteries, tires, and other spare parts and supplies
Meanwhile, a long-term forklift rental will save your time and money, without the cost of basic investment.
-First-year: Monthly fixed rental fee, no additional fee for maintenance/ repair fee including replace battery, tire, and other parts fee
-After the second year: Reduced rental price or replace with a brand new forklift if the contract is renewed.
We have 7 branches from the North to South, and we serve the European, England, American, Vietnamese, Korean, Japanese big companies and factories in Vietnam. With a professional mechanic team and the quality from Japan, we always make customers satisfied and trust on our service.
If you have any requirements, please feel free to contact us!
HOTLINE:

025 1368 3224