2023/03/24 Product Information
Should you choose a forklift rental service? Where to find the best forklift rental service in Vietnam?
"Why should you rent a forklift? What are the advantages of renting a forklift? Where can you rent a forklift in Vietnam with good quality service?" That must be the questions you may wonder when starting to search for forklift rental.
I/ The problems you usually meet when using the forklift
Forklift has a big role in the manufacturing line, internal/external logistics…
You must care about some features when using a forklift. Such as:
The quality of fork shoes, wheels, brake, battery…

Operator's skill: They must have a license and forklift operation certificate.

Checking all the forklift component statuses before operating.

Checking the environment and weather conditions. Is the area using the forklift has enough space to operate it?

Whether the weight of goods are suitable for the capacity of the forklift?

Whether the height and width of the container and packages are suitable with the fork.Its dimensions and mast type? What kind of mast type and how long mm of the fork can you use?

Forklift maintenance regularly by the high-skill mechanic.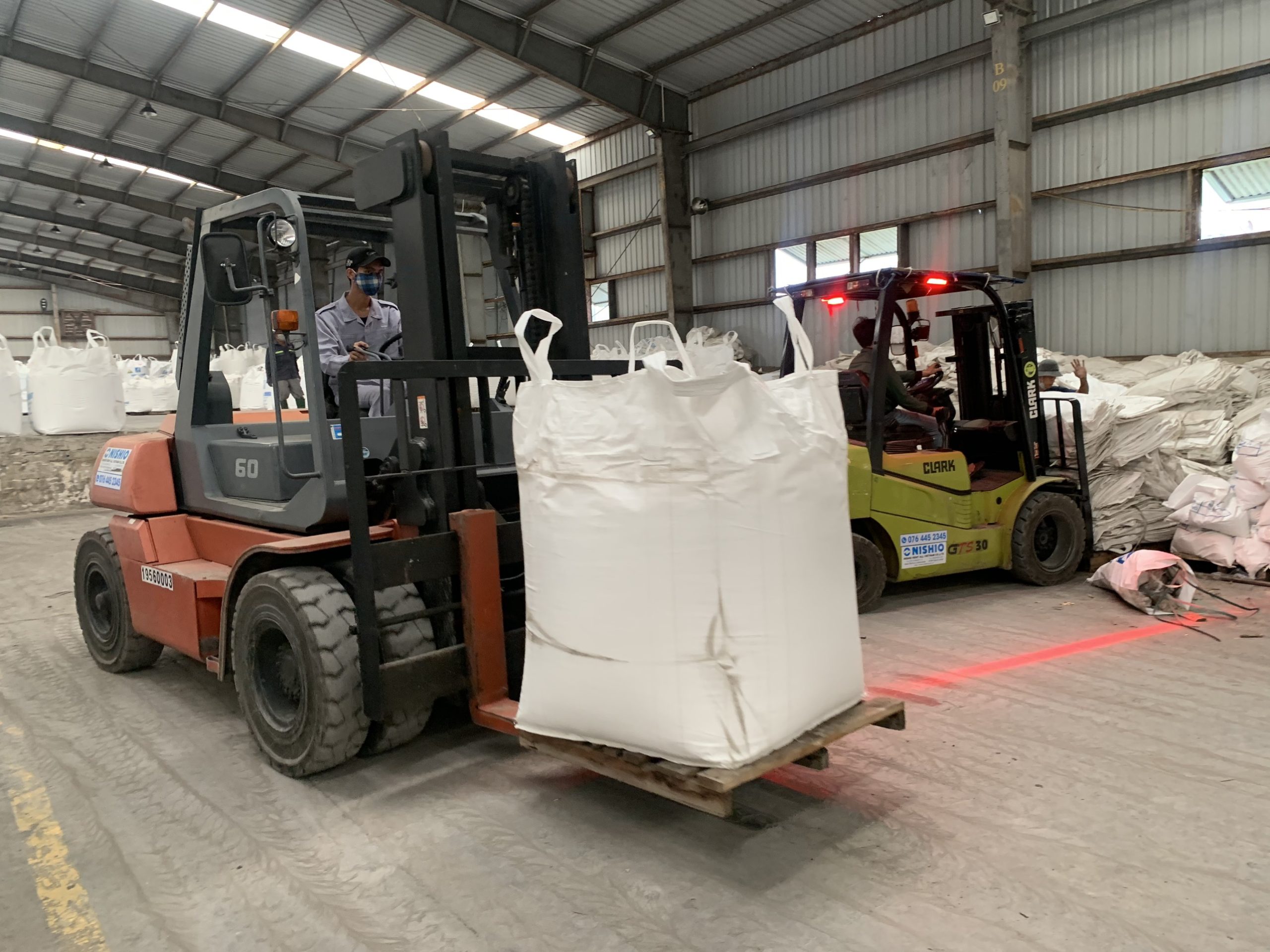 As you know that forklifts usually be used in warehouses, factories, construction sites and residential areas…
Therefore, if there is an accident with the forklift, it will lead to many extremely serious consequences. Not only for forklift itself and driver but also for other workers and your products.
Comprehending operation skills, safety guidance, maintenance, and checking periodically… are the things that forklift users should have. It's quite basic rules. Even so, it seems not all companies are confident about it.
Moreover, investing in a brand-new forklift requires a big budget, people tend to not have regular maintenance to save the maintenance cost of forklifts which can lead to major failures and serious accidents.
So how can we save the budget optimally? How to safely use the forklift for a long time? Renting a forklift with maintenance service and operating instructions is a wise choice. You can avoid a sudden huge amount of repair fee by having regular maintenance. In the rental service, the monthly rental fee already included a maintenance fee and spare parts fee so you can save irregular costs and time to manage it. (NISHIO service case)
II/ The comparison between purchasing a forklift and renting a forklift
Nowadays, many companies are choosing long-term and short-term rental forklift services instead of buying new-brand or used forklifts.
You can see the below comparison chart for the major reason.
Purchase Forklift
Long term Forklift rental(NRAV)

Big initial investment cost (purchase fee, inspection fee…)
100% advance payment

Only need to pay the monthly rental fee
Further discount if the rental period is extended.

Repair, maintenance and replacement spare parts costs are incurred annually.
Need to arrange maintenance each time by yourself

All are included in the rental fee. (Regular maintenance fee, spare parts fee)

=> Cost is increasing over time while the forklift is getting older.

=> Hard to make a yearly budget plan

=> The person in charge needs to spend more time taking care of forklifts.

=> The fixed rental fee will help to save your money.(free of charge the repair fee for breakdowns caused by forklift)

=> Easy to make a yearly budget plan.

=> Can minimize the person in charge's workload
The benefits that forklift rental services bring are very clear. You can experience forklift rental for a few months before deciding to sign a long-term rental contract.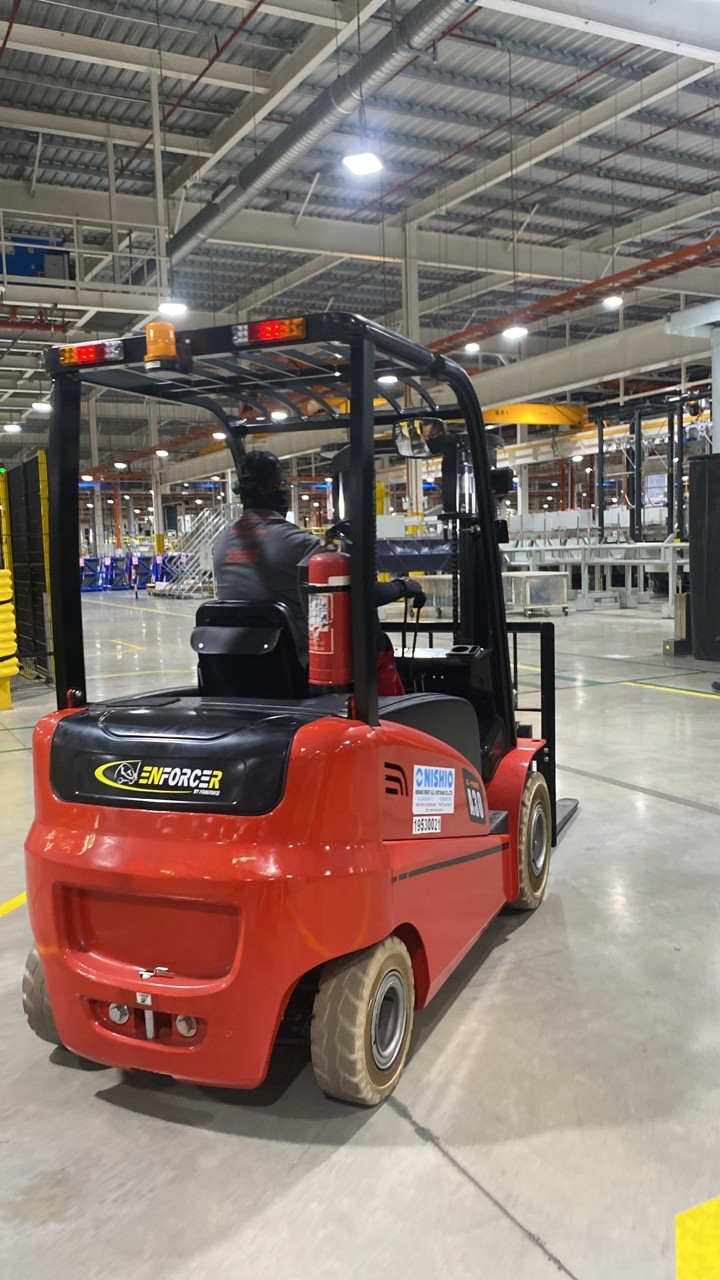 III/ Where should you find to rent a forklift in Vietnam?
If you have never used a forklift rental service, you should look for an experienced and reputable machinery rental company in the market.
In Vietnam, we know that there are many forklift rental companies. However, choosing and sending your trust as well as a big amount of investment will surely make you think carefully.
The most recommended way is asking your friends or staff to introduce a reliable supplier. If you don't have friend or staff who knows about forklift rental supplier you can check by our website but need to be more careful.
It is impossible not to think about the case where the lessor does not ensure the safety of the forklift, the forklift outside looks like brand new but has heavy damage internally such as engine, starter, etc. so you'd better check the forklift's quality by your own eyes. Also in many cases, these suppliers do not have good maintenance skills and hard to check on the first visit.
With more than 10 years of experience in rental machinery and equipment in Vietnam and more than 60 years in the global market, also we are a direct partner of many famous Forklift/Reach truck brands from Japanese, Korean, Australian,… Nishio Rent All can guarantee the quality of Forklift/Reach truck rental and the service to customers.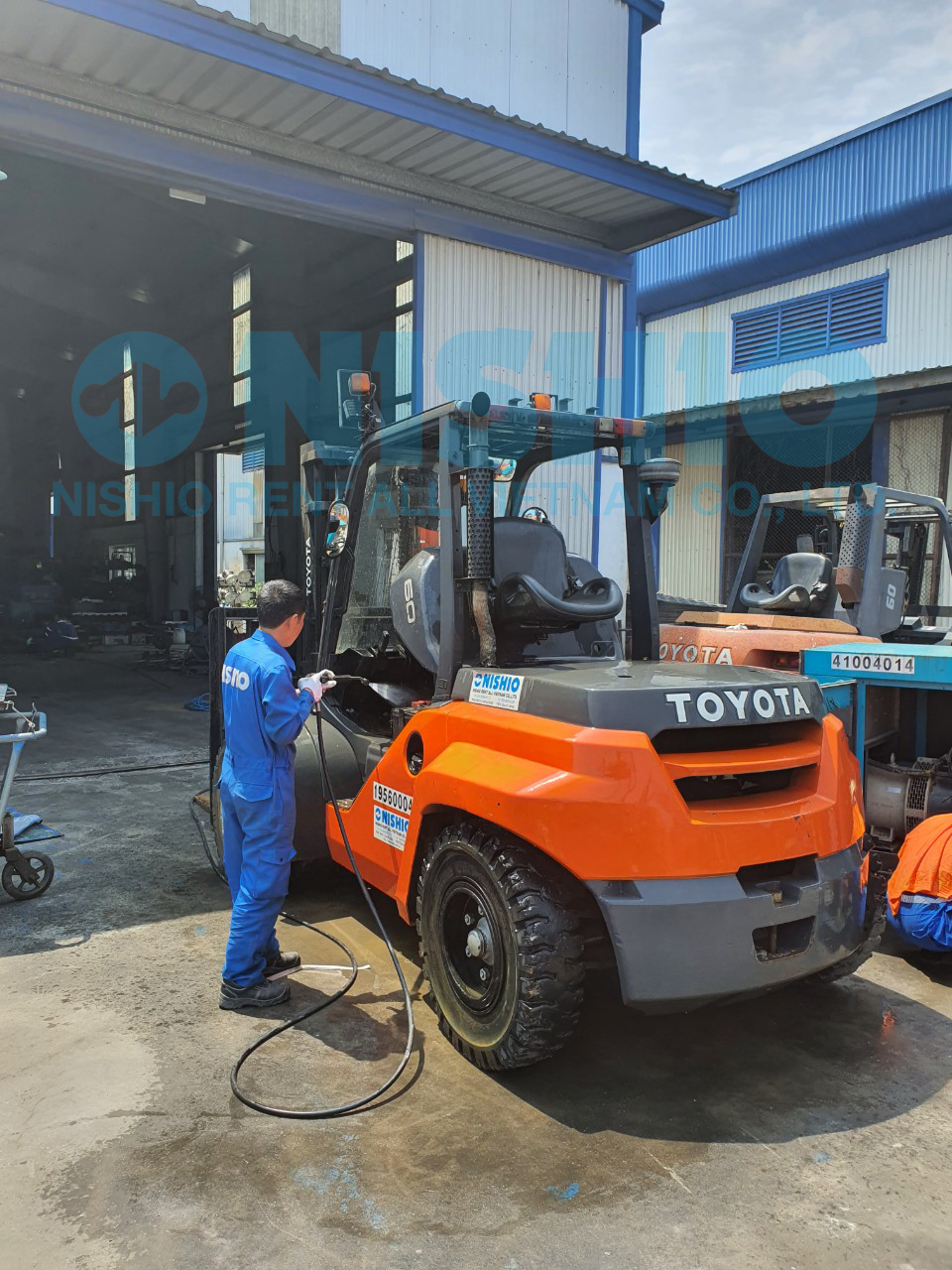 Please contact us if you want to rent a diesel forklift, electric forklift, reach truck (1.5 ton/2.5 ton/3 ton…) in Vietnam.