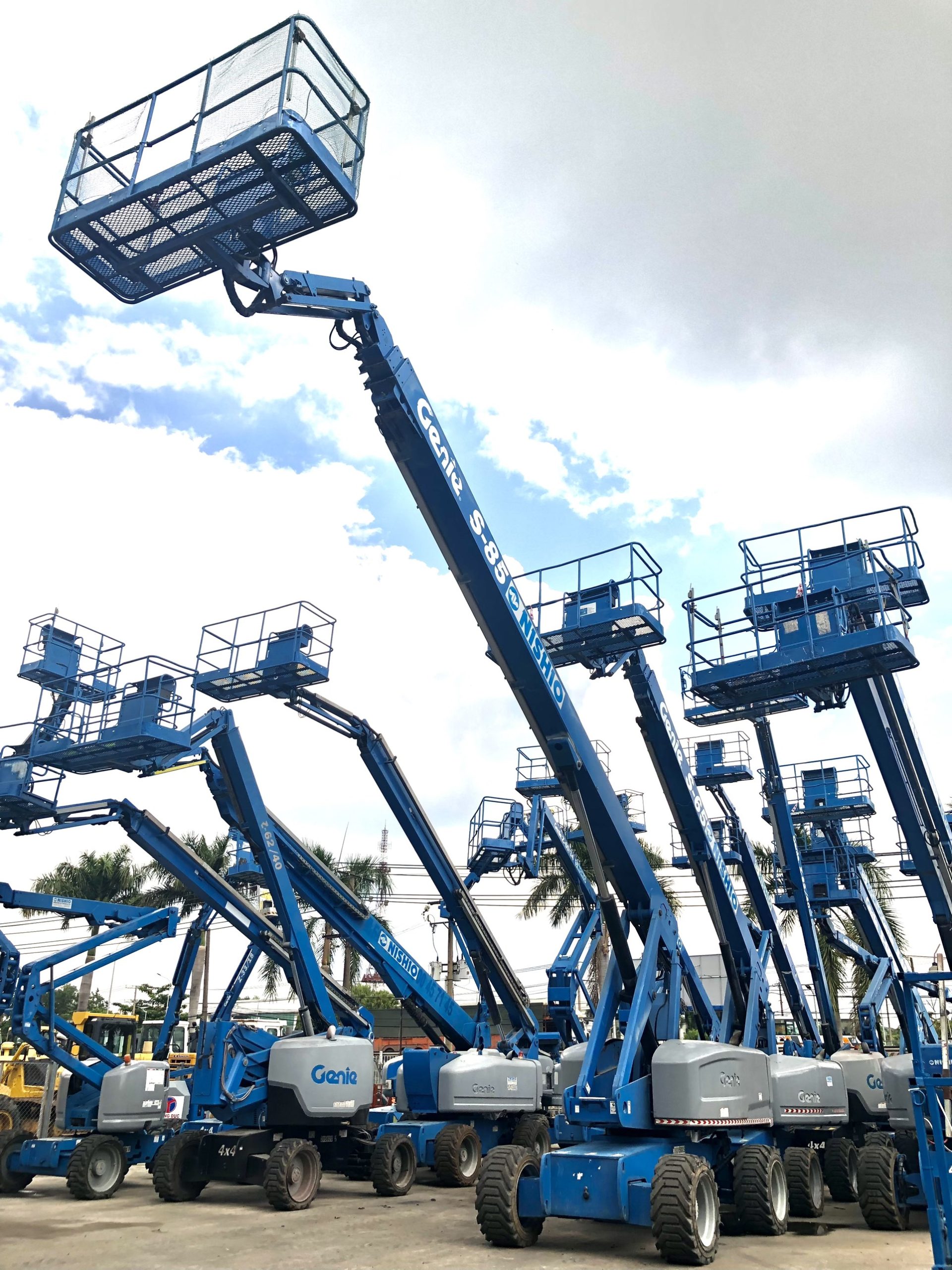 2022/03/11

Product Information

Boom lifts can go much higher than scissor lifts — up to 39.6m (130 feet) or more. They offer greater flexibility than scissor lifts, since the bucket rests on a hydraulic arm and can move in all directions. Meanwhile, boom lifts have smaller platforms than scissor lifts to keep the safe because it goes up higher than scissor lift. They are also ideal for jobs where the worksite is small or hard to access. Like scissor lifts, boom lifts aren't recommended to use on a hill or incline. The center of gravity is higher with this machine than with many others, which increases the risk for a tip-over. However, it is possible to work on an incline as long as you don't exceed the maximum slope with a safe working load for the boom lift. Safely driving a boom lift on a slope starts with knowing the lift's maximum slope rating is very important. A digital inclinometer can be used to measure the exact degree of a slope. If you don't have one, place the board at least 3 feet long on a slope. Then, place a carpenter's level on the board and raise the lower end of the board level until it is horizontal. Once you do that, complete these steps: Measure the distance to the ground. Divide the distance by the length of the board. Multiply the result by 100. This simple formula provides the percent of the slant. If the number exceeds the max slope rating, do not drive the lift on the slope. Instead, winch or hoist the lift across the sloped area. Keep in mind that max slope ratings can change due to ground conditions and weather. For example, mud or loose gravel can reduce traction and extend stopping distances. Driving speeds need to be reduced when crossing sloped or rough terrain as well. Proceed with caution why you drive a boom lift on a slope near drop-offs or cliffs. There are many things that you can do to safely use a boom lift on a slope, such as: ✓ Use a pre-operation checklist to inspect a lift before you use it. ✓ Make sure a lift's tires are inflated to the proper pressure, as low or high pressure can impact a lift's stability. ✓ Check the surrounding area for un-compacted fill, ditches, and holes and address these issues before you begin work. ✓ Only use a lift designed to climb slopes. ✓ Check the weather report before you start work; if inclement weather is on the horizon, you need to plan accordingly. ✓ Make sure operators and ground workers are trained and certified to use a boom lift. A boom lift should never be used in winds that exceed 45km/hour (28 mph). When in doubt about whether to operate a boom lift in high wind conditions, use your best judgement, and always err on the side of caution. Furthermore, you should always check a worksite for overhead hazards, such as overhangs or high-voltage power lines. As a general rule of thumb, stay at least 50 feet away from electrical wires on steel towers and 30 feet away from wires on wooden or concrete poles. Last but not least, remember that using an Articulating Boom Lift is safer than using a Telescopic Boom Lift on the slope. A boom lift safety training course can make a world of difference. By receiving boom lift safety training, you can learn how to properly operate a boom lift on slopes, lower your risk of boom lift accidents, and more. NISHIO also offers training lessons for safe operation to your operators. If you have any questions, do not hesitate to contact us!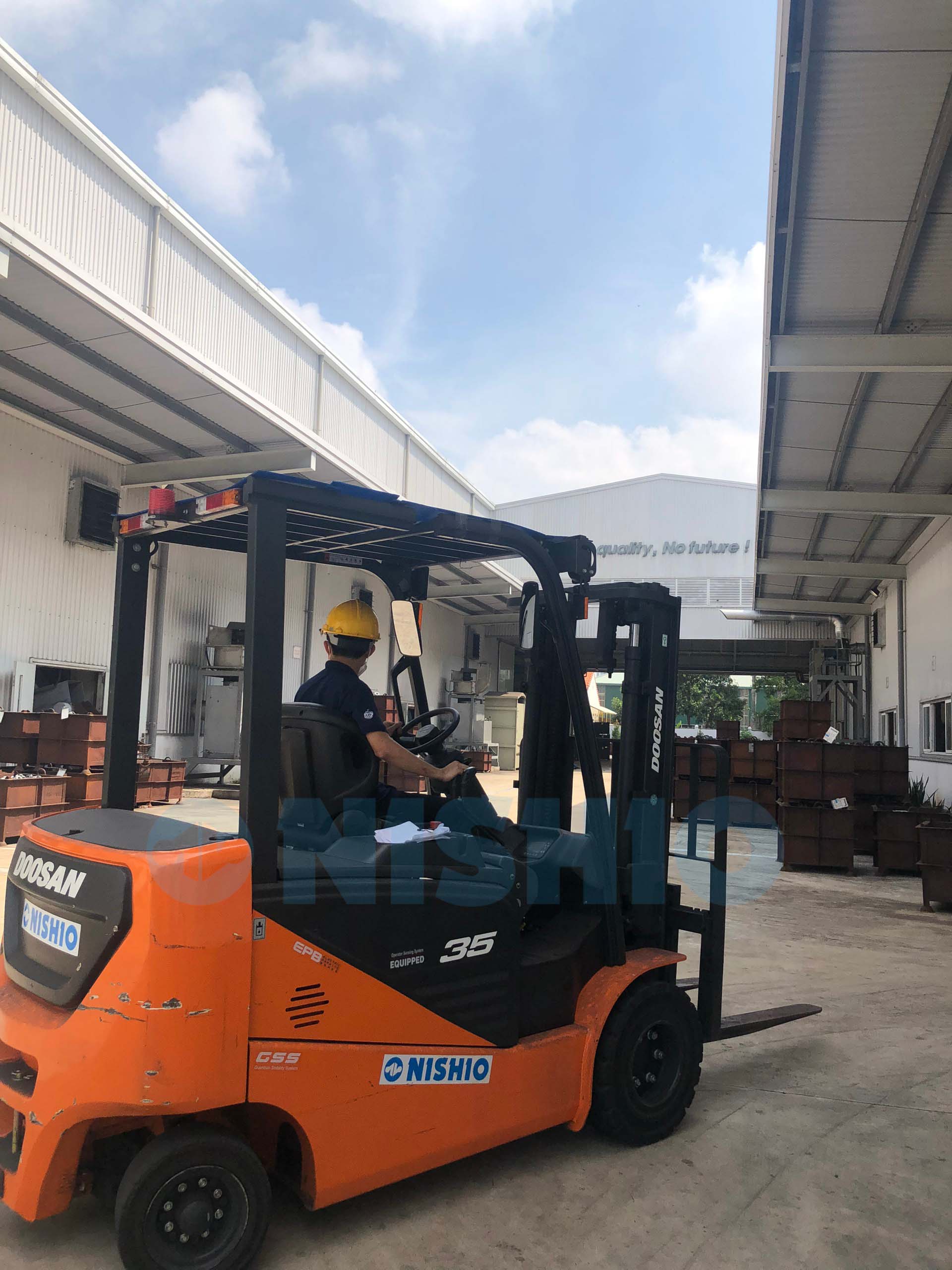 2022/03/01

Product Information

Forklifts are the key factors of the equipment using indoor/outdoor operation such as construction site, logistics, and warehousing industries. They have a big role in cutting out extra time, reducing costs, and offering a safer work platform for your workers. In fact, proper Forklift Maintenance can help avoid the extra financial burden and increase productivity. However, in order to keep your forklifts in good condition, you need to know when you need to have maintenance/ repair… Regular inspection can obviously help eliminate most of the issues at its root. However, what about those problems that have already surfaced? Are your operators can find those problem. Below is a Checklist to find the signs of your forklift when it requires repair. Inspection every month is a good way to understand the condition of your machines. But even if your forklift seems in good condition, it could be damaged inside. To that end, operators should know what they need to pay attention to in order to avoid further damage to forklifts. Our forklift checklist will help sort that out. Check out these signs so that you don't miss out on subtle cues indicating a need for forklift repairs. Damage in forklift chains can become the cause of machine failure. In fact, the forklift may halt in the middle of a job resulting in increased downtime and project costs. Forklift chains usually don't require replacing as long as they are well lubricated with oil. However, any sign of corrosion, rust, kinking, or overly extended chain indicates the need for repairs or replacements. Missing out on these signs can end up costing you heavily as chains are an important component of the internal functioning of a forklift. It should also be noted that not getting the chain replaced on time can also damage the load you're carrying. This is one of the most important aspects to include in your forklift checklist. Look out for leaks within or beneath the forklift. If the oil is leaking, there's a good chance it will be visible around the job site. Oil leaking is a sign that less oil is available to lubricate the different moving parts of the machinery. Thus, leading to increased friction and grinding of gears, which interrupts the smooth functioning of the forklift.  Most of the operators make the mistake of adding in more oil or just wiping it, which is, obviously, not an exact solution. Repairing the root cause of the oil leak is important. Otherwise, it may lead to hydraulic system failure. Since the battery forklift has no exhausted gas it's environmentally friendly and suitable to use for indoor operations. The battery is easy to take care and no need to refill the fuel but it's time to check carefully the battery condition if you find that it's not charged as usual. To assess the condition, we can compare the current charging time with previous records. Generally speaking, it's recommended to charge the battery when 20 – 30% remaining. Using the right charger and filling the battery fluid at the right level can also help keep the battery in good condition for a long period of time. Forks are clearly essential to forklift operation. It seems quite tough and seems not broken easily but if you are not taking care of their condition it can be an economic as well as safety hazard. On the financial front, damaged forks are may not be able to hold the weight and damage the goods in transit. Moreover, errors in loading and unloading goods can affect the safety of on-site workers. It's natural for forks to get damaged with time depending on the load and the amount of operation. Because of these reasons, you should take immediate action when you notice surface cracks, bents, or misalignment of the forks. Additionally, wear and tear because of long-term use also reduce the fork capacity. Visually check the condition of the fork on a regular basis, and if there is a problem take immediate actions. Keep these basic tips in your mind and don't forget regular checks to avoid financial damage and to ensure your safety. It takes some time but small steps prevent major accidents. Except for the above-mentioned common issues, kindly check the below list. It helps you to maintain the forklift in good condition and for longer life. ・High emission of white or black smoke from the exhaust system, carrying a strong odor. ➡Time to check the filter/exhausting air system. ・Check driving technic of the operator. ➡Rough forklift operation cause to damage the tire. ・Seat get high temperature. ➡Might have engine/battery trouble. ・Slow mechanical response while lifting or using attachments. ➡Might have trouble with electric system/ hydraulic system. ・Wear and damage in mast sticks. ➡Hindering the lifting functions and leads to a major accident. As long as you keep checking these points regularly, the life of the forklift becomes longer and you can use it in good conditions. Also no need to worry about having sudden expenses for the repair costs. If you have any worries or troubles about the forklift feel free to contact us anytime from here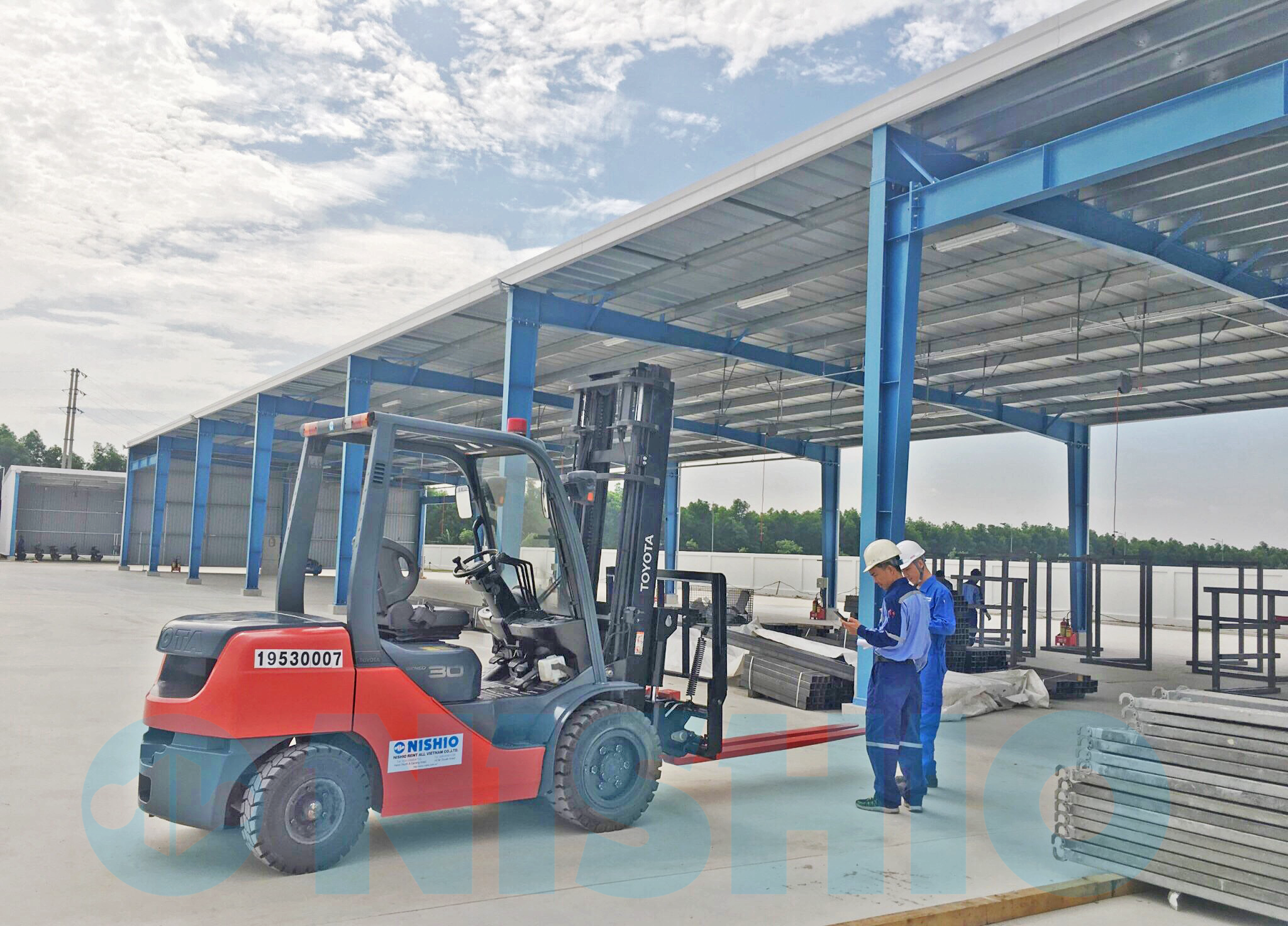 2021/12/30

Product Information

The Forklift is one of the extremely important and indispensable pieces of equipment for factories and construction sites. However, spending a big amount of money to buy many units of the forklift at the same time is quite difficult for some companies especially in this Covid-19 situation. This is the reason why renting a forklift is one of the effective measures that you can consider. Not only consuming initial investment costs if buying a series of new vehicles but also customers need to care about maintenance, repair, accessories fee in the process of using forklifts. If it has any problems with the quality of that forklift, it will affect the line production and safety of workers. Therefore, a forklift needs to always be in a stable state and well operating. In order to save costs, avoid problems with damaged accessories of forklift and unexpected accidents during operation time, we offer the optimal solution for businesses with our forklift rental service: Customers can rent a forklift in 1 day, monthly or yearly. Our service includes operator training, maintenance support whenever renting a forklift has a problem. At the earliest, we can deliver the forklift within that day you call us. Buying a new Forklift will cost a big capital investment. Specifically: -First-year: New forklift purchase fee, inspection cost. -After the second year: Maintenance costs; the cost of replacing batteries, tires, and other spare parts and supplies Meanwhile, a long-term forklift rental will save your time and money, without the cost of basic investment. -First-year: Monthly fixed rental fee, no additional fee for maintenance/ repair fee including replace battery, tire, and other parts fee -After the second year: Reduced rental price or replace with a brand new forklift if the contract is renewed. We have 7 branches from the North to South, and we serve the European, England, American, Vietnamese, Korean, Japanese big companies and factories in Vietnam. With a professional mechanic team and the quality from Japan, we always make customers satisfied and trust on our service. Download Forklift Catalog Find more information If you have any requirements, please feel free to contact us!