2023/08/02 Product Information
Aerial work platform (AWP) equipment rental service in Vietnam
To save costs and based on practical conditions, most construction units and factories often choose to rent Lifting Equipment instead of buying new ones. There are many companies that provide equipment rental in Vietnam market today. So when learning about some types of lifting equipment such as scissor lift, boom lift… and choosing a reputable equipment rental company, what do you need to pay attention to? What information is required to know about this type of equipment?
NISHIO has AWP equipment (Scissor Lift, Boomlift, Personal Lift… for rent in Hanoi, Hai Duong, Bac Ninh, Bac Giang, Vinh Phuc, Quang Nam, Quang Ngai, Da Nang, Quang Binh. Hue, Gia Lai, HCM, Binh Duong, Dong Nai, Long An,…
What is an Aerial Work Platform (AWP)

? How many types of AWP are in Vietnam?
An aerial work platform (AWP), also known as an aerial device, elevating work platform, cherry picker, bucket truck or mobile elevating work platform is a mechanical device used to provide temporary access for people or equipment to inaccessible areas, usually at height.
In Vietnam, there are 4 popular types of AWP
Scissor Lift

Boom Lift (Articulate & Telescopic)

Atrium Lift

Personal Lift
In this article, we will introduce the function, advantage, and application of each models to you
Scissor Lift
A scissor lift is a type of aerial work platform that is used to safely move workers vertically and to different locations in a variety of industries, including construction, retail, entertainment, and manufacturing1. It is a mobile-supported scaffold work platform that gets its name from its working mechanism, which consists of a stack of crossed scissor-like tubes (X-pattern) that raise and lower the platform2. Scissor lifts are commonly used for interior work jobs such as ceiling construction, sign hanging, and other maintenance projects. They have a lower platform height than other boom lifts and often reach as high as 20 – 50 feet at max height.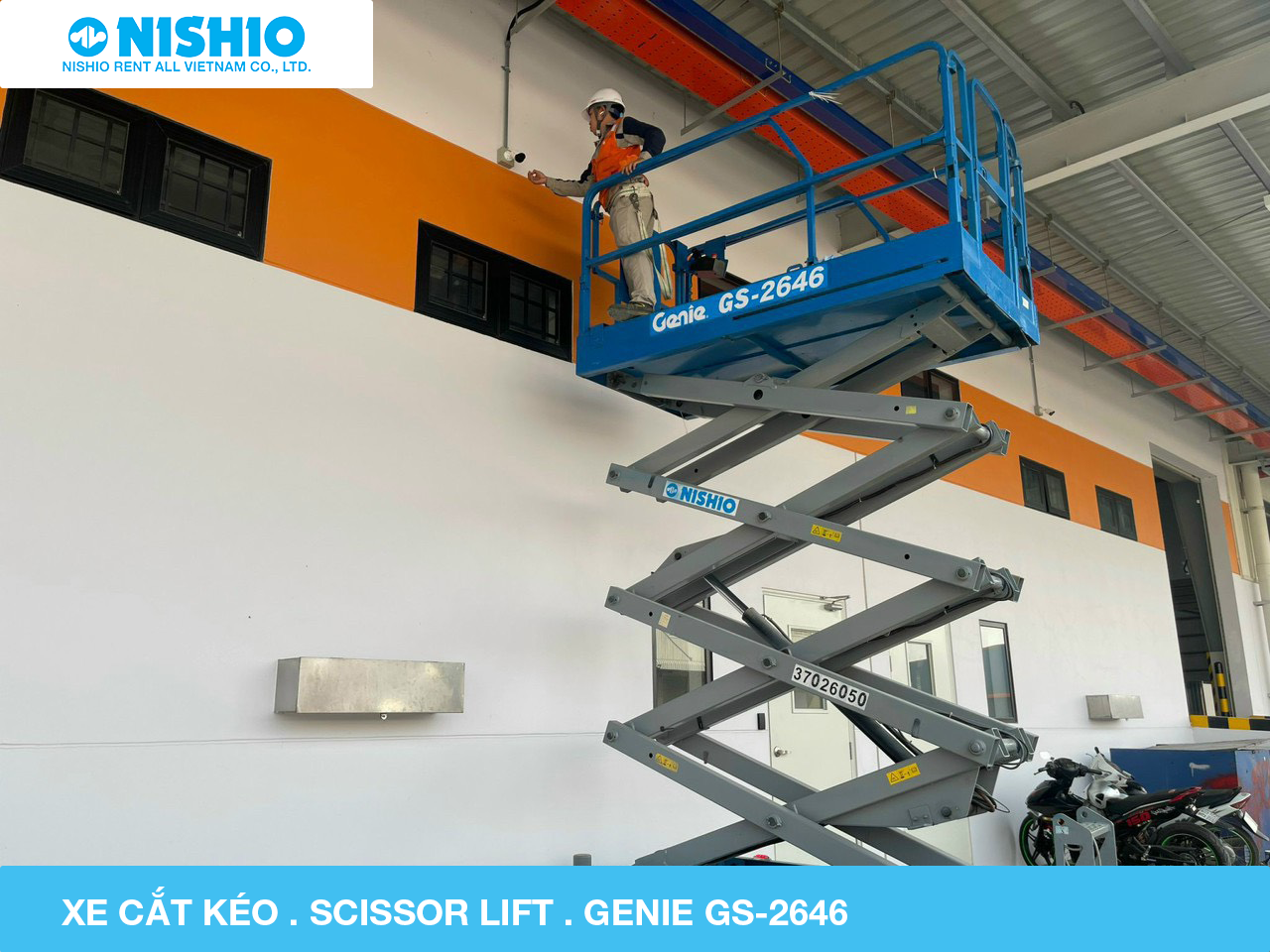 Boom Lift
A boom lift is a type of aerial lift designed to lift workers on construction sites, on farms, along utility lines, and elsewhere1. It consists of a platform or bucket attached to a hydraulic arm and a grounded, movable base. Boom lifts are a type of articulated platform lift that makes reaching difficult places and heights easier than ever. A boom refers to the arm-like piece that connects from the platform to the grounded base. It is an extensible crane-like arm that uses hydraulics to extend and contract to achieve the desired height. Boom lifts provide a secure workspace for working at greater elevations.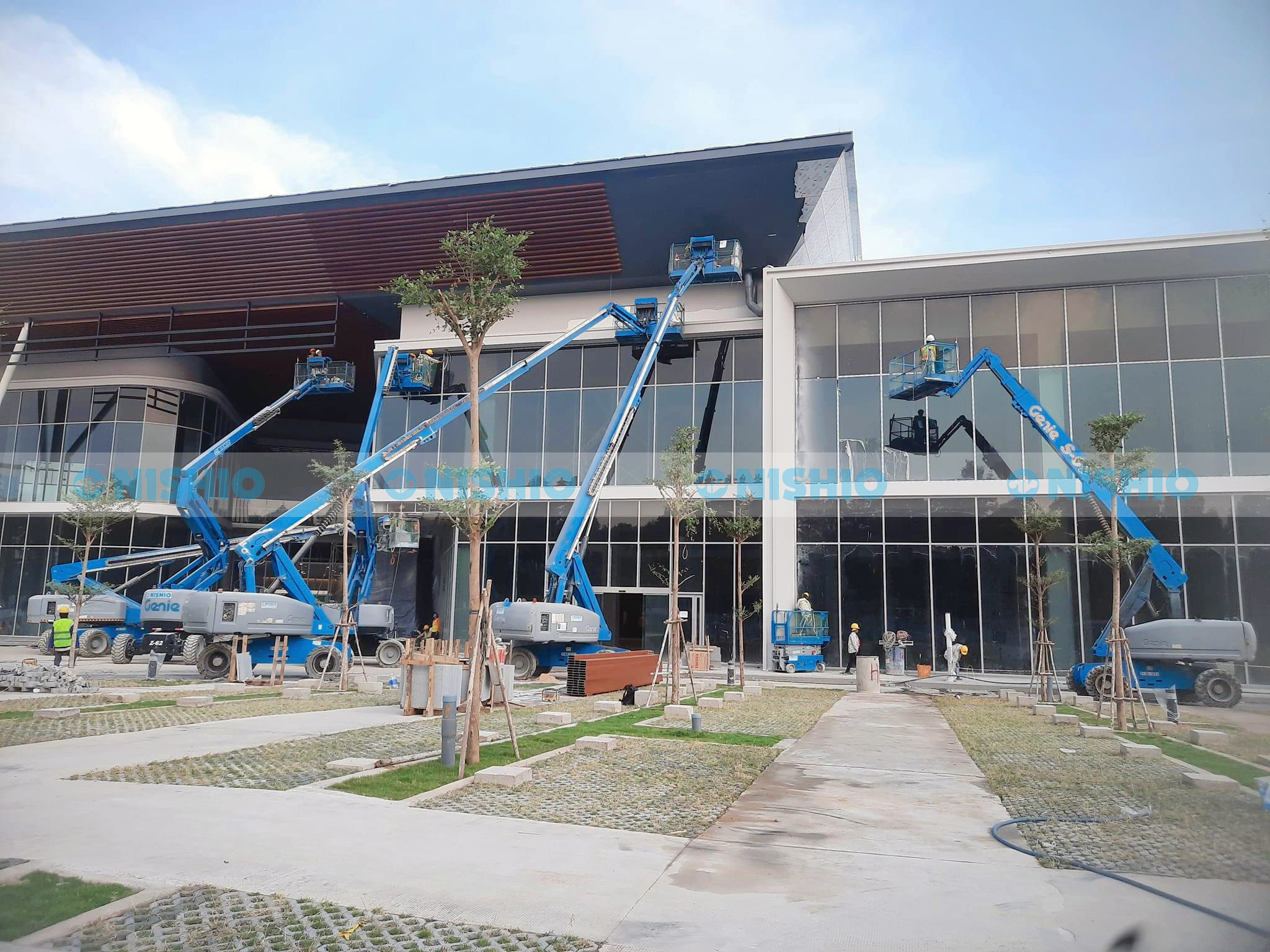 Atrium Lift
This is a AWP with a structure consisting of a straight or folding boom mounted on a chassis with four stretchable and height-adjustable spider legs, allowing the platform to be raised, lowered and moved in many spatial directions. Atrium lifts have the advantage of being able to reach far, high and rotate around the axis, able to reach hard-to-reach places, especially in narrow or uneven spaces. However, Atrium lifts also have the disadvantage of having a smaller payload, narrower floor area, and more difficult to move and operate. Atrium lifts are often used in jobs such as painting protection, installing windows, roofs, ceilings…
Personal Lift
It is an AWP equipment with a structure consisting of a straight column mounted on a mobile chassis, allowing a person to be lifted up and down vertically. The personal lift has the advantage of being compact in size, easy to move and operate, and able to enter narrow spaces. However, personal lifts also have the disadvantage that they have a small load. Personal lifts are often used in jobs such as inspection, maintenance, electrical equipment installation, installing lighting or advertising board…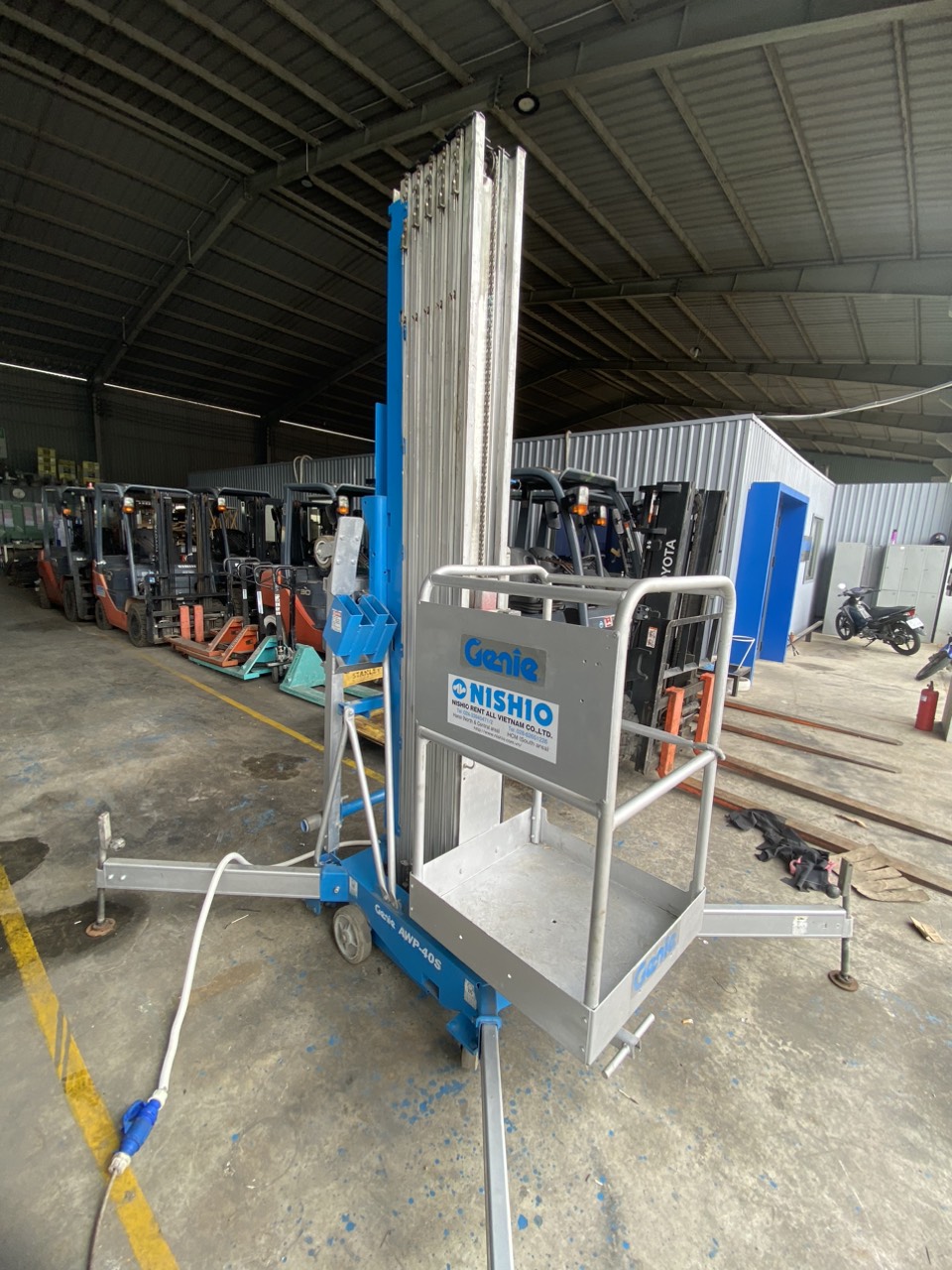 The safety factors when using AWP
You should follow the below instruction when using AWP:
Carefully check the condition of the AWP before use, including parts such as frame, wheels, electrical system, hydraulic system., v.v.

Choose a suitable working location for the AWP, avoiding areas with ramps, potholes, and high-hanging wires, v.v.

Wear full personal protective equipment such as helmets, protective clothing, safety shoes, seat belts, v.v.

Operate the AWP with care and precision, obeying traffic signs and supervisor's instructions.

Do not exceed the allowable load of the AWP, and do not bring goods or other people on the AWP.

Do not change the height of the forklift while in motion or when someone is on the machine.

Do not drink alcohol or use stimulants when working with lifting equipment.

When experiencing an incident or accident, immediately notify your superiors and ask for help from medical staff.
Adhering to the above safety factors will help you work with AWP efficiently and safely. Always remember that safety is a top priority in all work activities.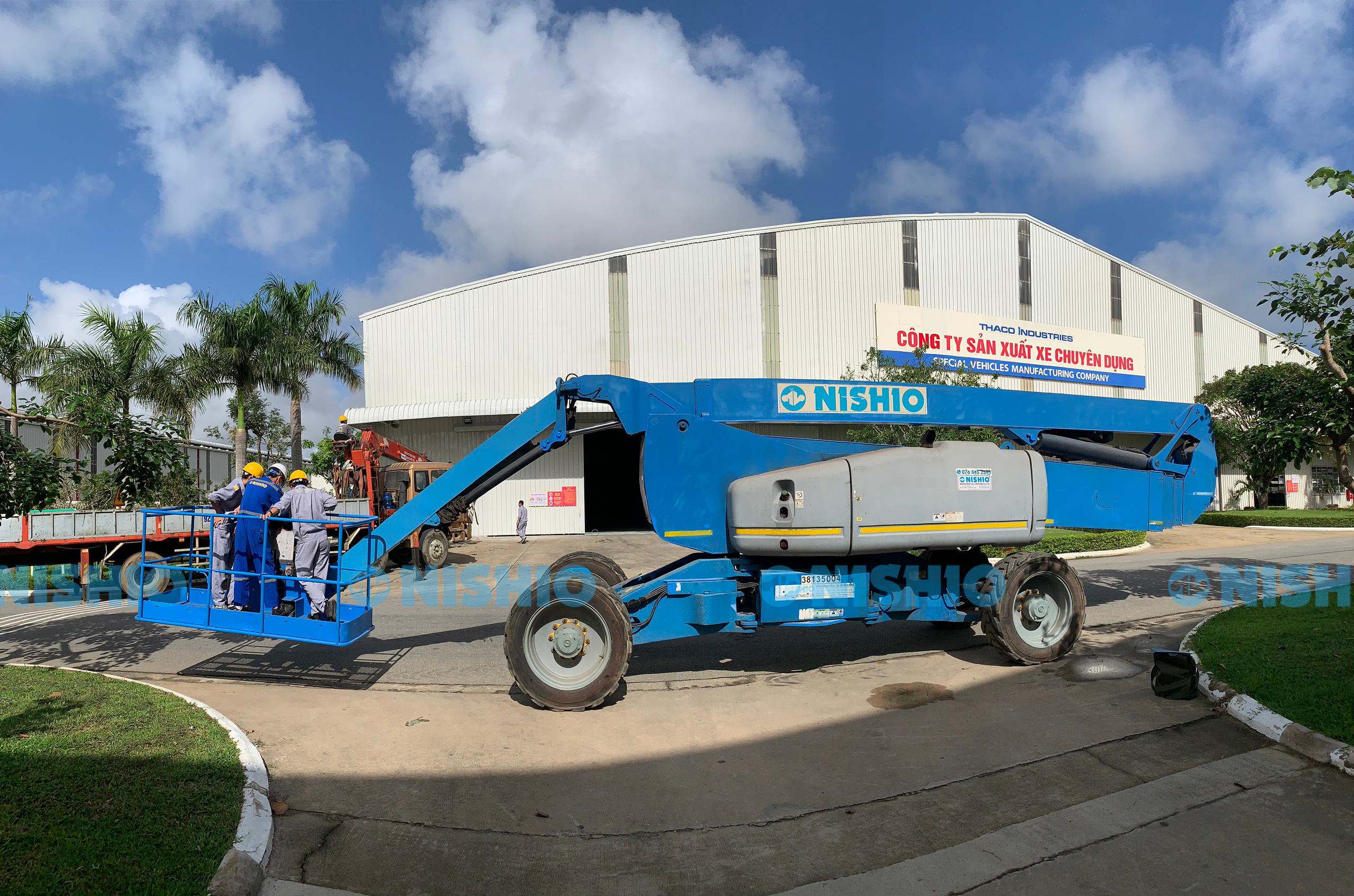 Should you buy or rent AWP? What are the advantages of renting AWP?
Owning an AWP is not an easy thing, because it requires high initial investment costs, maintenance and operation costs are not small. Therefore, many businesses and individuals choose to rent an AWP instead of buying a new one. This is a smart and economical choice, because it offers the following benefits:
Cost savings: When renting an AWP, you only need to pay for the time of use, without worrying about the cost of shopping, warranty, maintenance, tax, insurance, etc. You can also choose the right AWP for your needs and budget, without investing too much in a piece of equipment that may not be used as often.

Flexibility and variety: When renting a AWP, you can choose different types of AWPs according to the requirements of the job. You can also change the AWP rental period according to your plan, not bound by long-term contracts or rigid terms.

Quality and safety: When renting an AWP from a reputable and professional company, you can be assured of the quality and safety of the equipment. AWPs are periodically inspected and maintained to ensure stable and efficient operation. You also get technical support and advice on how to use AWP in the safest and most efficient way.

Increase work efficiency: When you hire an AWP, you can take full advantage of the equipment's capabilities to get the job done quickly and with quality. You do not have to spend time and effort transporting, installing, dismantling or repairing the AWP. You can also focus on your main job, without worrying about AWP-related problems.
Thus, it can be seen that renting an AWP is a convenient and effective solution for many businesses and individuals.
Can you rent AWP in only one day?
It is very common to rent a AWP for a day and there are many equipment rental companies that can fulfill this need.
However, to ensure that you can receive AWP on time, you should notify the vehicle supplier in advance of the previous days. Because we need time to check the number of vehicles, quote the customer, prepare the paperwork, arrange the technician, check the machine condition, maintain the machine before handing over…
Compare between Electric and Engine AWP
Currently, there are two popular types of lifting equipment: Engine and Electric. Both types of lifting equipment have their own pros and cons, depending on the user's needs and conditions of use.
Engine Lifting Equipment: Use the internal combustion engine to generate power for the vehicle. Engine lifting equipment has the ability to operate strongly, stably and continuously for a long time. Engine lifting equipment is suitable for outdoor work, on difficult terrain, or require long distance. However, Engine lifting equipment also has the disadvantage of consuming a lot of fuel, causing environmental and noise pollution. Engine lifting equipment also has higher maintenance costs than electric forklifts.
Electric Lifting Equipment uses batteries to power the machine. Electric lifting equipment is quiet, economical and environmentally friendly. Electric lifting equipment is suitable for indoors jobs, on flat terrain, or requiring close proximity. However, Electric lifting equipment also has the disadvantages of limited operability due to battery capacity, needing charging time and having a higher initial cost than Engine lifting equipment.
The famous AWP manufacture brands in the world
Genie
Genie is an American brand established since 1961. Genie is known as one of the leading manufacturers and suppliers of AWP in the world.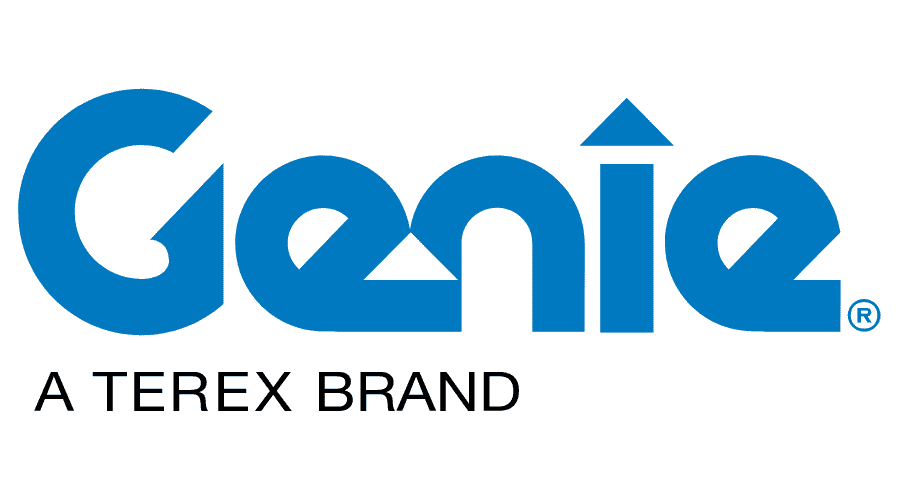 Currently, Genie has affirmed its position in the Vietnamese market with its excellent payload capacity and durable working capacity. Genie constantly updates the most modern and advanced technologies to produce new models of AWP every year.
Nishio Group has been one of Genie's strategic partners globally for many years.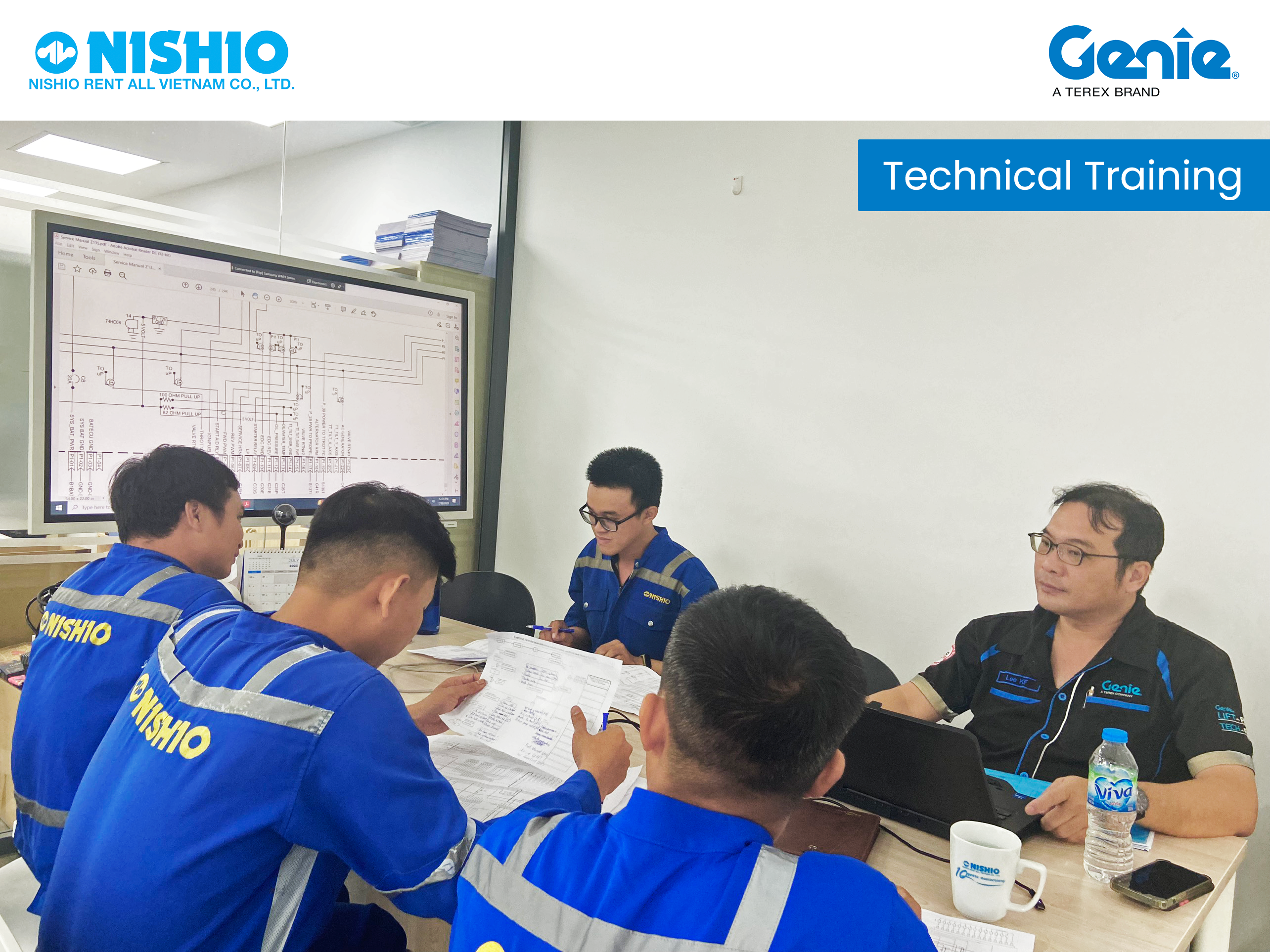 Skyjack

Skyjack is a Canadian brand of AWP that was founded in 1985. Skyjack prides itself on providing quality designed, simple and reliable lifting equipment.
Guide to choosing a rental equipment company in Vietnam
To choose an AWP rental company, you can look through a few criteria below:
Reputable computer: First you need to choose a reputable AWP supplier.

A variety of stock: The number of AWP available for rent by the supplier shows the level of investment of the unit you intend to cooperate with.

Reasonable price: You should compare AWP rental prices of different companies to get the most reasonable price.

Equipment quality: You should check the quality of the AWP before renting to avoid risks during use.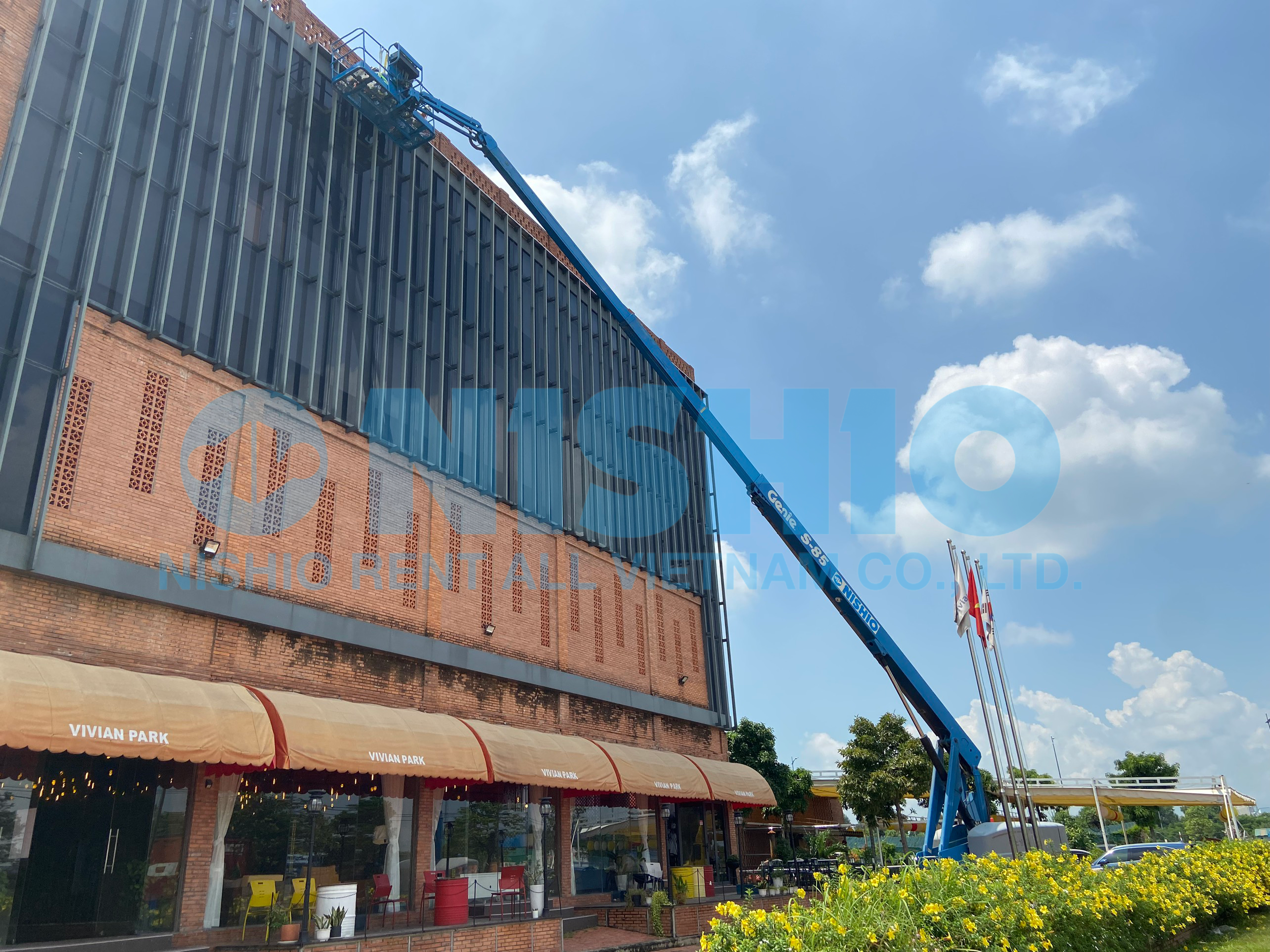 NISHIO is a leading company in the field of leasing construction and industrial equipment in Japan and Asia. With over 60 years of experience, NISHIO has built a high reputation for product quality, customer service and social responsibility. In Vietnam, NISHIO has been present since 2012 and is currently providing efficient and safe equipment rental solutions for many large and small projects across the country. NISHIO is proud to be a reliable partner of businesses in construction, industry, oil and gas, electricity, transportation and many other fields. NISHIO always strives to bring customers the best products and services, while contributing to the sustainable development of Vietnam.
The AWP lineup at NISHIO
Currently, NISHIO mainly invest on AWP models from Genie, SkyJack and Haulotte.
In particular, we have quickly updated and provided a large quantity of Genie E-Drive scissors to customers in Vietnam market.
This is the new and most modern Genie electric scissor lift, using an AC motor instead of a Hydraulic motor or a DC motor like the old scissor models.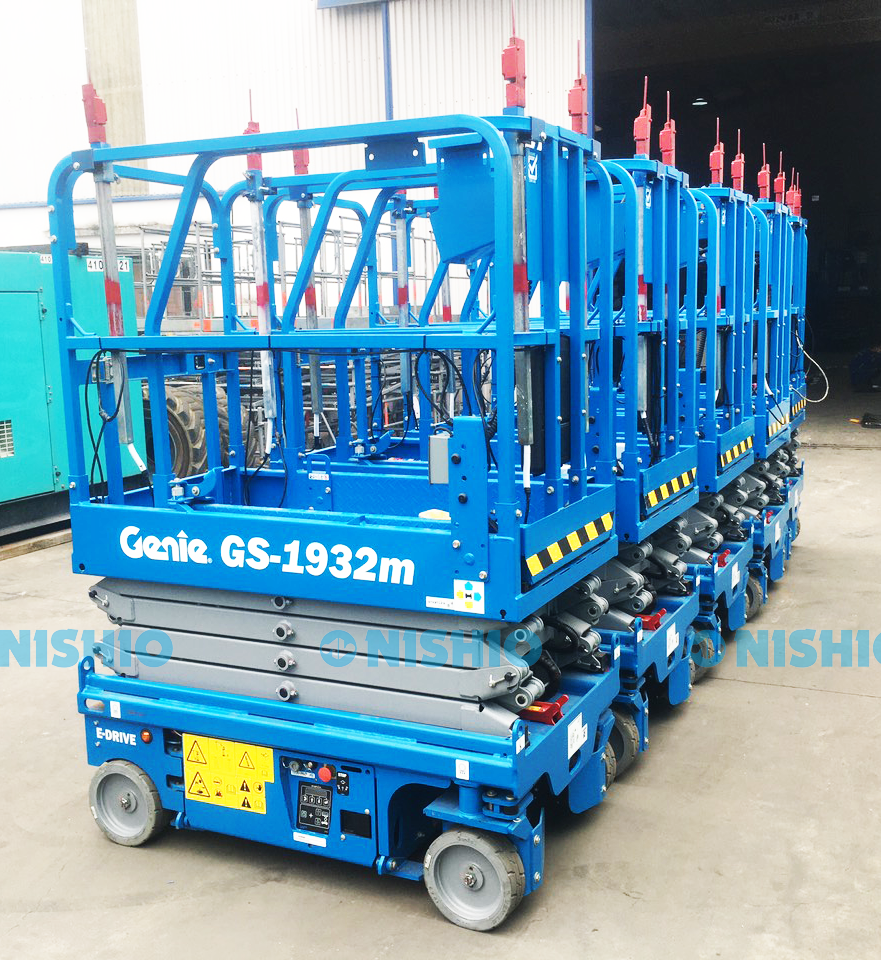 The outstanding advantages of the Genie E-Drive scissor are:
SAVE 35% MAINTENANCE COST
 

30% INCREASE IN RUNTIME AND EFFICIENCY

 

70% FEWER HOSES AND FITTINGS
Below is the list of AWP that NISHIO is supplying to customer in Vietnam
Genie Scissor Lift (Electric & Engine)
Electric Scissor Lift
GS1930 (7.79m max. working height)

GS1932 (7.85m max. working height)

GS2032 (7.92m max. working height)

GS2046 (8.10m max. working height)

GS2632 (9.80m max. working height)

GS2646 (9.80m max. working height)

GS3246 (11.75m max. working height)

GS4047 (13.94m max. working height)
Electric Scissor Lift E-Drive
GS1932 E-Drive (7.55m max. working height)

GS1930m E-Drive (more compact than GS1930 E-Drive) (7.85m max.working height)

GS2646 E-Drive (9.96m max. working height)

GS3246 E-Drive (11.78m max. working height)

GS4046 E-Drive (13.94m max. working height)

GS4655 E-Drive (15.95m max. working height)
Diesel Engine Scissor Lift
GS5390 (18.15m max. working height)
SkyJack Scissor Lift (Electric)
Electric Scissor Lift
1939ES (7.72m max. working height)

SJ3219 (7.79m max. working height)

SJ4732 (11.65m max. working height)
Genie Boomlift (Electric & Engine)
Electric Articulate Boomlift:
Z33/18DC (12m max. working height)

Z45/25DC (15.87m max. working height)

Z60/37 DC (20.16m max. working height)
Diesel Engine Articulate Boomlift:
Z34/22IC (12.54m max. working height)

Z45/25 (15.86m max. working height)

Z60/34 (20.39m max. working height)

Z62/40 (20.87m max. working height)

Z80/60 (25.77m max. working height)

Z80/60 (25.77m max. working height)

Z135/70 (42.15m max. working height)
Telescopic Boom Lift:
S65 (21.81m max. working height)

S65 Trax (9.76m max. working height)

S80 (26.38m max. working height)

S85 (27.90m max. working height)

S-85 XC (27.91m max. working height)

S100 (32.48m max. working height)

S125 (40.15m max. working height)

SX150 (48.33m max. working height)
JLG Telescopic Boom Lift (Engine)
860SJ (28.21m max. working height)
Genie Personal Lift (Electric)
AWP40S (14.3m max. working height)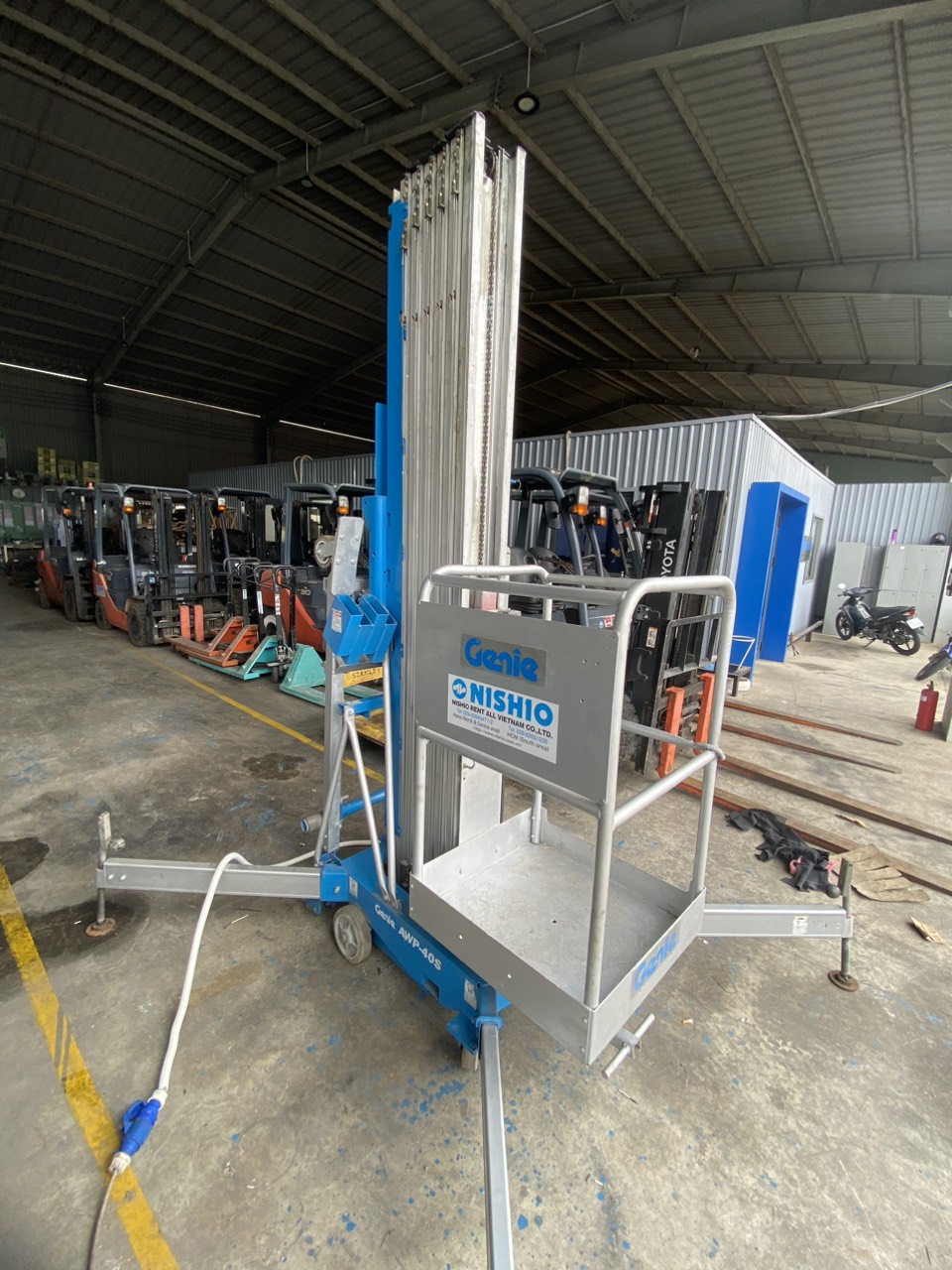 Skyjack Vertical Lift (Electric)
SJ12 (5.65m max. working height)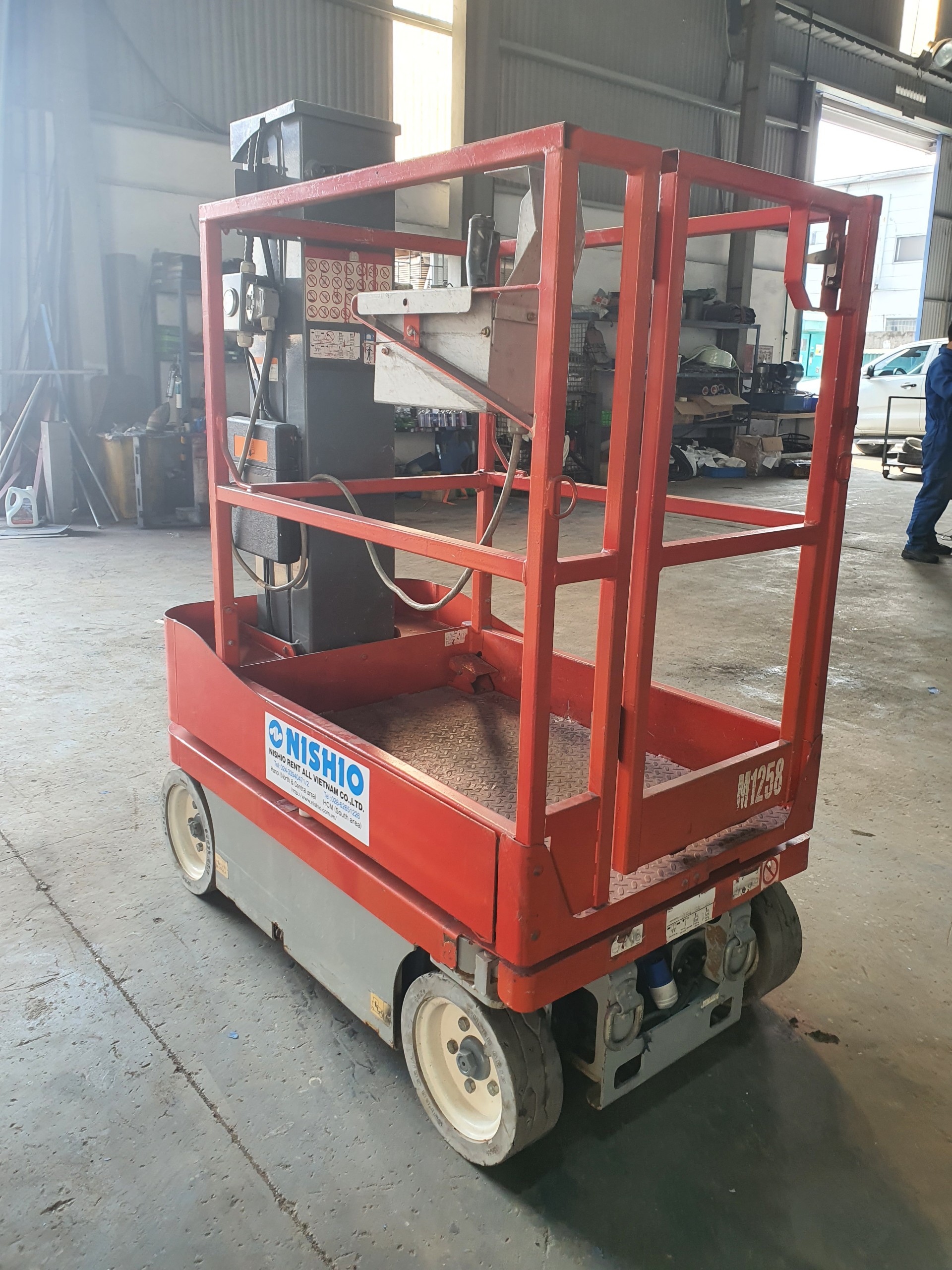 Haulotte Personal Lift (Electric)
QU13 (13.7m max. working height)

QU14 (14.3m max. working height)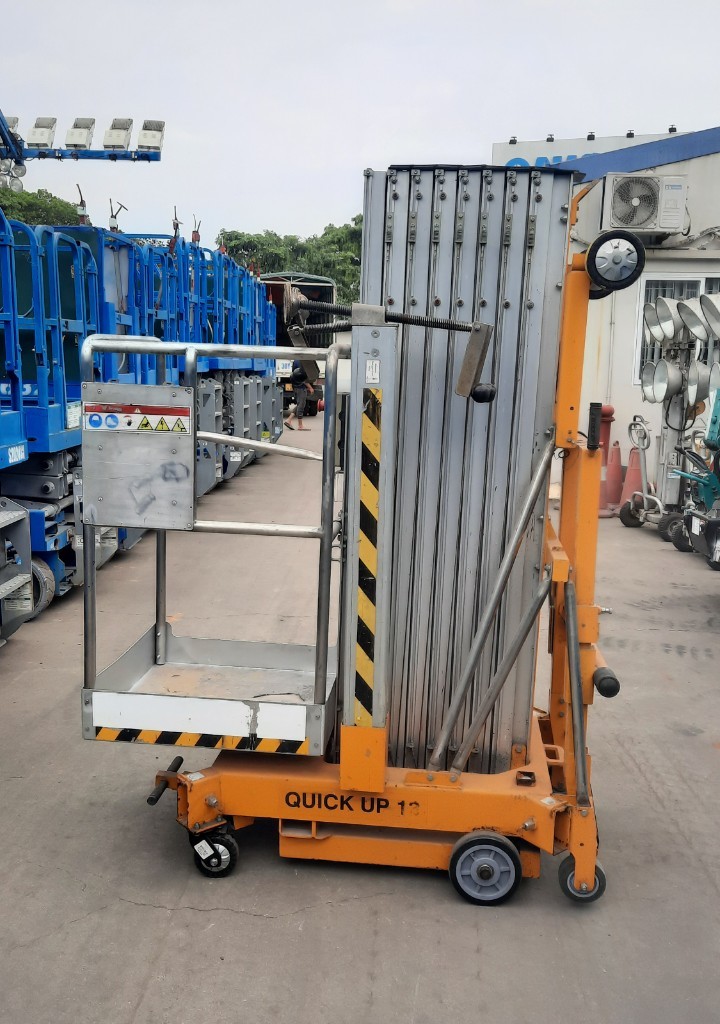 Haulotte Vertical Lift (Electric)
STAR10 (10 m max. working height, 3m Horizontal outreach, 345° Turntable rotation)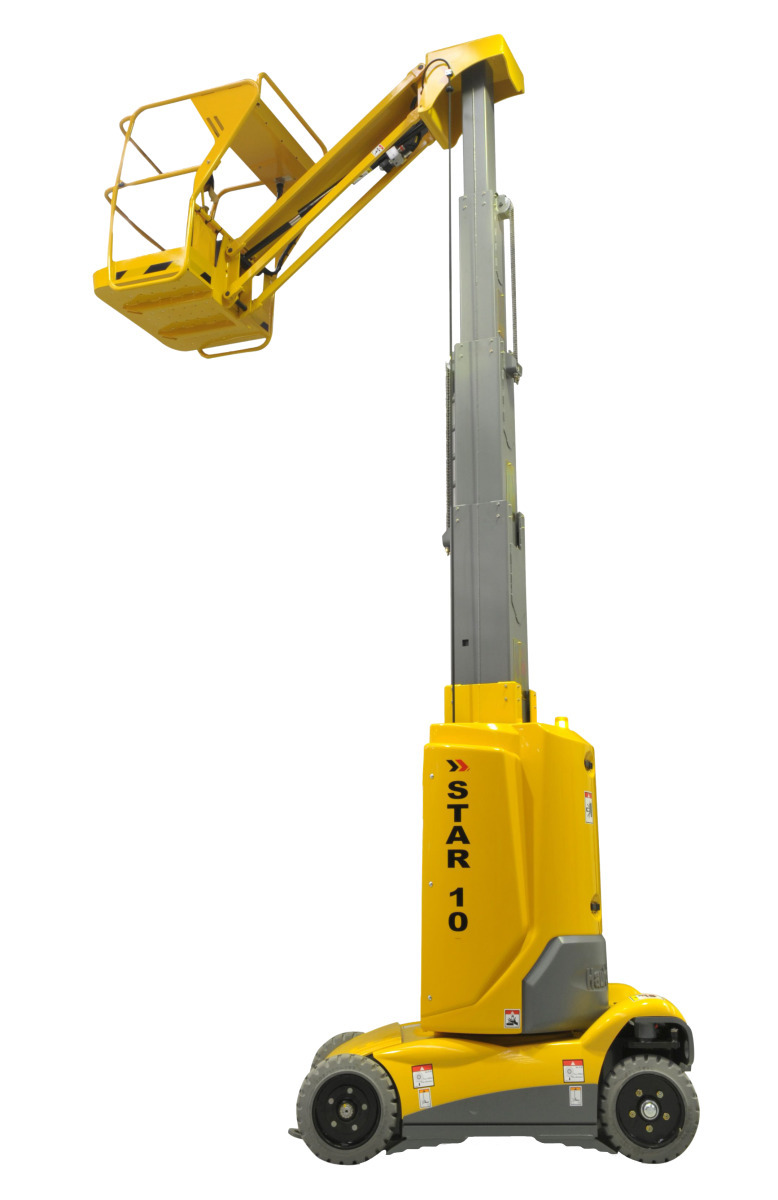 For more detailed information such as maximum load, working time of the machine, machine size… You can view and download the catalog here, or contact us to get direct support.
Rental AWP price
The rental price of AWP as well as other types of machinery and equipment is one of the factors that customers are most interested in when learning about AWP rental services. The prices offered by companies can vary for a variety of reasons.
However, we always emphasize to our customers that price often comes with quality. You should find an equipment rental company with an affordable price and good service, should not look for a cheap rental quotation because it will affect labor safety.
NISHIO rental equipment process
Step 1: Customer sends inquiry and information
Step 2: NISHIO salesman advices and sends quotation to the customer (Customer can visit our yard and check the machine)
Step 3: Customer confirms the quotation and sends the PO to NISHIO
Step 4: NISHIO sends the contract, two sides discuss, sign in and stamped
Step 5: For new customers – Applied 1 month and transportation fee advance payment           
 For existing customers – Applied end-month payment
Step 6: NISHIO delivers machines to the customer site and then operates instruction. Customers check the machine and sign in the receipt sheet.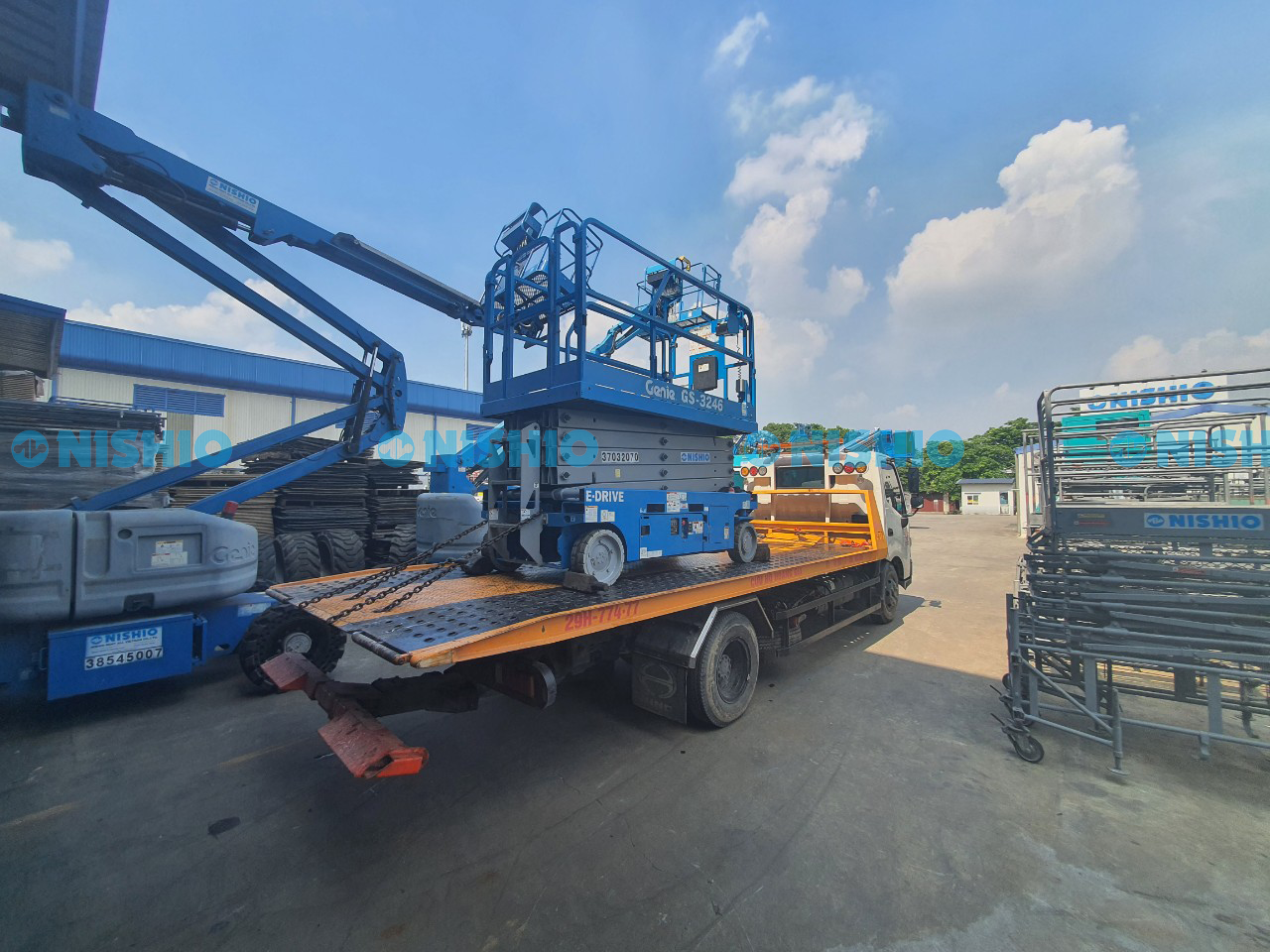 Our customers
Construction contractors, ME contractors…

Korean, Japanese, Vietnamese, American… factories: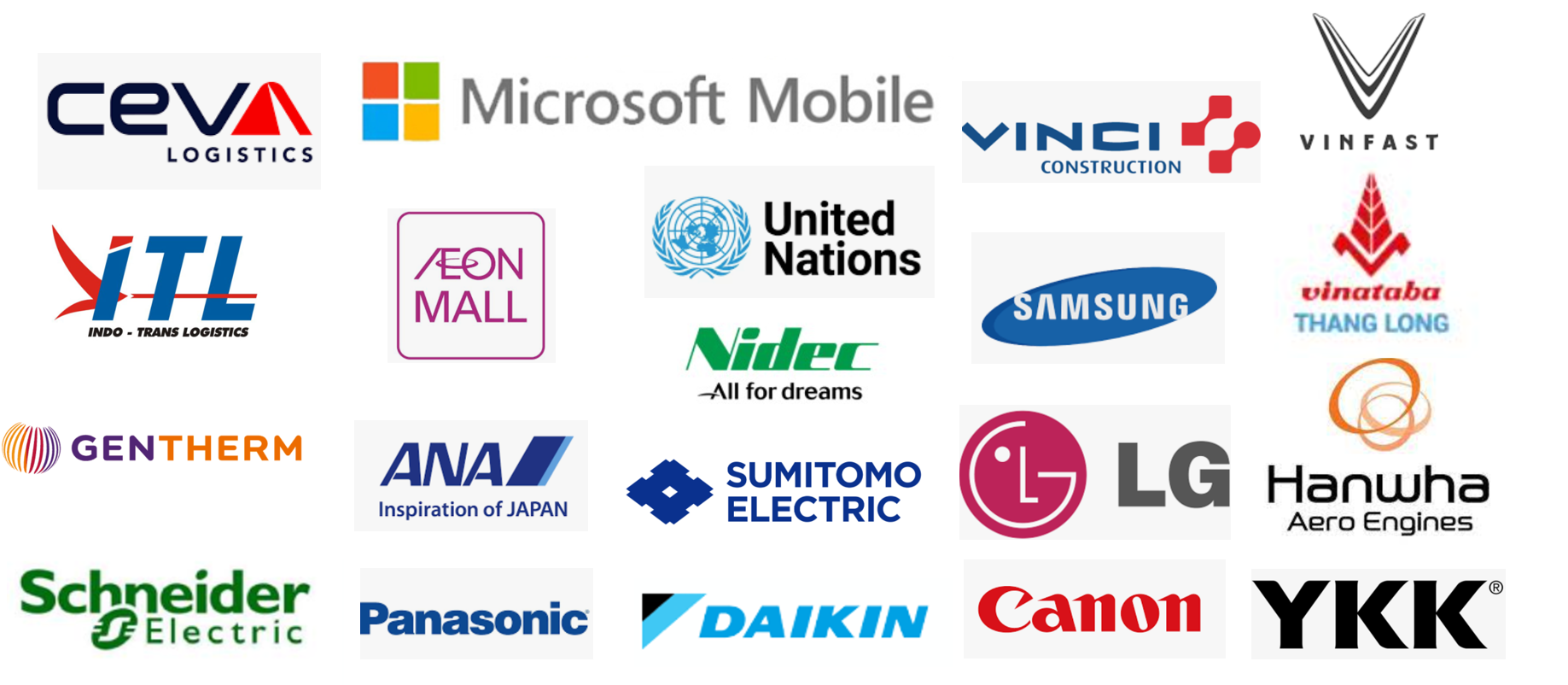 If you are in need of AWP rental, please contact us for the best advice and quote. We are a unit specializing in providing high quality, reputable and professional AWP rental services. We are always ready to serve you with a wide variety of AWP, reasonable prices and flexible times. Call us right away for the best support.
HOTLINE:

025 1368 3224