2023/09/25 Project Reference Lighting Equipment
NISHIO and GENERAC visited together to Nhieu Loc-Thi Nghe wastewater plant project (HCM)
Last week, the representative of GENERAC MOBILE – Mr. Yosef Bronfman (Business Development Manager Middle East; CIS; Asia; Oceania) had a business trip to visit NISHIO RENT ALL VIETNAM HCM branch. In addition to meetings and discussions to implement cooperation strategies in the near future, the two sides visited a number of customers currently using lighting tower products from Generac Mobile. Among them is a typical large project: Nhieu Loc – Thi Nghe wastewater treatment plant.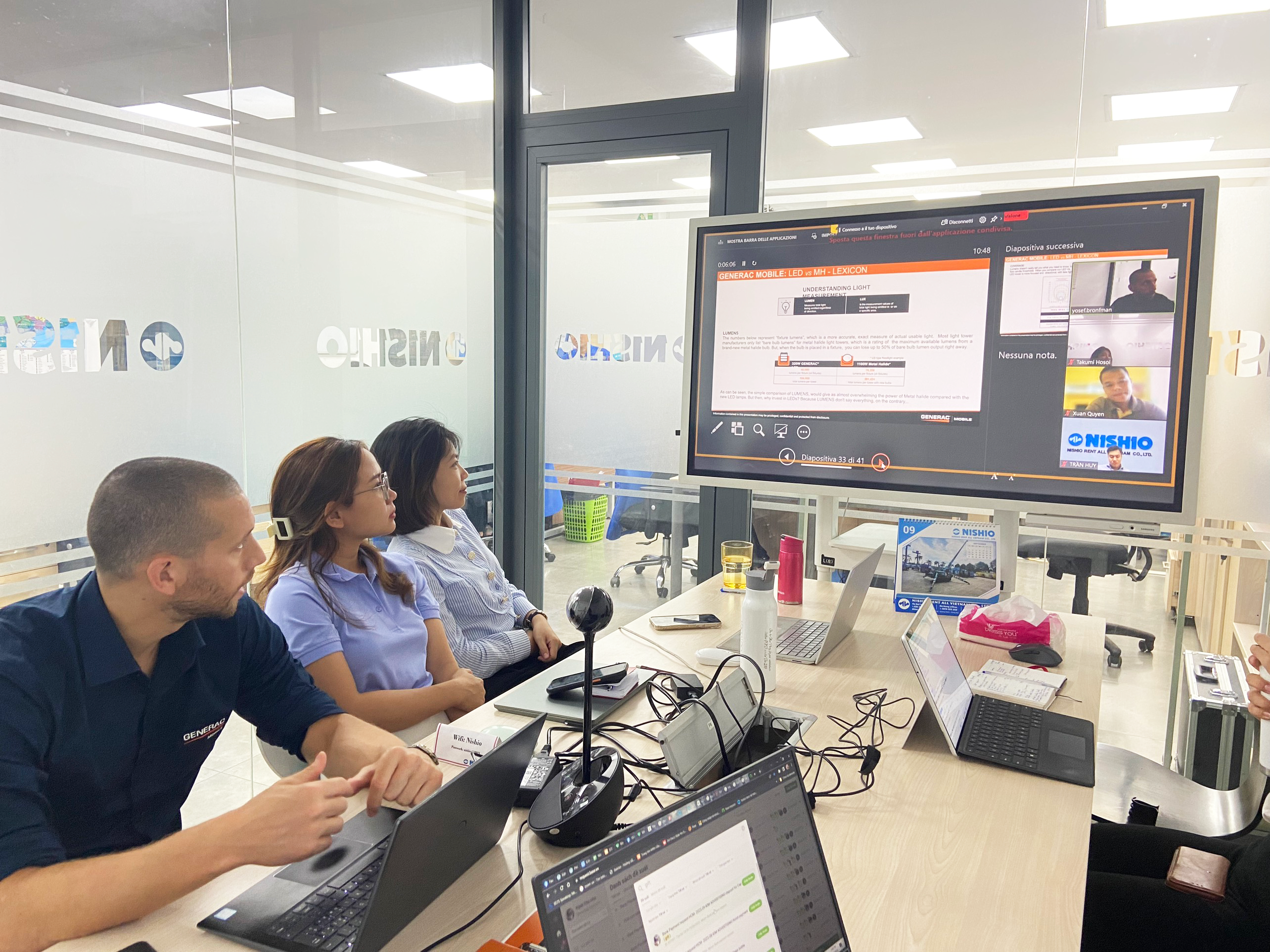 Photo: Meeting between GENERAC and NISHIO at HCM office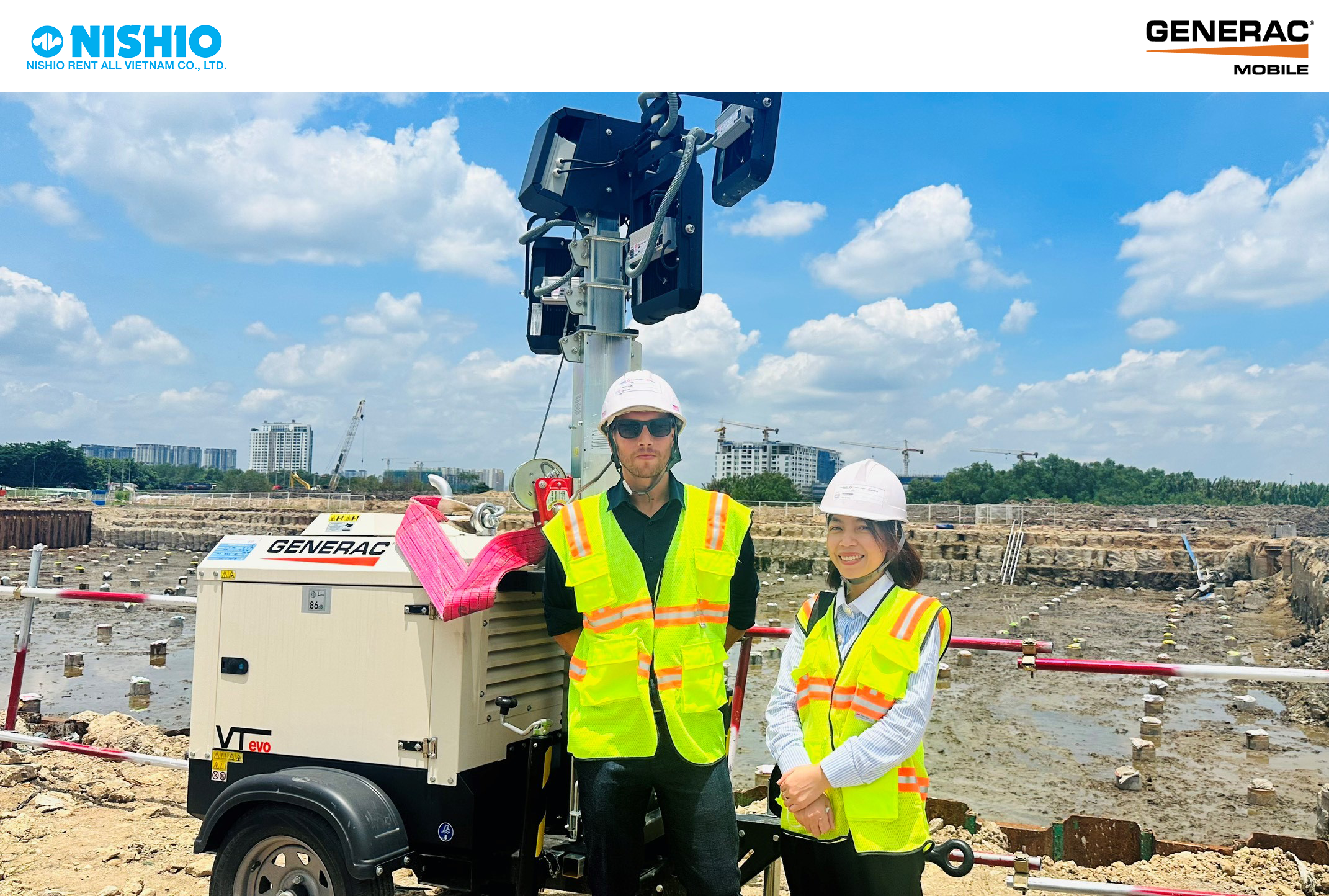 Photo: Mr. Yosef Bronfman and Ms. Nguyen Thi Nhu Quynh (NISHIO Branch Manager)
Nhieu Loc – Thi Nghe Wastewater Treatment Plant is the largest wastewater treatment plant project in Vietnam until now and located in Ho Chi Minh City. The construction of this wastewater treatment plant aims to improve the environment of the Saigon River and improve the quality of life of city residents. The joint venture contractor Vinci Construction Grands Project (France) and Aceciona Agua (Spain) is currently responsible for constructing this project.
To ensure proper convenience and safety for the construction site, the joint venture contractor has contacted and rented a number of VTevo Lighting Towers (Generac Mobile) – product distributed directly by NISHIO RENT ALL VIETNAM CO.,LTD.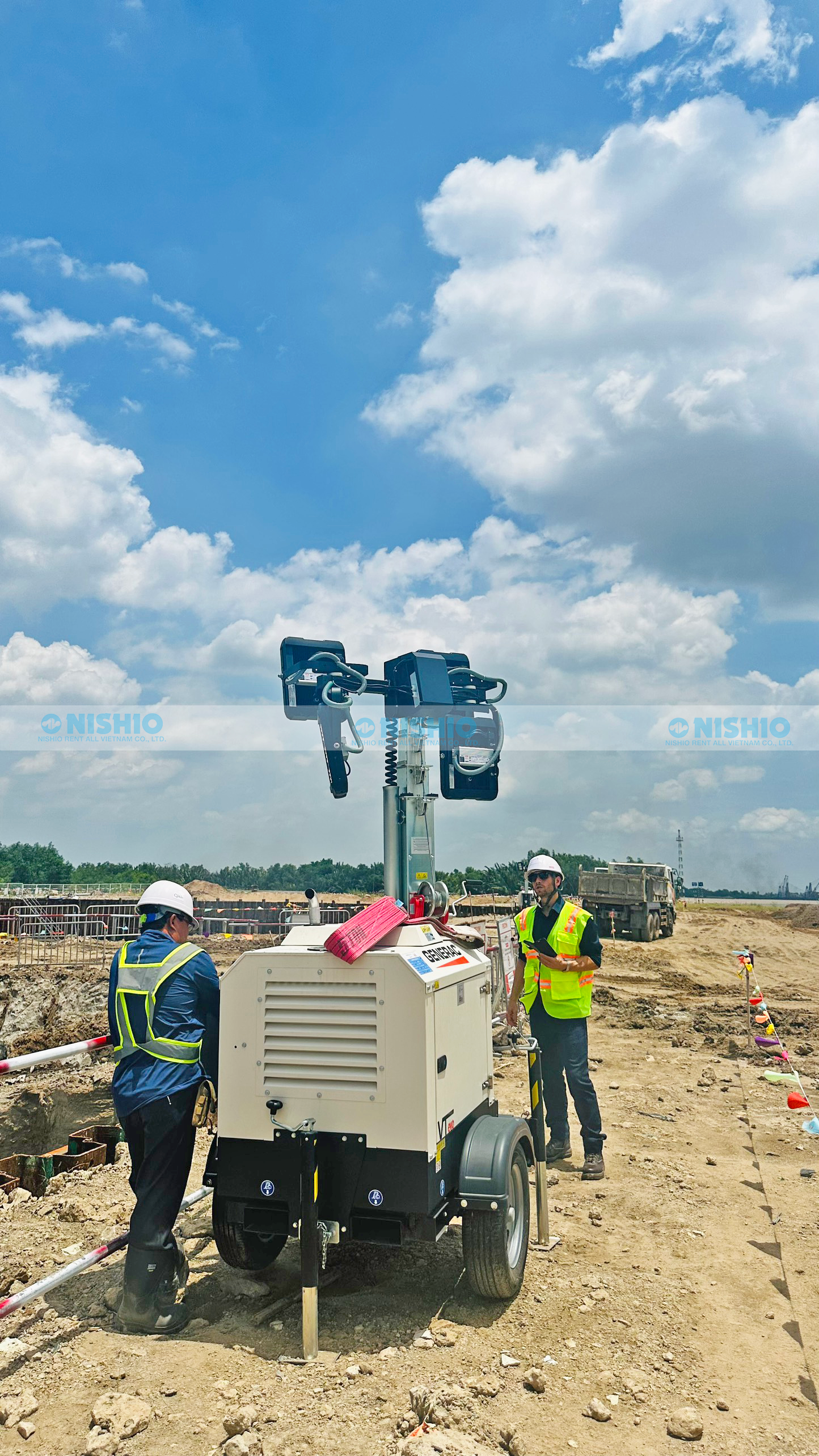 Photo: Mr. Yosef Bronfman was visiting the contractor, checking the condition of the VTevo light tower and giving tutorial.
This is the newest Lighting tower model that NISHIO is currently developing in the Vietnamese market. VTevo has been selected by contractors because of its outstanding features such as:
Using 4 LED bulbs (320W each) with pleasant light, lower temperature than other types of bulbs.
Lighting range is up to  4500m2, suitable for large areas.
This lighting tower can be used continuously for 171 to 200 hours.
Save to 75% fuel. Limit emissions and protect the environment.
Compact, 4 wheels. Only one person needs to use their hands to pull and move the light.
Strong impact resistance.
Work stably under up to 80km/h of wind speed.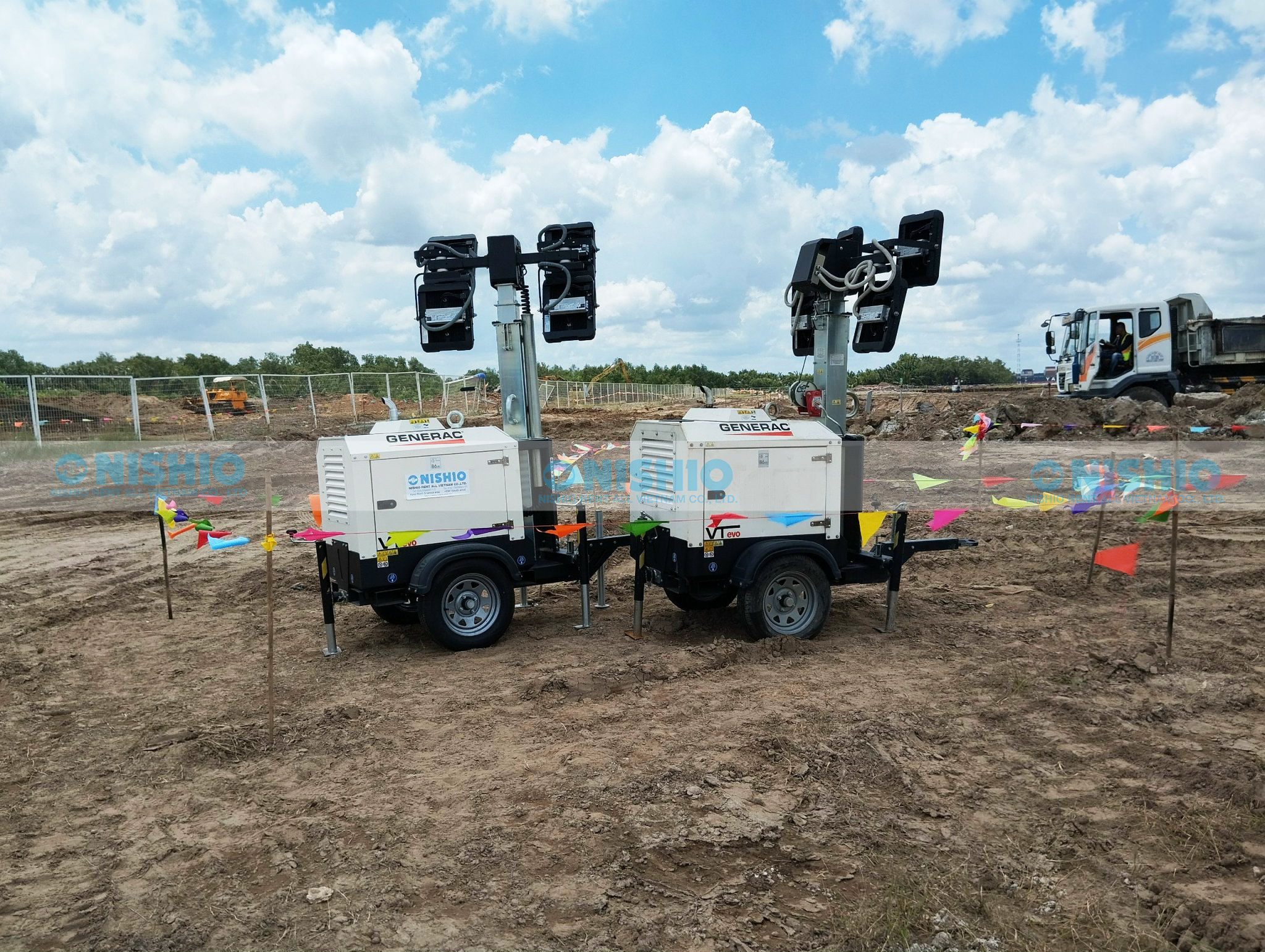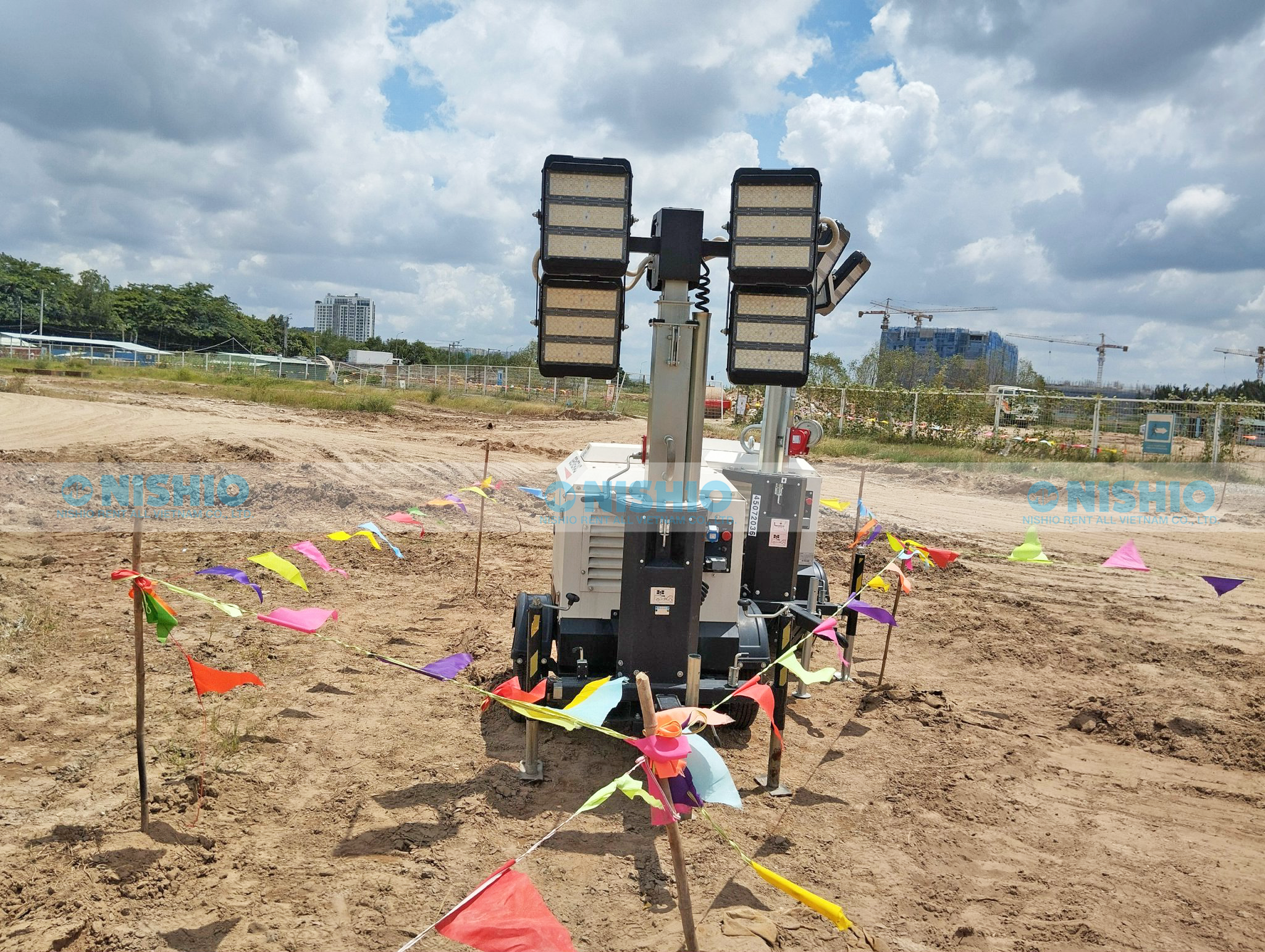 We appreciate the contractors for their trust, as well as the direct support from Generac Mobile. We hope that VTevo Lighting Tower will always ensure 24/24 lighting for the construction site, contributing to the quick and safe construction of Nhieu Loc – Thi Nghe wastewater treatment plant.
For more detailed information about the VTevo Lighting Tower and receive a quote to buy/rent it, please leave your request here or call to our Hotline below.
Click here to watch VTevo video
HOTLINE:

025 1368 3224