2021/12/16 Product Information
VTevo (Mobile Lighting Tower) for rent and sell in Vietnam
ABOUT THE MOBILE LIGHTING TOWER
The Lighting Tower is the equipment that provides light for working on construction sites at night. In particular, for key projects such as Wind Power projects and Solar Power projects, it is extremely important to ensure light for the construction site during the dark. The mobile lighting tower has a wheel system installed so that it can be moved into the desired working position. This time, we are pleased to introduce GENERAC MOBILE equipment which is one of the most famous lighting equipment manufacturers in the world.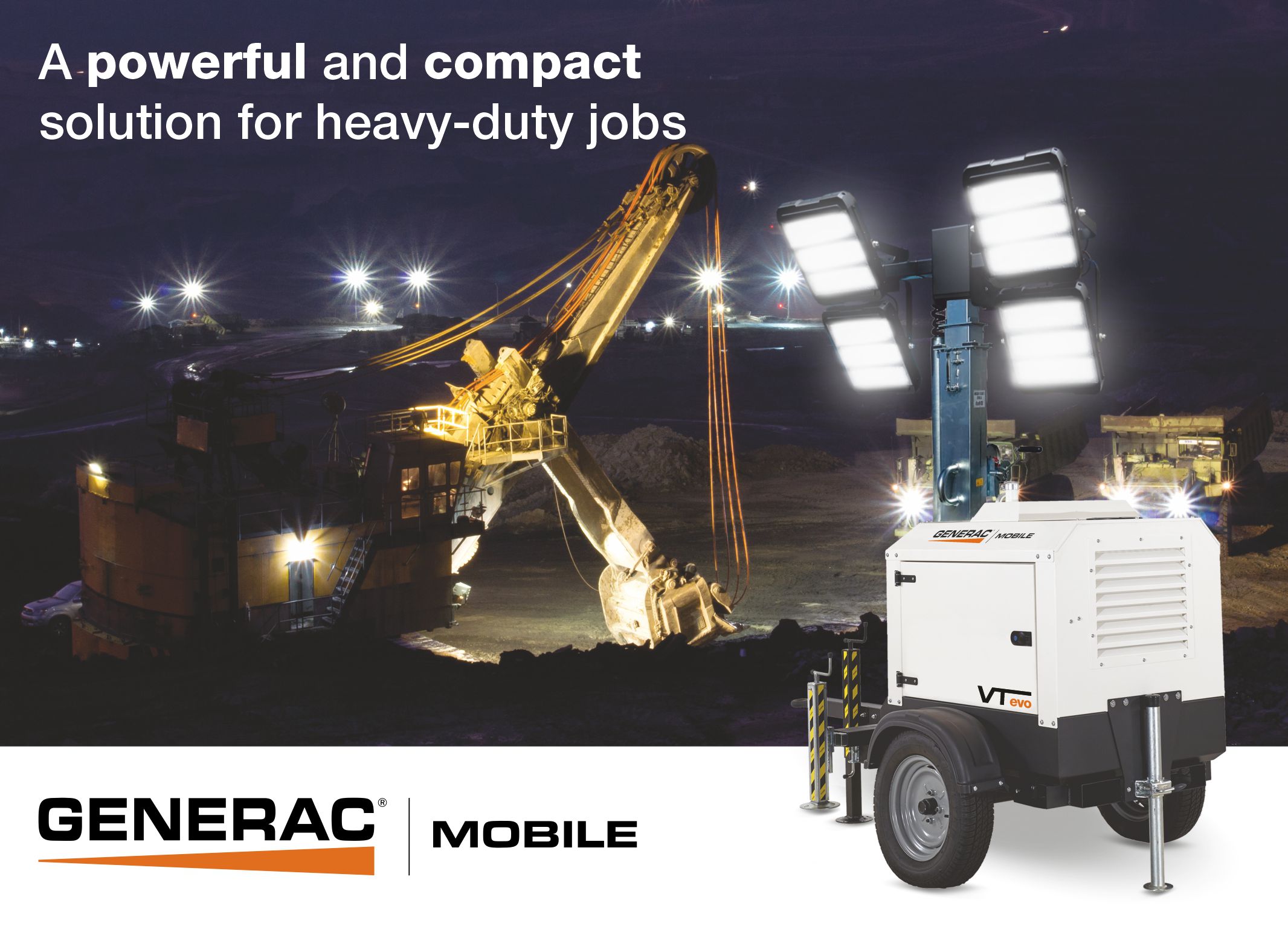 Some Nishio Lighting Equipment at Wind power projects in Vietnam
We have a stock of lighting equipment that is very diverse in design and high quality. Therefore, Nishio's lighting models are currently being trusted by contractors and used a lot in Wind power projects. Some models can be mentioned are MT6, MT2, VTevo Y2…
Hình ảnh: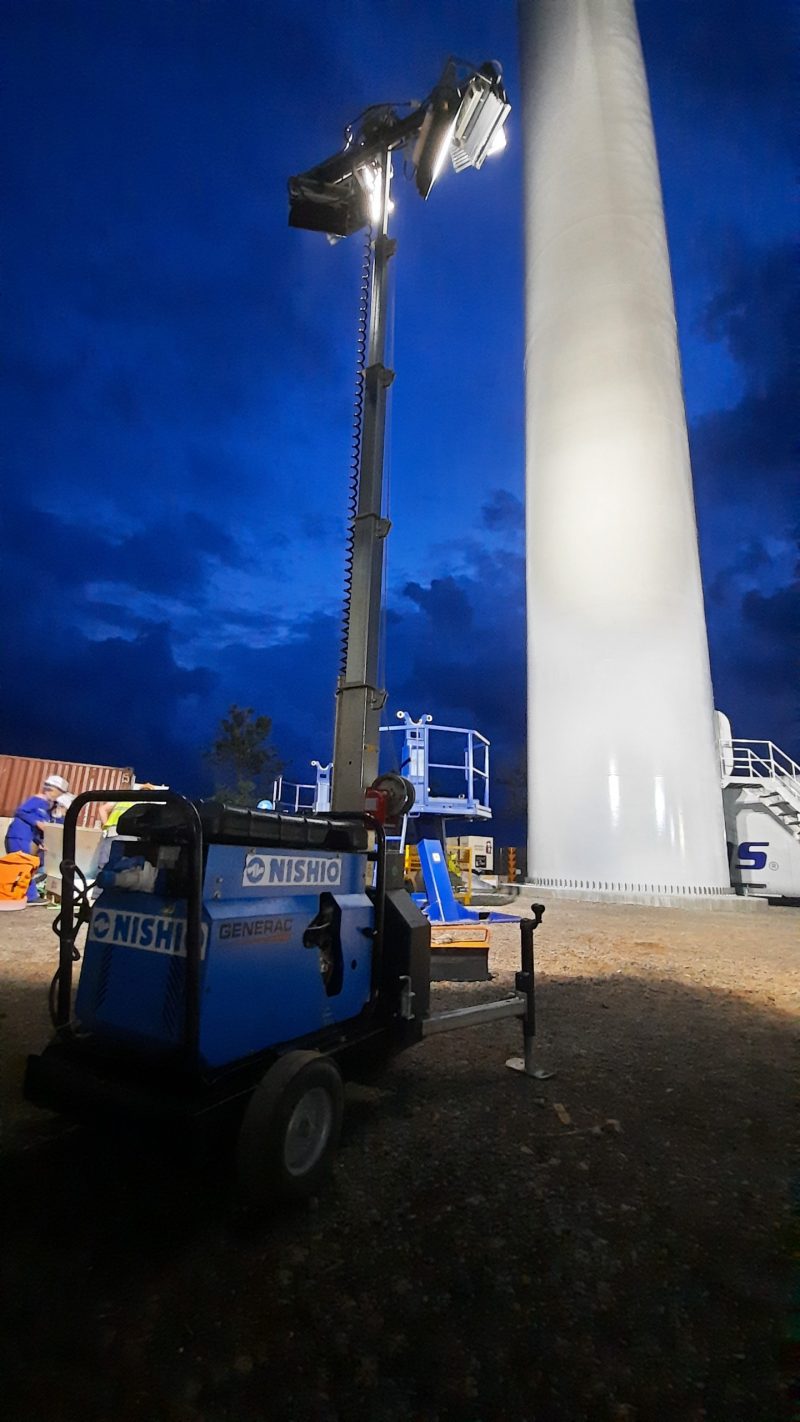 MT2 Lighting Tower (Generac Mobile)
NEW BRAND VTevo FOR RENT AND SELL
NISHIO RENT ALL VIETNAM has just imported a new line of lighting towers VTevo from GENERAC MOBILE. Here are some of the salient features about VTevo mobile lighting tower:
1. VTevo MOBILE LIGHTING TOWER:
The lighting power of 4x320W LED floodlights meets a very narrow canopy design evolving the new VTevo mobile lighting tower onto the most compact and eco-friendly light tower ever created! VTevo will help you to skimp up to 75% of the fuel and protect our environment with a reduction in carbon emissions up to 10 Ton per year. The machine can run continuously without refueling for up to 200 hours.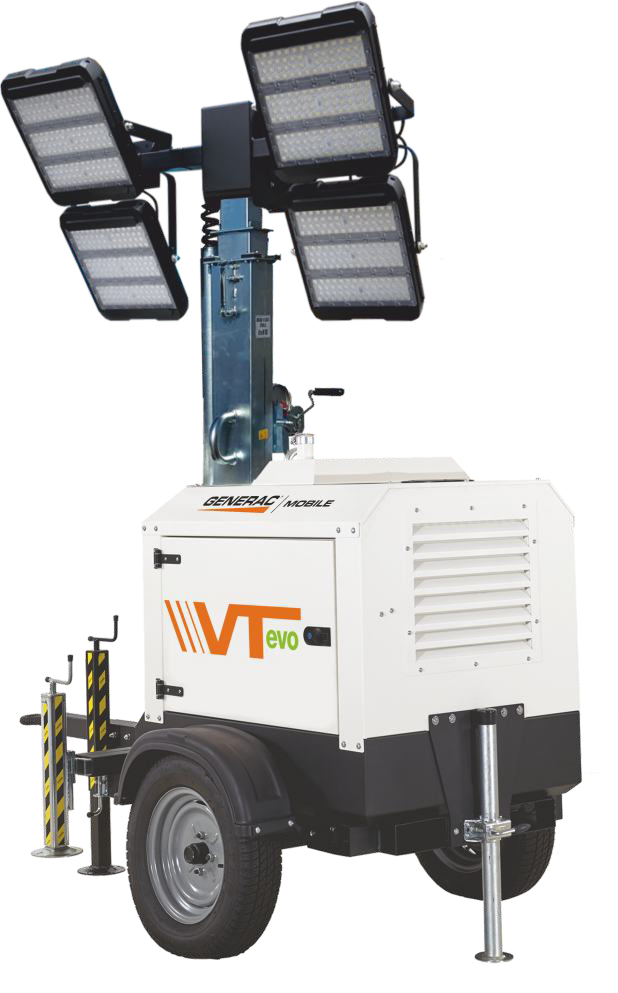 2. GENERAC LED LAMPS
4x320W high efficiency LED floodlights designed by Generac Mobile®. Granted life expectation: 50,000 working hours!
3. COMPACT SHAPE
Up to 25 units can be loaded on a single truck, 10 units on a 20" container and 22 units on a 40". A perfect solution to save transport costs when you use several units!
4. LIQUID CONTAINMENT TANK
A liquid containment tank to avoid any risk of leakages on the ground. No need to worry about oil leaks anymore.
5. ENVIRONMENTALLY FRIENDLY MODEL (SDGs)
Protect the environment with VTevo: reduced CO2 emission up to 10 ton per year compared to a traditional lighting tower!
6. HEAVY-DUTY FRAME
Steel reinforced body for maximum reliability, with large cooling grates positioned on 2 sides.
7. FUEL AND COST-SAVING
Compared to a traditional Metal Halide lighting tower, you can save with the VTevo up to 75% of the fuel! => Saving cost
Currently, Wind Power Projects are still being constructed and installed across Vietnam. Therefore, the need to use construction equipment to serve these projects is still very much. One of the most important pieces of equipment in the construction process is the Lighting Equipment.
NISHIO is a unit specializing in providing lighting equipment for construction projects with the largest and most diverse equipment warehouse in Vietnam. Our branches spread across 3 regions of North, Central and South, very convenient for transporting lights to every project. Despite the remote geographical location and difficult terrain, NISHIO technicians are always ready to support and maintain equipment for customers.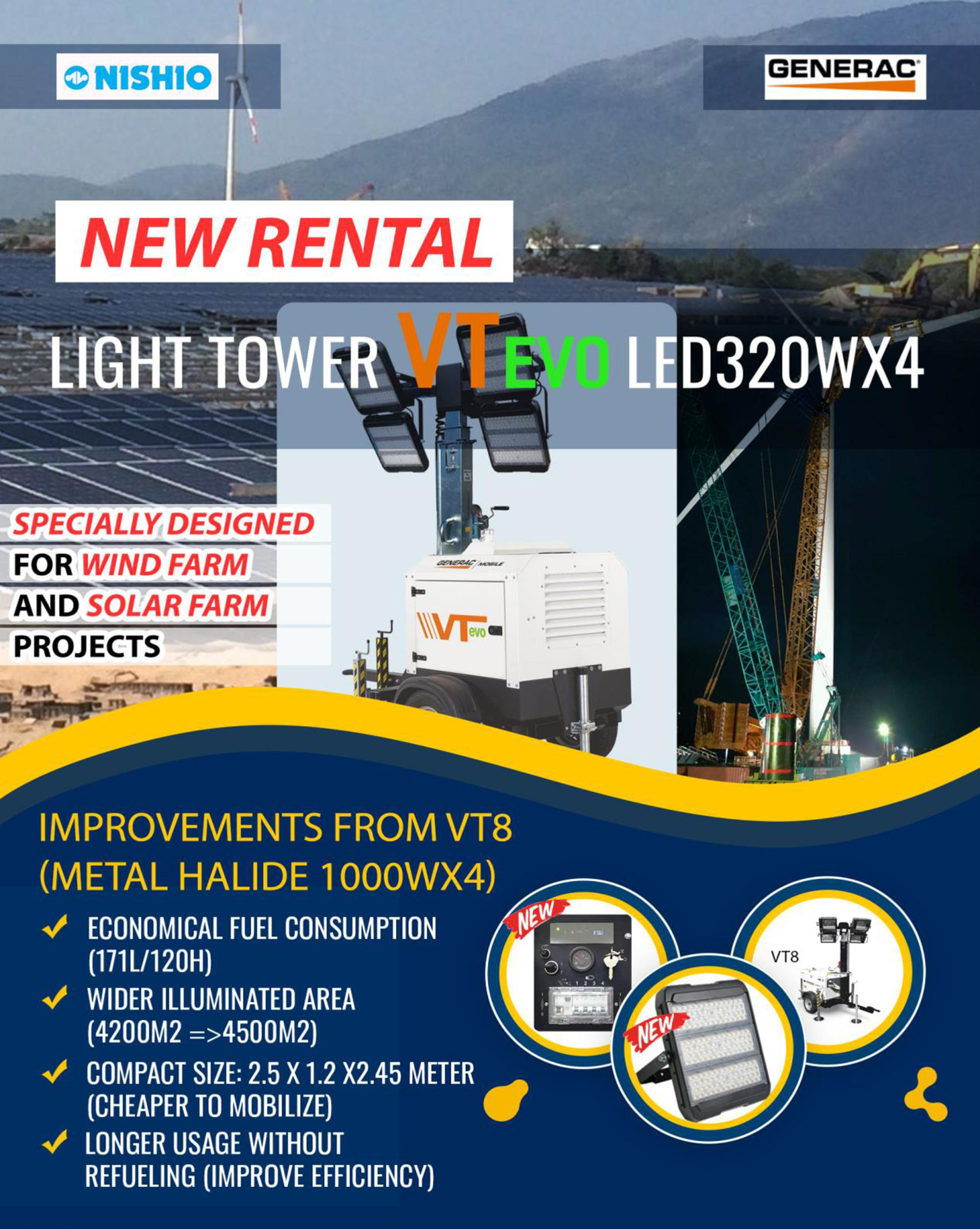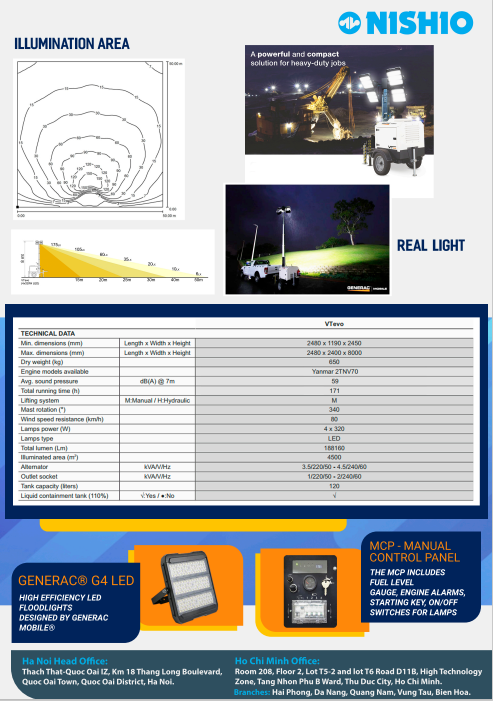 Click here to download VTevo leaflet