2023/08/01 Product Information
Reach Truck rental service in Vietnam
REACH TRUCK is a type of forklift that is designed to operate in narrow aisles and reach high storage racks. Reach trucks are widely used in warehouses, distribution centers, and retail stores where space is limited and efficiency is required. In this article, we will discuss the benefits of rental Reach Truck, as well as some tips on how to choose and operate them safely and effectively.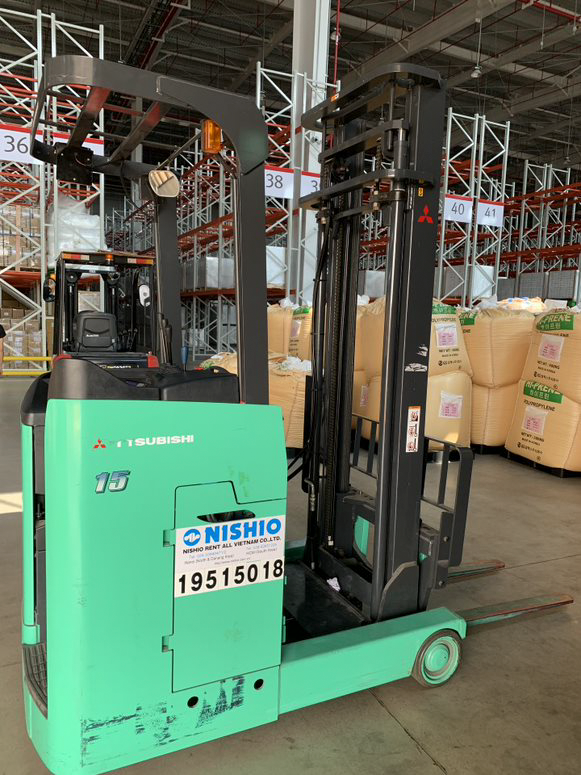 The Advantages of Reach Trucks
Reach Trucks offer several advantages over conventional forklifts, such as:
Higher lifting capacity: Reach Trucks can lift loads up to 12 meters high, which is much higher than most forklifts. This allows for more efficient use of vertical space and storage density.
Better maneuverability: Reach Trucks have a smaller turning radius and can navigate through narrow aisles with ease. They also have a tilting mast and a telescopic fork that can extend and retract to reach the desired rack position. This reduces the need for excessive driving and repositioning, which saves time and energy.
Enhanced safety: Reach Trucks have a low center of gravity and a stable base that prevent them from tipping over. They also have a driver's cabin that is enclosed and elevated, which provides better visibility and protection for the operator. Moreover, reach trucks have various safety features such as sensors, alarms, cameras, and lights that warn the operator and other workers of potential hazards.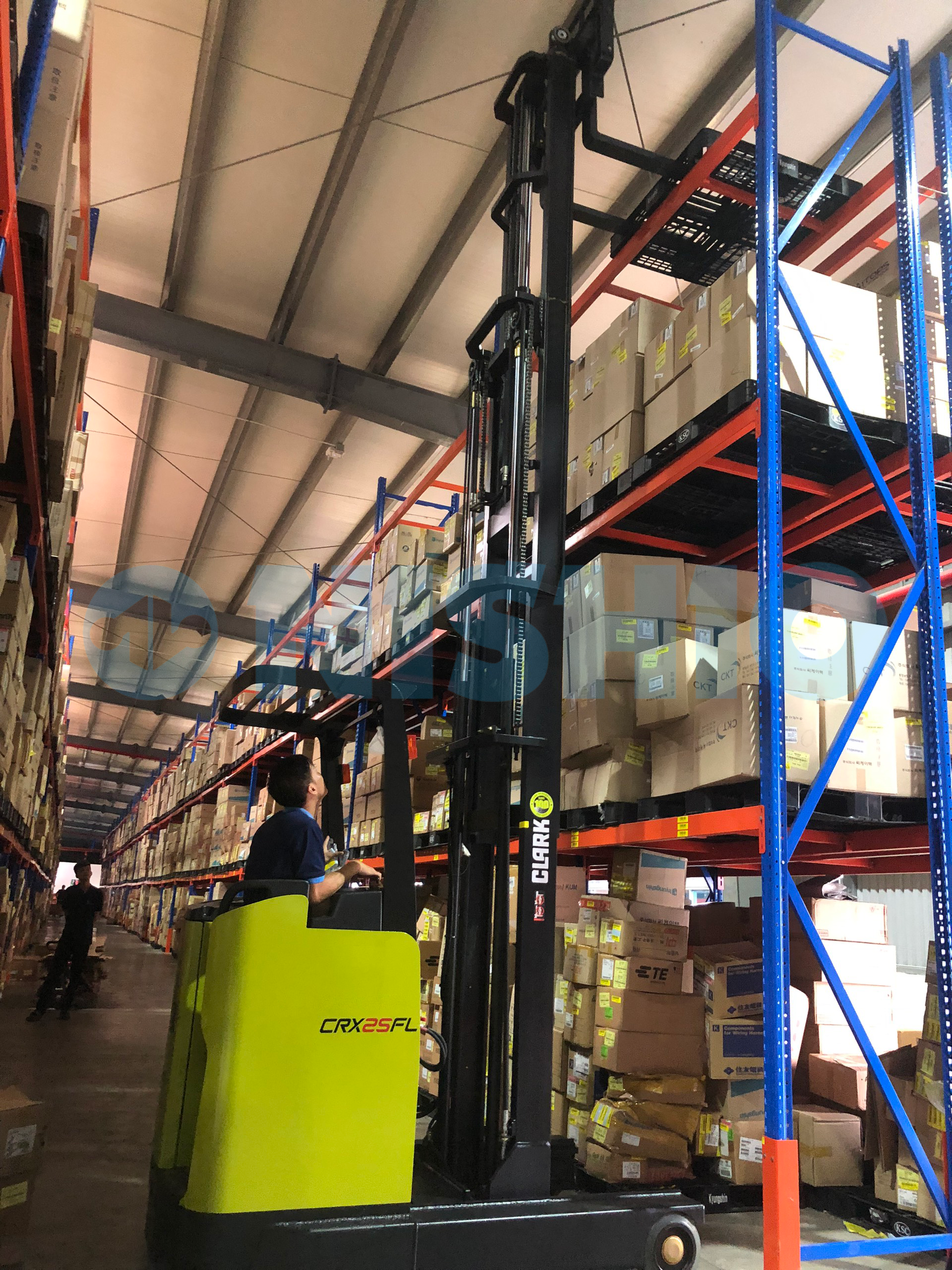 Features of Reach Trucks
Reach trucks come in different models and configurations, but they generally share some common features, such as:
Reach mast: Reach trucks are equipped with a telescopic mast that allows vertical lifting and horizontal extension/retraction of the forks or load carriage. This feature enables them to reach deep into racking systems.
Pantograph mechanism (To reach in/out, only has in some special models): Some special models of Reach trucks have a pantograph mechanism that consists of a scissor-like device that connects the fork carriage to the mast. The pantograph mechanism enables the fork to extend and retract without moving the mast or the truck body. This allows for more precise and flexible load placement and retrieval.
Side stance: Reach trucks have a side stance design that allows the operator to face the direction of travel. This improves the operator's comfort and visibility, as well as the accuracy and speed of load handling.
Load backrest: Reach trucks have a load backrest that supports the load and prevents it from falling backward. The load backrest can be adjusted to accommodate different load sizes and shapes.
Electric power: Reach trucks are powered by batteries that can be recharged at charging stations. Electric power makes them eco-friendly, quiet, and low-maintenance.
Types of Reach Trucks
There are two main types of reach trucks: Stand-on reach trucks and Sit-on reach trucks.
Stand-on Reach Trucks
Stand-on Reach Trucks are designed with a platform for the operator to stand on while operating the truck. This design allows for greater visibility and agility, making them suitable for narrow aisles and confined spaces. They are commonly used in warehouses and distribution centers where maneuverability is important. Stand-up reach trucks typically have a lower lifting capacity compared to sit-down reach trucks.
Sit-on Reach Trucks
Sit-on Reach Trucks as the name suggests, are equipped with a seat for the operator to sit on. They provide a more comfortable operating position and are typically used for applications that involve higher lifting capacities and taller rack heights. Sit-down reach trucks often have a higher lifting capacity compared to stand-up reach trucks.
The lifting capacity of both stand-up reach trucks and sit-down reach trucks can vary depending on the specific model and manufacturer. It is important to consult the manufacturer's specifications or contact a dealer to determine the exact lifting capacity of a particular reach truck model.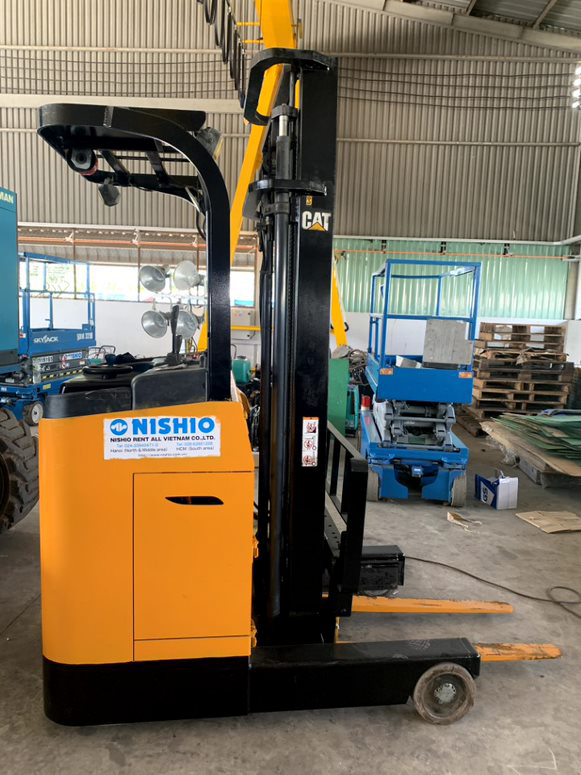 Tips on choosing and operating Reach Trucks
Before choosing a Reach Truck, you should consider some factors such as:
The size and layout of your warehouse or facility
The type and size of your loads
The height and width of your storage racks
The width and length of your aisles
The frequency and duration of your operations
The budget and availability of your resources
You should also compare different models and brands of Reach Trucks based on their specifications, features, performance, reliability, safety, warranty, service, and price.
Once you have chosen a Reach Truck, you should follow some tips on how to operate it safely and effectively, such as:
Read the manual and follow the instructions
Inspect the truck before each use
Wear appropriate personal protective equipment
Check the battery level and charge it when needed
Adjust the seat, steering wheel, mirrors, and controls to your preference
Drive slowly and carefully
Keep a safe distance from other vehicles, workers, racks, walls, doors, etc.
Use the horn, lights, signals, cameras, etc.
If you are looking for a way to rent a Reach Truck in Vietnam, you might be wondering what are the benefits, options, and costs of this service. In this blog post, we will answer some of the common questions that customers have when they want to rent a reach truck in Vietnam.
What are the benefits of renting a Reach Truck in Vietnam?
Renting a Reach Truck in Vietnam can help you save your budget, as you do not need to invest in buying a new or used machine that might require maintenance and repair costs. Renting a Reach Truck also gives you more flexibility, as you can choose the rental term that suits your needs, whether it is daily, monthly, or yearly. You can also access a variety of models and capacities of reach trucks, depending on your warehouse requirements and load sizes.
Another benefit of renting a Reach Truck in Vietnam is that you can enjoy free monthly maintenance service from the rental company, as well as professional mechanics who can solve any issues with the machine. If the reach truck has any problems that cannot be fixed on-site, the rental company will provide you with a free replacement machine to ensure your operations are not interrupted.
Where can you rent a Reach Truck in Vietnam?
There are many rental companies that offer Reach Truck rental services in Vietnam, but not all of them are reliable and reputable. You should look for a rental company that has a large inventory of Reach Trucks, a wide network of branches and warehouses near your location, and a good reputation for customer service and quality.
One of the rental companies that meet these criteria is NISHIO RENT ALL VIETNAM CO., LTD. (NRAV), which is a subsidiary of NISHIO RENT ALL CO., LTD., one of the largest rental companies in Japan. NRAV has 5 branches in Vietnam (Ha Noi, Hai Phong, Da Nang, Quang Nam, Dong Nai). We offer daily, monthly, and yearly rental services for reach trucks and forklifts (engine and electric) in Ha Noi, Ho Chi Minh, Thu Duc, Binh Duong, Quang Nam, and other areas in Vietnam.
NRAV has a fleet of high-quality reach trucks and forklifts that are regularly maintained and replaced after a few years. Our mechanic team is trained by the global standard and is very kind and willing to support customers. We also have mechanics who can stay in the big projects for more convenience when customers need our support.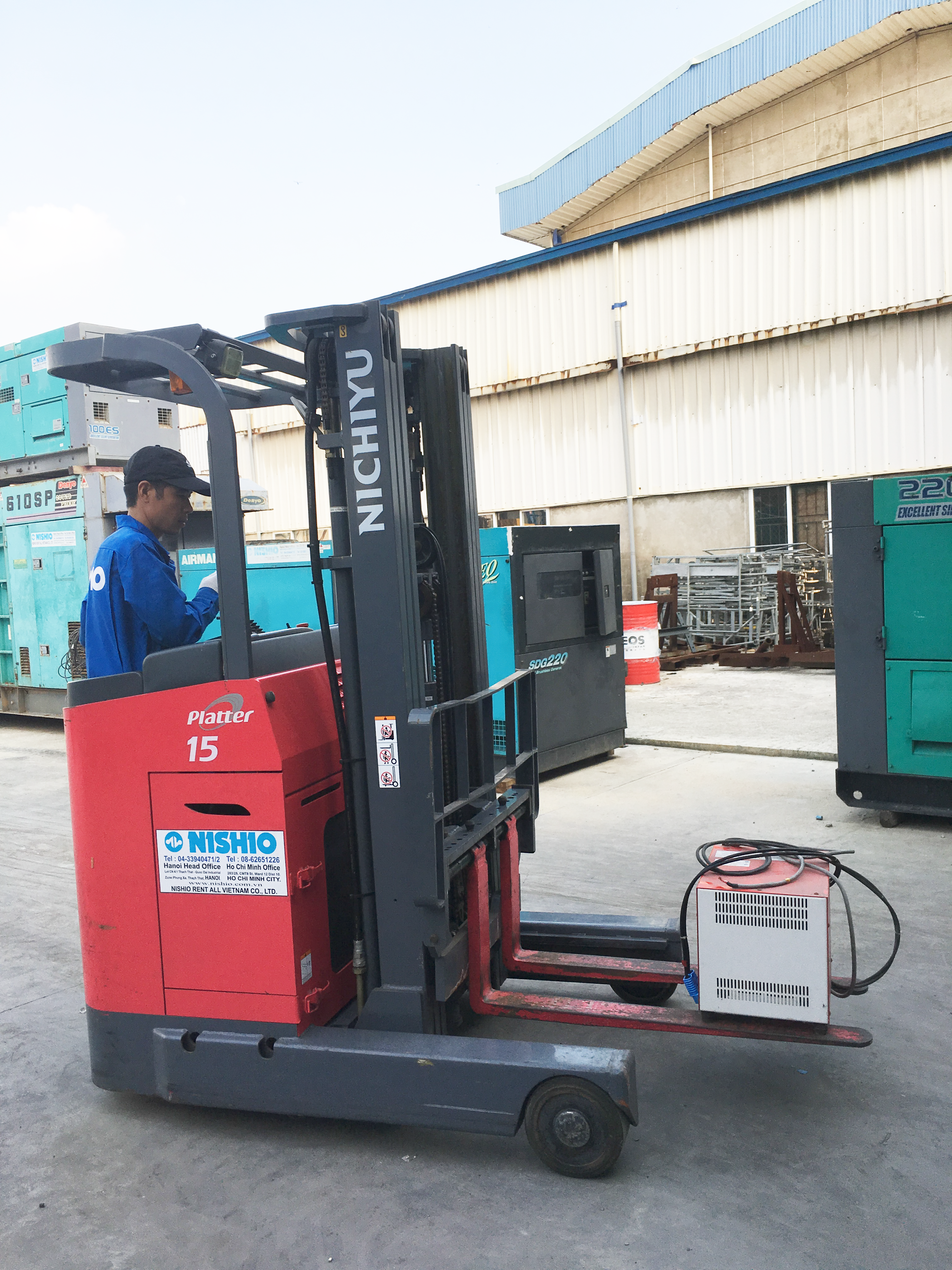 How much does it cost to rent a reach truck in Vietnam?
The cost of renting a reach truck in Vietnam depends on several factors, such as the model, capacity, lifting height, rental term, and location of the rental company. Generally speaking, the longer the rental term, the lower the rental fee per day or per month.
To get an accurate quotation for renting a reach truck in Vietnam, you should contact the rental company directly and provide them with your specific requirements and preferences. NISHIO can give you a detailed proposal that includes the rental fee, delivery fee, maintenance fee, insurance fee, and other terms and conditions.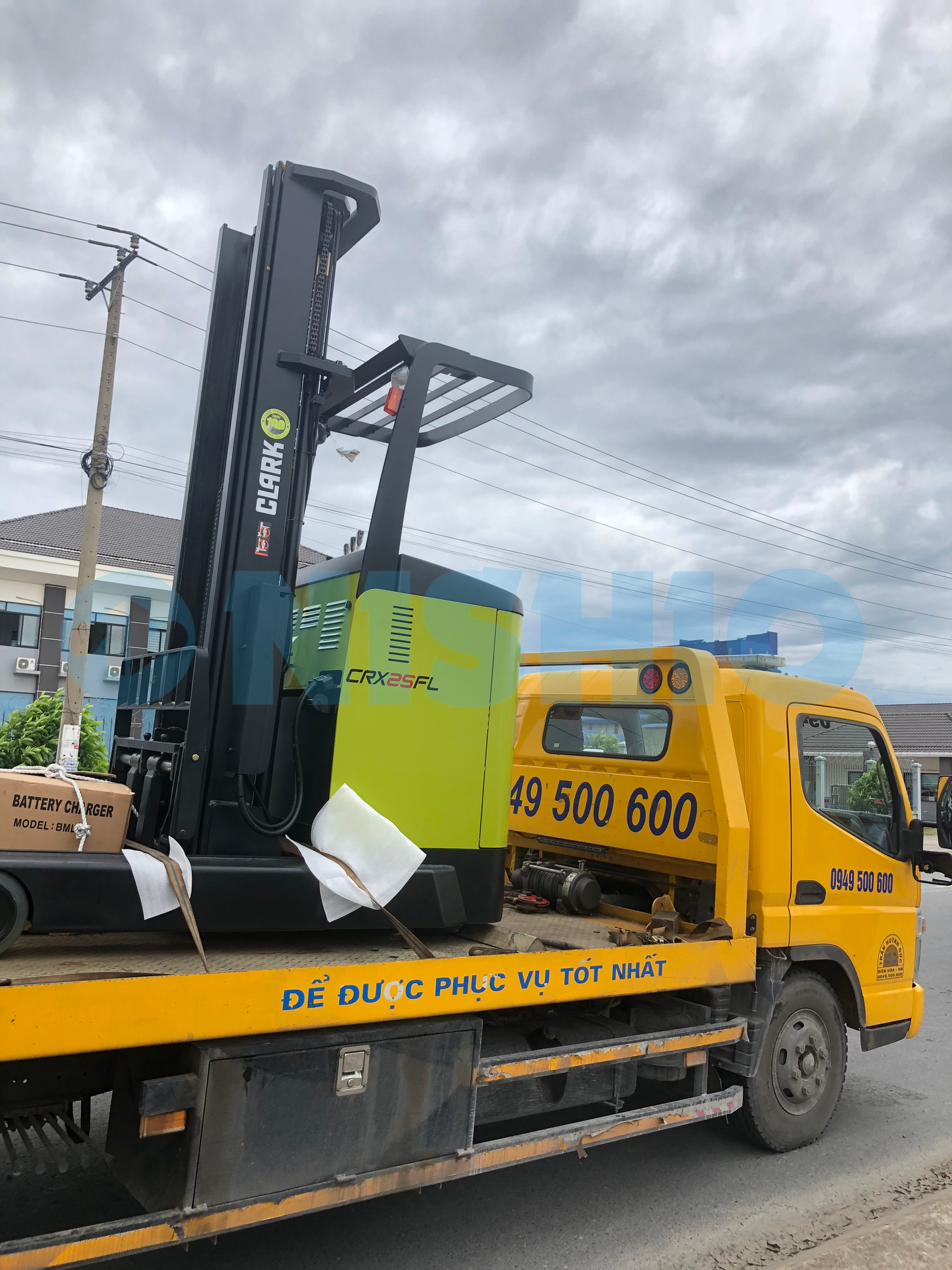 Contact us to rent Reach Truck
Renting a reach truck in Vietnam can be a smart and economical choice for your warehouse operations if you want to save money, enjoy flexibility, and access high-quality machines and services. However, you should be careful when choosing a rental company and make sure they are trustworthy and professional. NISHIO RENT ALL VIETNAM CO., LTD. is one of the leading rental companies in Vietnam that offers reach truck and forklift rental services with competitive prices and excellent customer support. If you are interested in renting a reach truck from NRAV or want to know more about our products and services, please contact us via phone 02513683224 or leave your inquiry here.
HOTLINE:

025 1368 3224